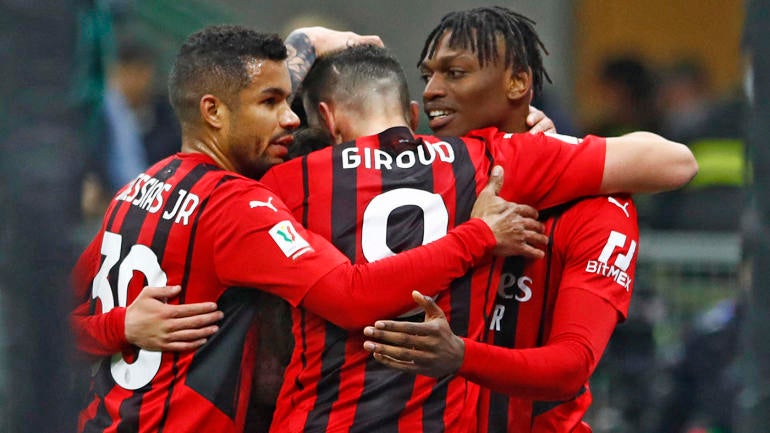 Getty Images
AC Milan put together a 4-0 thrashing of Lazio at San Siro to set up a two-legged Coppa Italia semifinal tie against Inter Milan in March. In their first game since their come-from-behind league win over Inter in the Milan Derby, Stefano Pioli's side made easy work of things in this one-sided affair and managed to score three goals in the first half of the match. Once again, the two stars of the night were Rafael Leão and Olivier Giroud, with Franck Kessié scoring the fourth goal of the night. 
The Portuguese striker provided an assist and scored the opening goal, while the former Chelsea striker scored two goals before the end of the first half. Giroud scored another brace after Saturday's clutch performance against Inter Milan. All his goals this season (10) have been scored at San Siro in front of his fans.
Pioli's team is now extremely fit thanks to the excellent performances of his two strikers, who have stepped up in a huge way while Zlatan Ibrahimovic is unavailable and absent due to injury. Pioli can therefore count on various forces in attack and this is good news considering the amount of games that will take place in the coming weeks, from Serie A to the Coppa Italia. 
The two semifinals against Inter Milan will be extremely intriguing after what happened Saturday given the tension that has now emerged between the two clubs that fighting for the title race. Lazio, on the other hand, faced a very difficult defeat to manage since the Maurizio Sarri's side was never dangerous and never made anyone think they could be competitive tonight by conceding four goals. 
AC Milan will play this weekend against Sampdoria and former coach Marco Giampaolo at home on Sunday while Inter Milan will play against Napoli at the Stadio Maradona on Saturday. You can catch all the action on Paramount+. Coppa Italia fixtures will be announced in the next days, with the first leg set for the first week of March and the second on the third week of April. The final will take place on May 11 in Rome at the Stadio Olimpico.