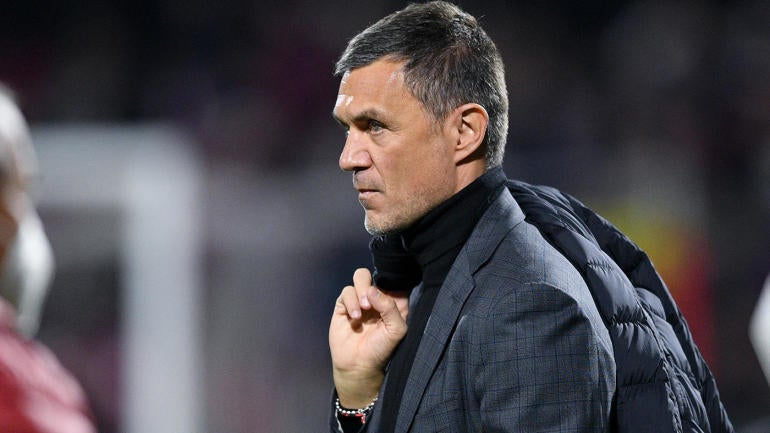 Getty Images
Both Inter Milan and AC Milan failed to win Friday night against Genoa and Udinese, respectively, which means Napoli will have the chance to become Serie A leaders with a win against Lazio on Sunday (2:50 p.m. ET | Paramount+). 
Udinese's draw at San Siro 
AC Milan failed to win at home against Udinese and had to settle for a 1-1 draw in a match that had started in the best way for Stefano Pioli's side. The Rossoneri looked strong in the first half and found the opening goal with Portuguese striker Rafael Leao, who scored his eighth league goal. They had opportunities to find a second which would have given Pioli a nicer evening at San Siro, but Udinese managed to contain the opponents until halftime. 
Udinese coach Gabriele Cioffi made three changes few minutes after the break, with Isaac Success, Destiny Udogie and Roberto Pereyra completely changing their fortunes as they suddenly started to control the match and had several opportunities to score the equalizer. AC Milan lost their domain and was forced to back off way too much for their liking in defense. In the end, they conceded the equalizer to Udogie on a play that involved a chaotic scrum and various deflections inside the box before he barely did enough to poke the ball past the goal line. There were some doubts about a possible handball but the referees and the VAR review allowed the goal to the chagrin of AC Milan's complaints. 
Udinese maintained control in hopes of a deserved go-ahead goal, but Rossoneri goalkeeper Mike Maignan carefully kept his posts safe. With the 1-1 result at San Siro, AC Milan have failed to win for the second consecutive match after last week's 2-2 draw to Salernitana. 
AC Milan sporting director Paolo Maldini showed his disappointment over the referee's decisions to DAZN following the match: "The VAR should remove the doubts, if they use it in this way it hurts because it is not the first time happened to us. It is an obvious episode, whoever decides must understand soccer. And I'll say another thing: Milan are Serie A leaders and cannot always have a rookie referee at San Siro. Unfortunately the referee made some mistakes." 
Inter Milan in deep crisis
Inter Milan and Genoa played an extremely open match with Hakan Calhanoglu and Edin Dzeko failing to find the early breakthrough in what would end in a scoreless draw. Away from home, Inter experienced some defensive lapses in the first half with individual mistakes from Danilo D'Ambrosio and Stefan De Vrij, but they also created chances on the left side of the pitch with Ivan Perisic as always as one of the standouts. D'Ambrosio probably had the best chance of the match for a go-ahead goal when his header from a Calhanoglu corner smacked the crossbar in the 62nd minute.
What might be extremely worrying for Inter Milan is that they had a comedy of defensive errors and the issues from the attacking lines have shown signs of improvement as of late. Simone Inzaghi's side have conceded a lot of chances to their opponents and have run into difficulties creating for their strikers during this stretch of inconsistency. The guests tried it all with Lautaro Martinez and Arturo Vidal coming in but none of the changes made any significant impact. It's another negative result, with two points scored in the last four matches for Inter Milan.