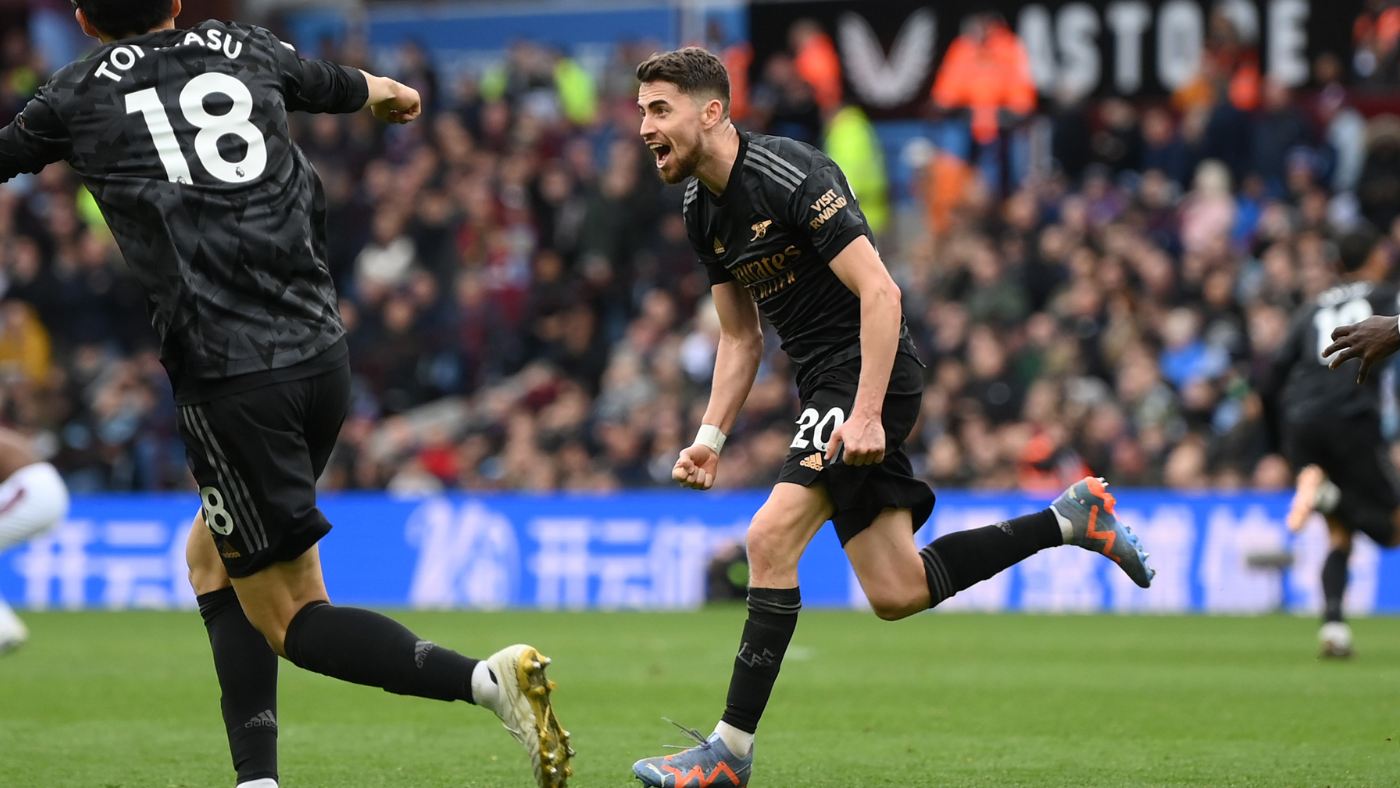 BIRMINGHAM — Arsene Wenger famously noted of his players that their confidence would "go up by the stairs… but down by the lift." This particular iteration of Arsenal had a rather different experience at Villa Park. They were travelling by the rollercoaster instead. Give them a goal and the passes would fly from one boot to another in the blink of an eye, the aerial duels were so easy for William Saliba and Gabriel, Martin Odegaard ghosted past opponents and no one was getting a boot on Bukayo Saka, no matter how keen they were to bring him to the ground.
In flashes this was the Arsenal that had streaked to the top of the Premier League. But they could not grip onto this quicksilver version of themselves. As much as they were fighting to get past a largely ordinary Villa side who clicked only on the counter, the real battle was internal. Arsenal were resilient enough to keep the pressure up until the dying minutes, exploiting to the maximum the time that Emiliano Martinez had given them with timewasting that left referee Simon Hooper far from impressed. Arsenal were brittle enough to throw away so many opportunities to win before the ball bounced back into the net off Martinez's head.
Cue jubilation. Suddenly the clouds broke and this team found themselves at the Premier League's summit again. Asked what this result would do for Arsenal's confidence, Arteta said: "I feel it's right back with more belief than before because you have to turn performances into results. Against Brentford we did that but we couldn't win it because of a decision – fine – against Manchester City we deserved more with the performance but the reality is that in football the games are decided in the boxes."
As Arteta himself noted, though, winning games in this fashion is not sustainable. "You don't have to produce as much as we do every single game to win games. Smaller margins should be enough to win games in this league consecutively and we have to improve that."
For now at least this is a team that has a fragility one does not tend to associate with champions. Emotionally and physically they were drained by their defeat to Manchester City on Wednesday night. That result had been a gut punch on the Emirates Stadium, a loss partly the result of Pep Guardiola's tactical adjustments, but no less down to avoidable errors on Arsenal's part. Those cropped up with worrying frequency at Villa Park, simple passes and basic interplay nowhere to be seen as team mates crashed into each other, snatched at passes and slipped through team mates who were making runs in the opposite direction. A corner cleared in the 69th minute and Saka is shaping to shoot. There's a narrow angle to get a shot away at the bottom corner but crashing into his view comes none other than William Saliba, who flicked the ball off his toes. 
Arsenal were also easily riled once more. It is certainly understandable that Saka in particular might lash out at Philippe Coutinho when he is so frequently sent crashing to the deck with referees unmoved. He sits outside the Premier League's top 40 in terms of how frequently they are fouled.
"He got kicked quite a lot today again," said Arteta. "But he's going to have to deal with that, not every week, but every three days and sometimes in training as well because it's his game and teams are not stupid and they want to stop him. That's why we need to protect him." But no matter how frequently Villa attempted to blow him off course, Saka came back to take another hit. Perhaps that is the abiding lesson Arsenal can take away from this game. They were not at their best but they kept going, getting the sort of breaks that often come the way of a team that registers 20 shots and tilt the field firmly in their territory.
Set against the Gunners, the cocksure, swaggering presence of Martinez. Rarely a player who needs much motivation to establish himself as a central figure in the footballing drama, the World Cup winner seemed to relish his reunion with his former employers. When Rob Holding miscontrolled a pass during warmups, the opposition goalkeeper stole in to claim possession on his way back down to the dugout. A good natured wind up but a wind up none the less.
It is something Martinez relishes. When you win a World Cup perhaps, in part, because you have psyched out your opponents, you do not have to apologize for your on field demeanor. You will, however, have to accept the jubilance that it provokes in others when you spend the preceding 92 minutes infuriating them. Martinez's insistence on eating the clock left Arsenal, referee Simon Hooper and even Unai Emery far from impressed. Its ultimate outcome was six minutes of added time. In the third, Jorginho's shot deflected cruelly off first the crossbar and then Martinez's head.
In pursuit of a late equalizer, the goalkeeper felt compelled to join the massed ranks at Villa's corner. Fabio Vieira claimed the clearance, slipping through his close friend Gabriel Martinelli. Martinez was well out of shot when the ball crossed his line for the fourth time. "He decided and sometimes it's good if players decide themselves," said Emery, "but I don't like it [the decision]. I told him as much.
"You can go up 100 times to score one goal at their end in the last minute of the match. The transitions, they are more. Goals scored against you, they are more… We have to be consistent in our mind, controlling our emotions." Martinez did not. After the gifts he gave them Arsenal could not control themselves either.