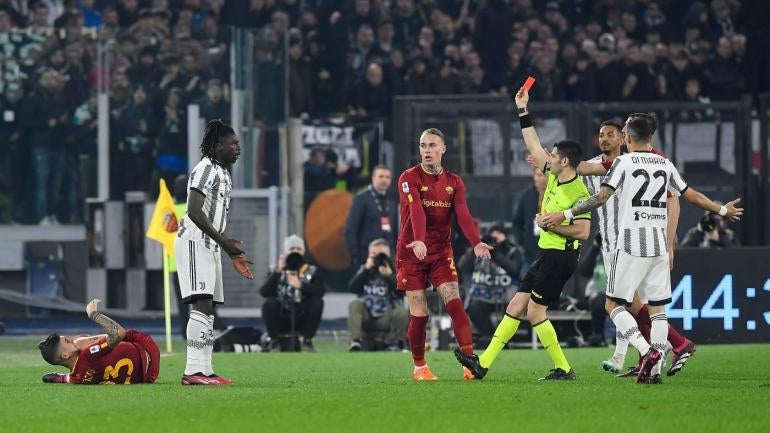 Getty Images
Juventus striker Moise Kean was sent off after forty seconds after he was subbed on in the second half against AS Roma on Sunday night. The Giallorossi won 1-0 thanks to a stunning goal scored by Italian defender Gianluca Mancini and Jose Mourinho's team is now fully in the race to get a Champions League spot next season. However, the final part of the match was significantly affected by the red card shown to Kean, who kicked Mancini and left the ref no doubt as to what to do next.
Coach Massimiliano Allegri replaced Juan Cuadrado with Kean as he wanted to have another striker to try to equalize in the final minutes of the match. Kean entered the pitch at minute 89 and only 40 seconds later he was headed to the showers. Allegri was left speechless as he saw his striker going back to the dressing room before the final whistle. 
Kean will likely be suspended for the next two to three games and will definitely miss the matches against Sampdoria at home next week and more importantly the one away against Inter on March 19. 
AS Roma secured three points in the end that feels like a statement to their rivals. The Giallorossi are in the race for a Champions League spot next season and are currently tied on points with AC Milan in fourth place, only one point behind Lazio and three behind Inter, with Napoli flying eighteen points ahead. The race to get into the top four this season is sensational, with Atalanta and potentially Juventus still in the race. 
The Bianconeri, after losing the key match against Mourinho's team, are twelve points behind but are facing a 15-point deduction. The club appealed against this decision and if the points are recovered, Juventus would currently be in second place tied points with Inter at 50 points.