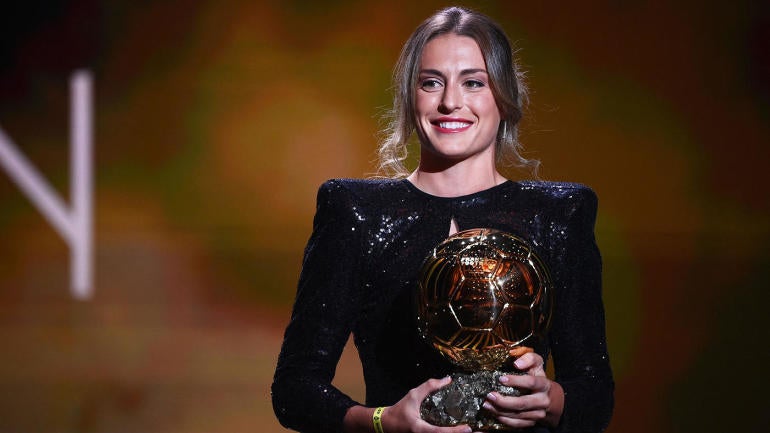 Getty Images
FC Barcelona midfielder Alexia Putellas won the 2021 Ballon d'Or Féminin prize on Monday, awarded to the best women's player of the year. Putellas wins the prestigious individual award after a remarkable year with Barcelona, as the club went on to complete a treble win during their 2020-21 season. The win also marks the return of the award, after the pandemic canceled the event in 2020. Previous winners of the award were Ada Hegerberg and Megan Rapinoe, who won in 2018 and 2019, respectively.
The event marks the first time France Football has awarded the honor to a member of Barca's women's team. Putellas is now the first ever Catalan winner, male or female, and only the second Spaniard and Barca player after Luis Suárez to win the award after 61 years. Other Barça players who have previously collected the accolade are all men, including Johan Cruyff (1973, 1974), Hristo Stoichkov (1994), Rivaldo (1999), Ronaldinho (2005) and Leo Messi (2009, 2010, 2011, 2012, 2015, 2019).
The 27-year-old Putellas was one of five players representing the Catalon side along with her Barcelona teammates Lieke Martens, Jennifer Hermoso, Sandra Paños and Irene Paredes. Putellas earned the award after finishing ahead in the vote over Chelsea forward Sam Kerr, and her Barcelona teammate Hermoso to round out the top three. The reigning UEFA Women's Player of the Year recorded an astounding 37 goals and 27 assists last season as the Barca side won everything in their sights, including La Liga Primera Iberdrola, Copa de la Reina and UEFA Women's Champions League.
Putellas has been a staple for Barcelona since joining the club from Levante back in 2012 and as made over 350 appearances across all competitions. The team captain could have more glory with the Catalan giants in the near future after extending her contract with the club back in October, which will keep her in a Blaugrana uniform until June 30, 2024.