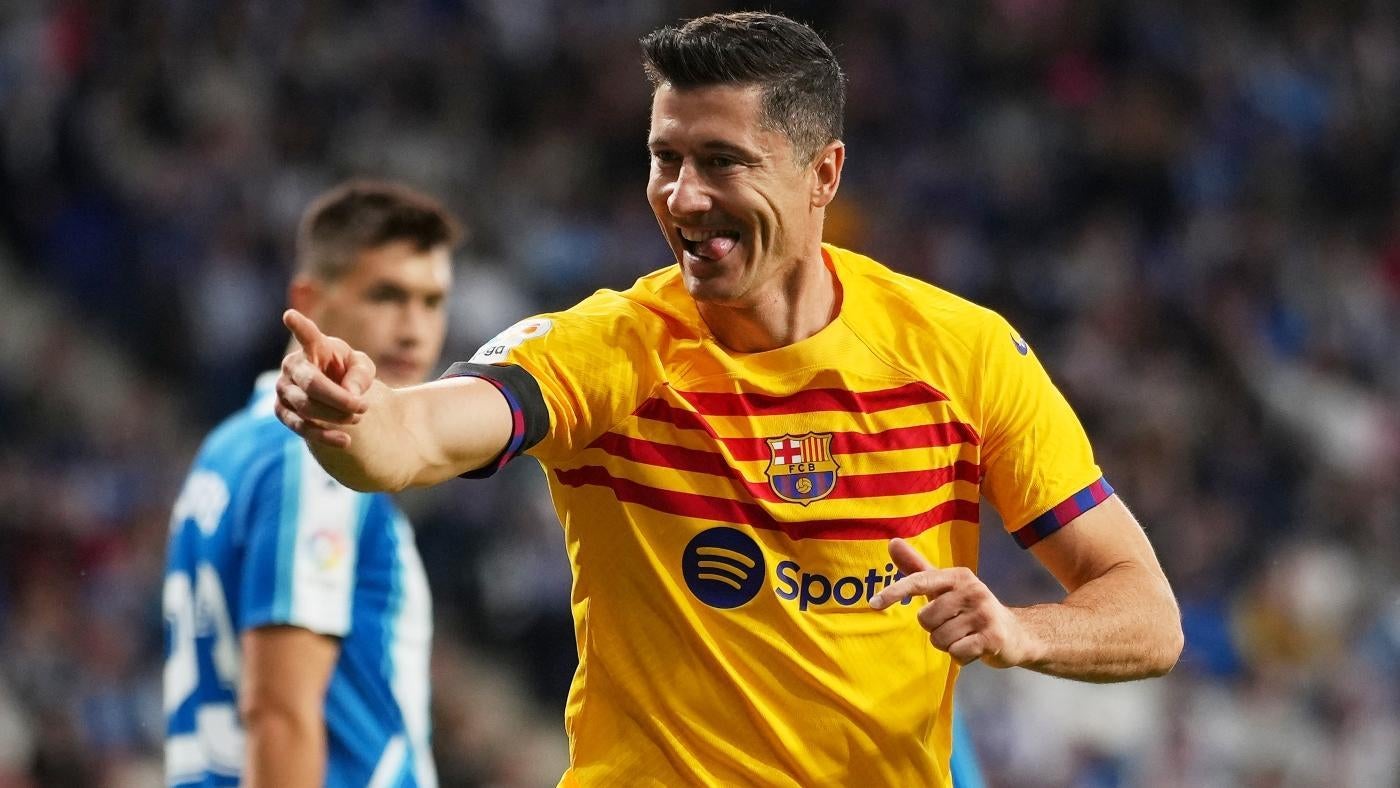 Barcelona are back and in the best way possible, domestically, after securing their first La Liga title since 2019 via a 4-2 victory over Espanyol on Sunday. While Barcelona would've loved to win the title on their home soil, riding a Robert Lewandowski brace to a thrashing of their city rivals is still a sweet way to seal it. The victory sees Xavi and Barcelona capture their second trophy of the season after already winning the Spanish Super Cup.
It only took 11 minutes for Lewandowski to get things going before Alejandro Balde found the back of the net in the 20th minute. By halftime, it was 3-0 and Barcelona could already feel the La Liga title in their hands. In the second half, all they had to do was hold on and they were able to do that despite Javier Puado getting a late consolation goal for the home side. Behind the strength of their defense, they were able to almost lead the league from wire to wire as their title was never in doubt.
It was quite a season for Barca after a summer of spending to retool the squad but let's take a look at some of the numbers that have defined the squad:
21: League goals for Robert Lewandowski
One of the issues for Barcelona in the past was that they didn't have a reliable option to lead the line but that was resolved with Lewandowski joining the squad in the summer. He has been there when needed and barring a late surge from Karim Benzema, Lewandowski will end his inaugural La Liga season by winning the Golden Boot over his Real Madrid rival. The goal will be to bring a European trophy with it next season but starting with a domestic double isn't bad at all.
0.38: Goals allowed per game in La Liga
While Lewandowski has kept the attack ticking, goals don't mean much if a team is allowing others to score at will but Barcelona's defense has been one of the best in La Liga history, conceding just 13 goals in 34 games. Jules Kounde and Ronald Araujo especially have stood out while Marc-Andre ter Stegen has shown why he's one of the best keepers in the world when a shot rarely makes it to him in the net. Because of their strength in defense, this Barcelona team has been able to win without possession when needed, something that isn't normally part of the team's play style.
€158 million: Spent retooling the squad
Make no mistake, this was a team built to win the title. Bringing in Lewandowski, Raphinha, Kounde, Andreas Christensen, Marcos Alonso, and so many more players, Barcelona were able to build depth almost overnight, pulling financial levers in the process, which is why they were able to go wire-to-wire to win the league. The team may have cost themselves a shot at Lionel Messi returning due to the amount of money that was spent but it's a price worth paying since it ended with a La Lita title.
2: Trophies for Xavi
After getting off to a slow start as the manager, if one thing is now clear it's that Xavi has arrived. Barcelona will have heightened expectations in Champions League next season but that's because he has raised the bar for what is expected from the club. Showing tactical flexibility and being open to new ideas, Xavi's management is a large reason why this team have been so dominant. 
14: Points different with Real Madrid
In La Liga, it's Barcelona, Real Madrid and everyone else. While having the Copa Del Rey would've been a great accomplishment, finishing so many points ahead of their rivals for the title is an excellent measuring stick for how impressive Barcelona's domestic season has gone.