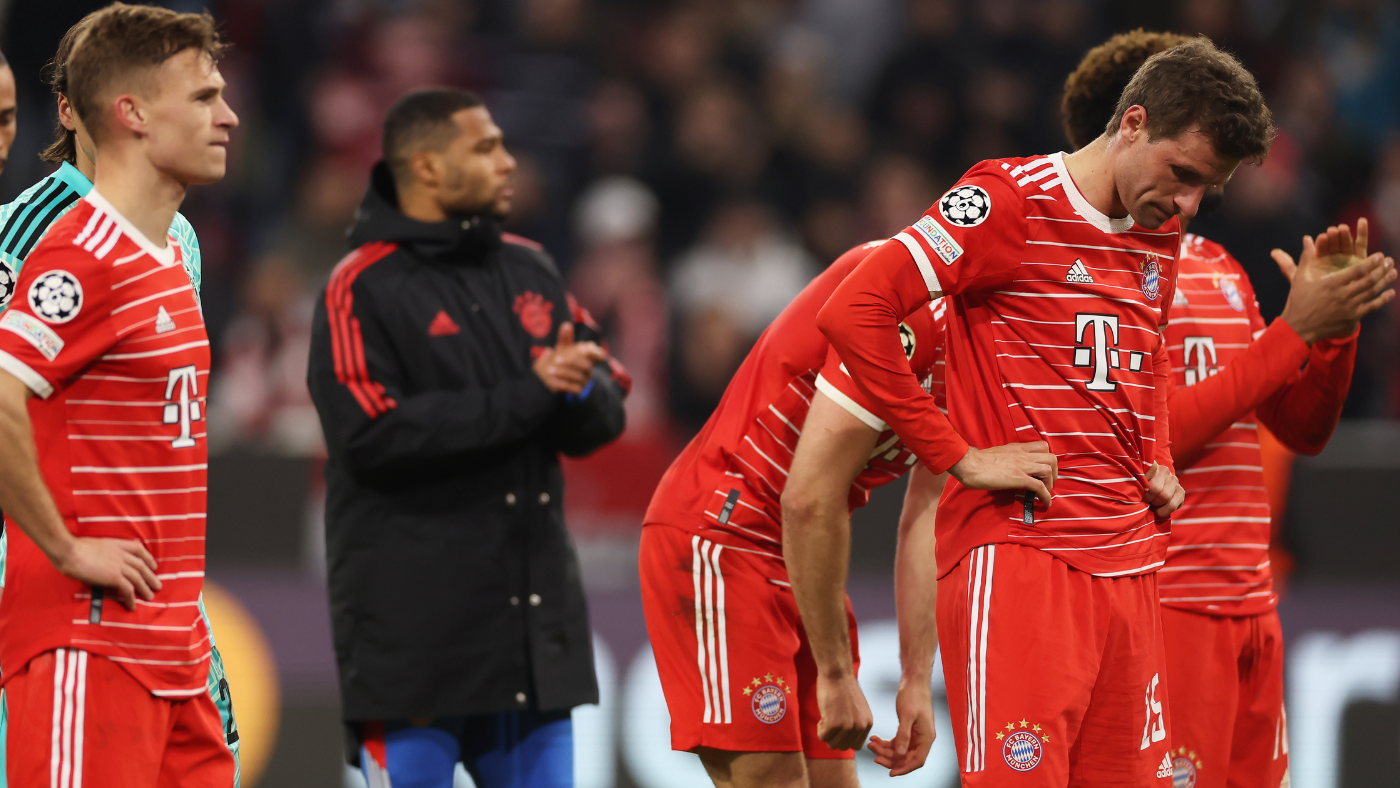 After crashing out of Champions League at the hands of Manchester City, Bayern are stuck in limbo as they face what's next. Thomas Tuchel was brought in to ensure that the team had the best chance possible to advance, but while the club played a better second leg against City, at the end of the day the best case scenario for Bayern is winning the Bundesliga, and even that isn't guaranteed with the club leading Borussia Dortmund by only two points.
Even winning the league isn't so much an accomplishment for Bayern in Germany as the minimum expectation. After winning the league 10 times in a row, it's hard to celebrate doing it again, especially when cracks are beginning to show around the roster. A winter that saw Manuel Neuer break his leg and need to be replaced by Yann Sommer was one of many bumps in the road along the way for Bayern. From new signing Sadio Mane and Leroy Sane getting into a spat to firing Julian Nagelsmann after only 1.5 years in charge the club doesn't seem to know what they want.
Questions were asked about how Robert Lewandowski would be replaced but Eric Maxim Choupo-Moting has done that with 17 goals and four assists in all competitions. The issue has been that the defense hasn't held up against top teams. 
"I've been here [at the Allianz Arena] quite a few times. It's normally a very confident place. Its always shown great leadership, it's always dealt with whatever problems have come their way in a good manner but also, very quickly. But at the moment, they are being criticized, literally from everywhere. All of their fans, the media, and former players," Peter Schmeichel said on the CBS UEFA Champions League Pre-Match show before.
"And it's by not dealing with the problems that arose… they are heavily criticized for not having reported out what the punishment is [between Mane and Sane]. Normally they deal with these things. So the criticism goes for this is a Bayern club, a buying club, now with very little leadership. They sacked Nagelsmann who was brought in to create the next phase of Bayern. He was this young guy with new ideas and 18 months in, they sack him. The rumor is that it was because Tuchel was available and it's all of these things that they're talking about here and then, of course, they go to Manchester and lose 3-1. Not because they played badly but because they made incredible individual mistakes."
After being put through the mixer in the first leg against Manchester City, Dayot Upemacano allowed an (unlucky) handball in the second leg as mistakes again cost Bayern. They were let off the hook in that moment by Erling Haaland missing a penalty but the Norwegian would still score to put the tie out of sight. Alongside Matthijs de Light, the central pairing was supposed to be one that would become a strong base that the team can build on but it has been anything but.
Both players have had their flashes but for a team with Bayern's expectations, you need a Ruben Dias type in defense, somebody who is endlessly composed while also providing the kind of ability on the ball that top teams need.  Spending so much money on the duo has put the club in a tough spot so they'll have quite a summer ahead, especially if the unthinkable happens and they were to lose the Bundesliga to their rivals Dortmund.
What is the long-term goal?
Looking at Bayern, when Nagelsmann was hired, the plan was that the club would move into a new era where they played progressive soccer, but at the first sign of rockiness, Kahn decided to go in a different direction. This isn't to say that Tuchel is a bad coach, but he's not a long term solution in any sense of the term. We've seen around the world that teams can get a boost when firing their manager but now that their Champions League season is over, what exactly is Tuchel going  to add to this side that Nagelsmann wasn't bringing.
They can reload during the summer and get whoever Tuchel wants in the door, but that only repeats the cycle of short-termism delaying whatever the next long-term answer will be in Munich unitl after Tuchel reign ends. When a team wants to consistently operate at the top, patience needs to be balanced with ruthlessness and Bayern are leaning too hard into the latter. A recalibration is needed, preferably with a coach that they see as one who can settle there for more than a year or two. 
Leading the attack
Choupo-Moting has been great but, like Tuchel, he's mostly a delaying tactic for this squad. He's 34 years old. Next season has to be about young Mathys Tel. The 17-year-old Frenchman has five goals in all competitions and if he can become the next young phenom to break through the team in the same way that Jamal Musiala has taken on more responsibility, then all of a sudden Bayern have a future to lean into. As Matt Busby said, "If you're good enough, you're old enough" and that is especially the case in Germany. Of course, Tel can be augmented by veterans to make sure that too much pressure isn't on his shoulders but the team has to move into their next era and he's part of that.
Being able to move from Lewandowski and Thomas Muller into Tel and Musiala is quite a luxury, but if Bayern doesn't figure out the front office and management situation, important formative years could be lost and they can't afford that mistake as the top clubs in the world are surpassing them by the day.