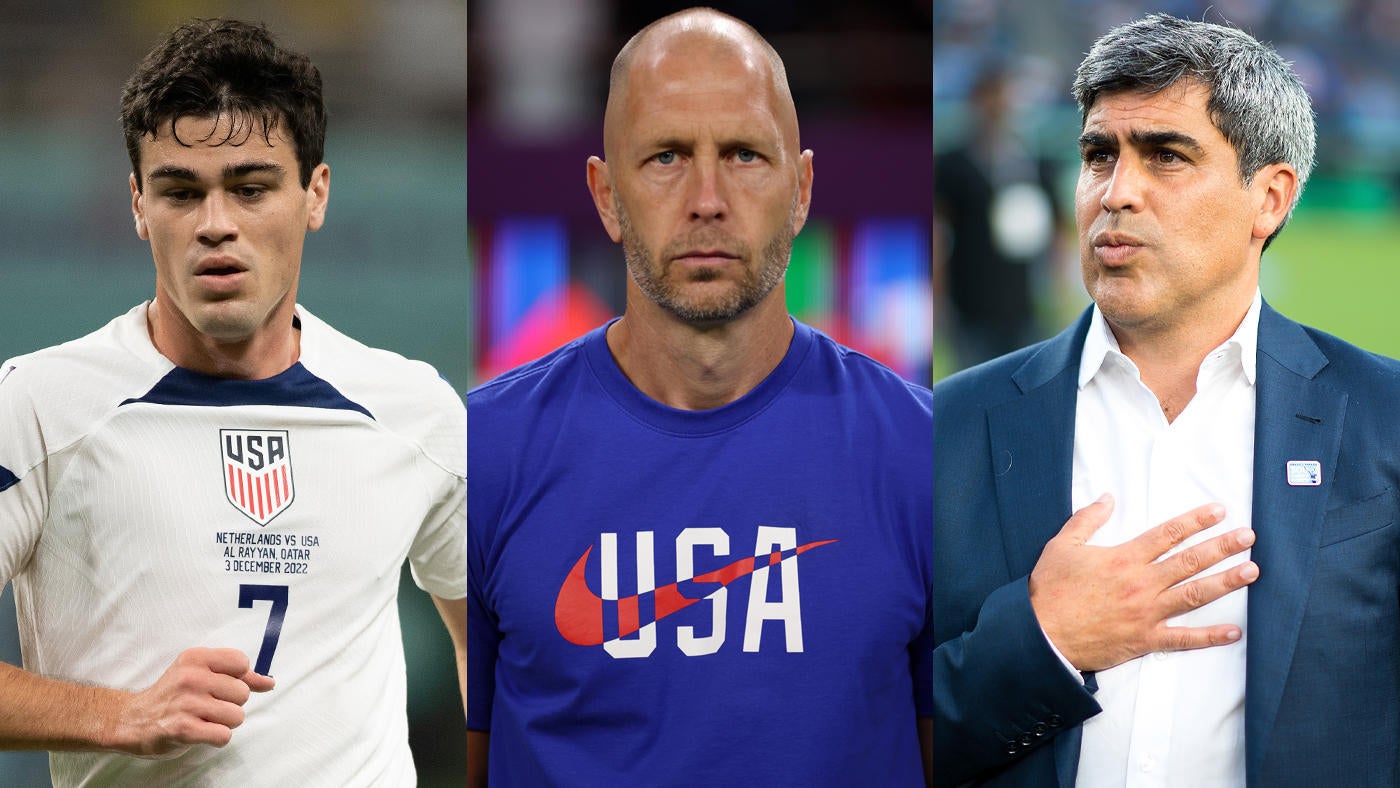 There has been no quiet start to 2023 for the United States Soccer Federation. After a successful World Cup for the United States men's national team in Qatar that featured a round of 16 finish, all eyes were supposed to be on the women's national team's preparations for the 2023 World Cup in Australia and New Zealand. 
But long before that, USMNT manager Gregg Berhalter revealed a domestic violence incident from 1991 involving his then-girlfriend and now-wife Rosalind Berhalter. He said he went public with the information because someone was trying to "take me down." 
That was just the start. 
Since that moment on Wednesday, the USSF has opened an investigation reviewing allegations of blackmail. It has been revealed that those who brought the altercation to the federation were none other than Danielle Reyna and Claudio Reyna, the parents of USMNT and Borussia Dortmund star Giovanni Reyna.
There's a lot to digest in what has become an ugly situation for American soccer. Here's everything you need to know:
Please check the opt-in box to acknowledge that you would like to subscribe.
Thanks for signing up!

Keep an eye on your inbox.

Sorry!

There was an error processing your subscription.

So, how did we get here?
First, let's provide some context:
Gregg Berhalter met Rosalind in 1991: The two were on the University of North Carolina soccer team and met in the fall of 1991. Four months after they began dating, Gregg described a "heated argument" at a bar. "It became physical and I kicked her in the legs." Authorities were never involved in the incident and seven months later, after Gregg sought counseling, they reconciled.

Gregg and Claudio's connection: Way before they were representing the national team, these two had strong bonds that date back to youth level soccer and high school ball at St. Benedict's Prep in New Jersey where they both graduated in 1991. Claudio wound up attending the University of Virginia where he played for Bruce Arena and won the NCAA Championship in each of his three collegiate seasons. The two overlapped national team careers from 1994-2006.

The North Carolina connection: Danielle (née Egan) and Rosalind (née Santana) were four-year collegiate players and roommates at Chapel Hill. "Rosalind Berhalter was my roommate, teammate and best friend, and I supported her through the trauma that followed," Danielle said. "It took a long time for me to forgive and accept Gregg afterward, but I worked hard to give him grace, and ultimately made both of them and their kids a huge part of my family's life." Danielle made six appearances for the U.S. women's national team in the early '90s.

Gregg's connection to Gio: Given the family ties here, Berhalter was extremely familiar with Gio long before he became the national team coach. He once told ESPN he knew Gio would have a future in sports as early as age 12 or 13. He also once described playing Gio "like you're putting a family member in the game."
It's important to understand the situation leading into this. Berhalter's contract expired in December and there had been no news as to who would be leading the USMNT during this month's camp and friendlies against Serbia and Colombia. It has since been announced that it will be Anthony Hudson. 
But USMNT fans had been waiting for a statement from Berhalter or the federation as to what was next. Then came along an unverified Twitter account (@GreggBerhalter_) created this month with around 100 followers at the time. That Twitter handle, later confirmed to belong to Berhalter, published a two-page long statement.
Most fans expected it to say something along the lines of, "I'm still in talks with the USSF," or perhaps that he was even leaving the position. Instead, it revealed the domestic violence incident that took place when Berhalter was 18, a freshman soccer player for the Tar Heels. 
"In the fall of 1991, I met my soulmate. I had just turned 18 and was a freshman in college when I met Rosalind for the first time. There was a familiar feeling when we spoke," Berhalter said in a statement released on Twitter. "Rosalind was and is an amazing person — determined, empathetic, fun to be around — and we connected immediately. It felt like we had known each other for years. We had been dating for four months when an incident happened between us that would shape the future of our relationship. One night, while drinking at a local bar, Rosalind and I had a heated argument that continued outside. It became physical and I kicked her in the legs."
Gregg Berhalter said that authorities were never involved in the 1991 incident and that he sought counseling as a result of what transpired. 
Sequence of events
Let's go through the timeline, starting with the World Cup.
Nov. 9 – USMNT squad announcement: Berhalter's squad came with a few surprise omissions, including Ricardo Pepi and Zack Steffen. Gio, who was working his way back from a muscle strain suffered in September, was named in the 26-man squad.

Nov. 21 – USMNT World Cup opener vs. Wales: Reyna stayed on the bench in the 1-1 draw. After the match, Berhalter told reporters the team did a check on him due to muscle soreness, but that given the phase of the match, they chose to go with Jordan Morris instead. "Gio will be available for England," Berhalter said after the match. Gio, however, had a different reaction: "I mean, you never know, you can't say if you're going to or not. But I was definitely excited to play … It's not my decision."

Nov. 25 – USMNT vs. England: Reyna made his World Cup debut off the bench and logged seven minutes in a scoreless draw.

Nov. 29 – USMNT vs. Iran: In a make-or-break scenario with a win needed to advance, Berhalter opted to keep Reyna on the bench for the entirety of the 1-0 U.S. victory. 

Dec. 3 – USMNT eliminated by the Netherlands: Down 2-0 at halftime in the round of 16, Berhalter called up Reyna off the bench to play the final 45 minutes of the USMNT's World Cup campaign in a 3-1 loss to the Dutch. Reyna left Qatar with two appearances and a total of 52 minutes of playing time with only two shots taken.

Dec. 6 – Berhalter speaks at leadership summit: Speaking at the HOW Institute for Society's Summit on Moral Leadership in New York just three days after the elimination, the USMNT coach revealed that an unnamed player was nearly sent home due to commitment issues. "In this last World Cup, we had a player that was clearly not meeting expectations on and off the field," Berhalter said. "One of 26 players, so it stood out. As a staff, we sat together for hours deliberating what we were going to do with this player. We were ready to book a plane ticket home, that's how extreme it was. And what it came down to was, we're going to have one more conversation with him, and part of the conversation was how we're going to behave from here out. There aren't going to be any more infractions." 

Dec. 11 – Berhalter's comments made public: It wasn't until five days later that his comments, which were made at a private and intimate event, were made public by a newsletter from Charter. This is also the same day where USSF says it was first made aware of Berhalter's 1991 incident. Danielle Reyna confirmed Wednesday of a call made to Earnie Stewart to complain about Gio's name being "dragged through the mud." She said she did not ask for Berhalter to be fired. It's also worth noting that Claudio revealed Wednesday that he shared his frustrations during the tournament to Stewart and USMNT general manager Brian McBride.

Dec. 12 – Gio apologizes: "I hoped not to comment on matters at the World Cup. It is my belief that things that happen in a team setting ought to remain private. That being said, statements have been made that reflect on my professionalism and character, so I feel the need to make a brief statement. Just before the World Cup, Coach Berhalter told me that my role at the tournament would be very limited. I was devastated. I am someone who plays with pride and passion. Soccer is my life, and I believe in my abilities. I fully expected and desperately wanted to contribute to the play of a talented group as we tried to make a statement at the World Cup. I am also a very emotional person, and I fully acknowledge that I let my emotions get the best of me and affect my training and behavior for a few days after learning about my limited role. I apologized to my teammates and coach for this, and I was told I was forgiven. Thereafter, I shook off my disappointment and gave everything I had on and off the field. I am disappointed that there is continuing coverage of this matter (as well as some highly fictionalized versions of events) and extremely surprised that anyone on the U.S. men's team staff would contribute to it. Coach Berhalter has always said that issues that arise with the team will stay 'in house' so we can focus on team unity and progress. I love my team, I love representing my country, and I am focusing now only on improving and growing as a soccer player and a person. I hope that going forward each person involved in U.S. Soccer focuses only on what is in the best interest of the men's national team so we can enjoy great success at the World Cup in 2026."

Jan. 1 – Berhalter's contract expires: With January camp and friendly dates against Serbia and Colombia right around the corner, USSF did not make an immediate decision on who would coach the team ahead of the 2026 cycle as Berhalter's contract expired.  

Jan. 3 – USSF announces investigation: Berhalter took to social media to share details of the 1991 incident and U.S. Soccer — minutes later — announces an investigation into "potential inappropriate behavior towards multiple members of our staff by individuals outside of our organization." 

Jan. 4 – Reyna family comes forward: Additionally, Anthony Hudson was named interim coach for January camp and friendlies. U.S. Soccer president Cindy Parlow Cone said the following regarding the head coach search being interfered by the investigation: "We don't know [timeline] because it's completely independent. Obviously, we need to speed this along so we can name the head coach of the USMNT and start gearing up for 2026."
Listen below and follow In Soccer We Trust: A CBS Sports Soccer Podcast where three times a week your three favorite former USMNT players cover everything you could possibly want to know about the beautiful game in the United States.
How did this end up involving the USSF?
This incident, having occurred over 30 years ago, saw them eventually work past it, rebuild their relationship and grow a family, the coach said. However, Berhalter said that an individual contacted U.S. Soccer with information about his past. 
The USSF is now conducting an investigation into "potential inappropriate behavior toward multiple members of our staff by individuals outside of our organization."
"Upon learning of the allegation against U.S. Men's National Team head coach Gregg Berhalter on Dec. 11, 2022, U.S. Soccer immediately hired Alston & Bird LLP to conduct an independent investigation into the matter. The investigation is being led by Jenny Kramer, BJay Pak and Chris Marquardt of Alston & Bird LLP and remains ongoing.

"Through this process, U.S. Soccer has learned about potential inappropriate behavior towards multiple members of our staff by individuals outside of our organization. We take such behavior seriously and have expanded our investigation to include those allegations.

"We appreciate Gregg and Rosalind coming forward to speak openly about this incident. Consistent with our commitment to transparency, we will share the results of the investigation publicly when it is complete. U.S. Soccer condemns violence of any kind and takes such allegations very seriously.
How did the Reynas get involved?
Speaking at the HOW Institute for Society's Summit on Moral Leadership in New York after the World Cup, Berhalter revealed that a player was nearly sent home from the tournament for failing to meet expectations. That player was later revealed to be Gio Reyna, who logged only 52 minutes in two appearances in Qatar and was told before the start of the tournament that his role would be limited with the national team.
These comments, on top of not playing their son, upset the Reyna family. 
Claudio Reyna sent multiple messages to USMNT general manager Brian McBride and sporting director Earnie Stewart, both former teammates of his, detailing his frustrations about the poor experience his son had in Qatar, according to ESPN. The report said Reyna threatened to share allegations about Berhalter's past, but Reyna denied the allegations. Danielle Reyna admits to having placed a call to Stewart. 
U.S. Soccer was reportedly made aware of the claims against Berhalter on Dec. 11 when an executive, presumed to be Stewart, was informed in a call with Claudio and Danielle Reyna that the manager had a past domestic violence incident. 
"To set the record straight, I did call Earnie Stewart on Dec. 11, just after the news broke that Gregg had made negative statements about my son Gio at a leadership conference," Danielle Reyna said in a statement sent to The Athletic. "I have known Earnie for years and consider him to be a close friend. I wanted to let him know that I was absolutely outraged and devastated that Gio had been put in such a terrible position and that I felt very personally betrayed by the actions of someone my family had considered a friend for decades.
"As part of that conversation, I told Earnie that I thought it was especially unfair that Gio, who had apologized for acting immaturely about his playing time, was still being dragged through the mud when Gregg had asked for and received forgiveness for doing something so much worse at the same age. Without going into detail, the statements from yesterday significantly minimize the abuse on the night in question. Rosalind Berhalter was my roommate, teammate and best friend, and I supported her through the trauma that followed. It took a long time for me to forgive and accept Gregg afterward, but I worked hard to give him grace, and ultimately made both of them and their kids a huge part of my family's life. I would have wanted and expected him to give the same grace to Gio. This is why the current situation is so very hurtful and hard."
"I very much commend the recent efforts by U.S. Soccer to address abuse of women players, and I understand now he had an obligation to investigate what I shared. But I want to be very clear that I did not ask for Gregg to be fired, I did not make any threats, and I don't know anything about any blackmail attempts, nor have I ever had any discussions about anyone else on Gregg's staff — I don't know any of the other coaches. I did not communicate with anyone in U.S. Soccer about this matter before Dec. 11, and no one else in my family has made any statements to U.S. Soccer regarding Gregg's past at all.
"I'm sorry that this information became public, and I regret that I played a role in something that could reopen wounds from the past."
Claudio Reyna said he was frustrated with the situation at the World Cup but did not make any threats.
"While in Qatar, I shared my frustrations about my son's World Cup experience with a number of close friends, Earnie and Brian McBride among them. However, at no time did I ever threaten anyone, nor would I ever do so," he said on Wednesday, per the ESPN report. 
What's next?
There is still a lot to be determined. Berhalter is still out of a contract, there is an ongoing investigation, and USSF said it will release the findings of the investigation to the public as it becomes available. USSF director Earnie Stewart on Wednesday said Berhalter is still in consideration for the coaching job, barring the results of the investigation. 
"I think that this came with spite and it will end with spite," ex-USMNT player Heath Pearce said on the In Soccer We Trust podcast, "and it will end with the intended outcome, which is Gregg Berhalter to not be the national team coach. … I do think this situation will affect his ability to be the men's national team coach moving forward."
"I'm assuming there will be a lawsuit, a defamation lawsuit, questioning character," ex-USMNT player Jimmy Conrad said on the podcast, "and that will follow Gregg around for the rest of his career as he tries to go get a new job, assuming he doesn't get [fired]. I just don't think you can renew him at this point." 
Another thing to keep an eye on is how things unfold in March when the U.S. are set to play Concacaf Nations League play. If Berhalter is still the manager, will he still call up Reyna? Is the relationship in such a poor state that he isn't part of the plans temporarily or moving forward? It's a delicate and complicated situation to monitor.