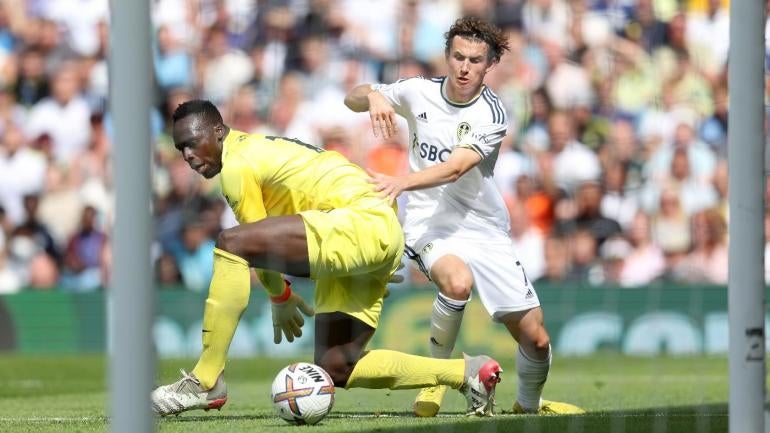 Getty Images
After having his first Leeds United goal later counted as an own goal, Brenden Aaronson scored a no-doubter against Chelsea on Sunday in a surprising, dominant 3-0 win. As Leeds were having an excellent start to the match, Aaronson was able to cause chaos for Edouard Mendy with his pressure. After Thiago SIlva passed the ball back to his keeper to reset things, Aaronson pressed Mendy, who then tried to beat him on the dribble. It was an attempt that he'd regret as Aaronson kept his composure to pick the ball off of his feet and walk it into the back of the net for his first Leeds United goal. 
Take a look:
Mendy had all the time in the world to play the ball elsewhere, but the goal changed the tide of the game with Rodrigo doubling Leeds United's advantage before the half. The tide kept going in Leeds United's direction with Harrison grabbing the third goal of the game to ensure that all three points stayed at Elland Road.
NBC's Tim Howard asked what fundamental message Marsch had for the squad, and Aaronson's response puts his goal into perspective.
"Who wants it more, taking the last step is something that Jesse always talked about and something that I learned when I first went to RB Salzburg with him," Aaronson said after the match. "At the [Philadelphia] Union maybe I wasn't taking that last step and winning the ball, and I kind of learned the skill with Salzburg and now coming here again. So I think now the whole squad is learning that and you can see it's paying off."
His American partner Tyler Adams also played a critical role in winning the midfield battle against Chelsea. Marsch will love to see that for the club while Gregg Berhalter is just as happy preparing plays for the duo to head to the World Cup. Adams created two chances, won a tackle and had a team-high three interceptions as his role kept Conor Gallagher and the Chelsea midfield from getting things going.
It was another disappointing day for Chelsea winger Christian Pulisic who only had 17 touches in 26 minutes of play. Yet to start a game for the Blues this season, it's concerning that his role involves being utilized so little when Chelsea attackers haven't scored a goal from open play to begin the season.
But the star of the match was New Jersey's own Aaronson. With Major League Soccer's fingerprints all over for Leeds United, once they got their noses in front, the result was never in doubt. Last season's relegation scare is firmly in the rear view as Leeds are gaining confidence by the day.