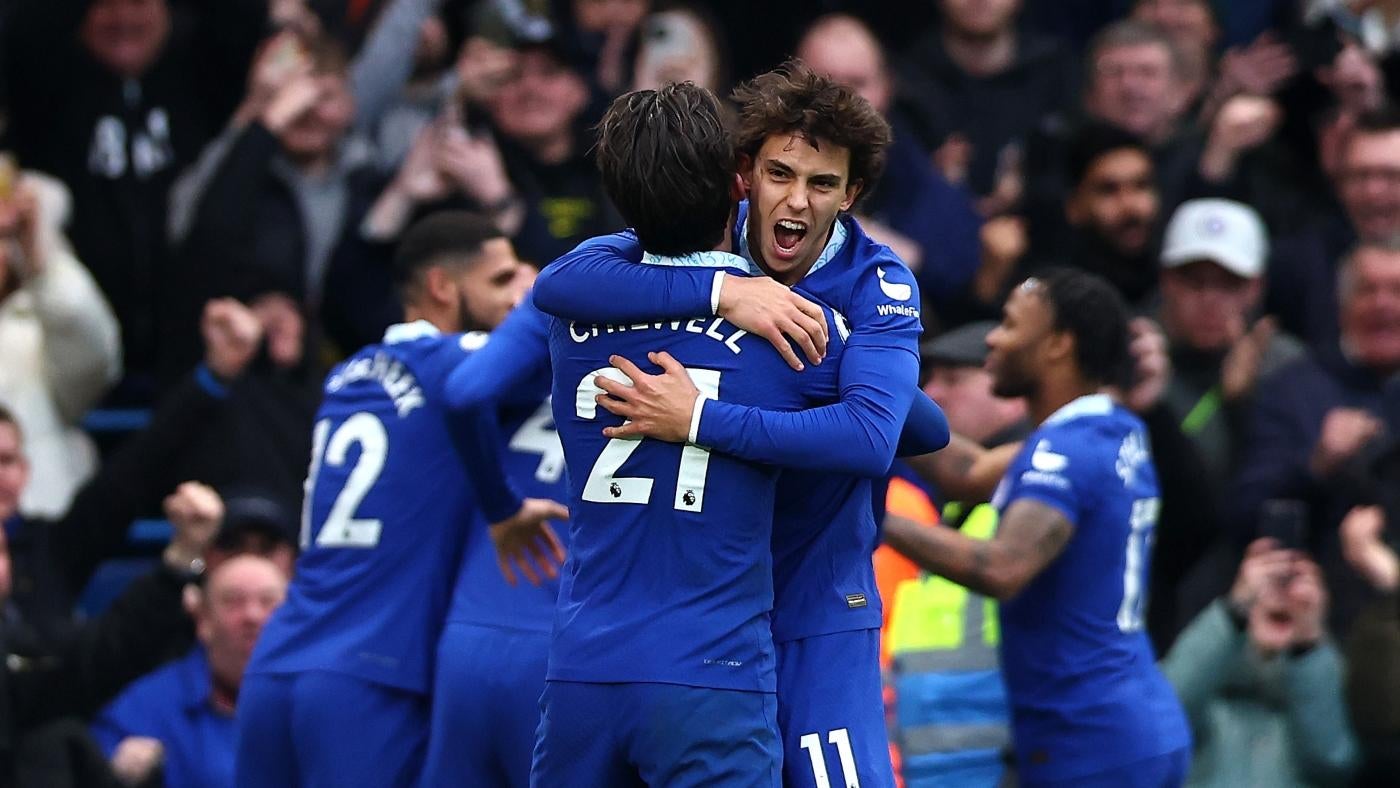 The rubber hits the road was as eliminations start in the Champions League this week with the first four round of 16 ties getting decided. Chelsea, Tottenham, Paris Saint-Germain and Club Brugge all have deficits to overturn, but how many, if any, will get the job done? Here's what I'll be looking out for in the second legs with my bold predictions:
As always, CBS and Paramount+ will be your home for all things UCL.
Chelsea vs. Borussia Dortmund:
Joao Felix

sparks Blues

On Tuesday night, Stamford Bridge is Graham Potter's last chance saloon. If the Champions League does not bring a profound sense of accomplishment then nothing will. This team lacks the sort of veteran nous that might allow them to develop from England's 10th best side into European champions in the space of a few months. Still a deep run in this competition might bring Potter some greater degree of backing from a fanbase that is raging over his perceived inadequacies.

There have certainly been faults with the former Brighton manager, who unearthed an impressive formula even in first-leg defeat against Dortmund and proceeded to rotate his side en masse to then lose in humiliating fashion to Southampton. To go alongside Potter's failings, however, is an almighty dose of bad luck in front of goal. This is a team seemingly intent on finding new and more imaginative ways to not score, one who has an actual goal return lower than their expected goal (xG) return in each of their last 10 league and European games. In that time fbref's xG data says an average team would have scored 13.6 goals. Chelsea have scored four.

It is not as if this is a squad riddled with subpar finishers. Raheem Sterling, for instance, scored goals by the truckload for Manchester City. In particular, though it is hard to fully comprehend how Joao Felix, an invigorating burst from his first appearance in a Chelsea shirt, still has just one goal to his name. He has hit the woodwork on more occasions than the back of the net and yet he is doing everything right, the shots falling just close enough to sting goalkeeper's palms where on another occasion he might be turning away in celebration. Still, when a player shows the tendency to find spots from which to get away shots as Felix did in the first leg, with the late run off Nico Scholtterbeck above or another bit of smart movement in the penalty area during the second half, goals tend to come.
With Dortmund holding a one-goal lead from the first leg there may inevitably come a time when they feel compelled to sit back and hold what they have. In such circumstances Felix may well be the one that finds the half a yard to get a shot away. And surely someone, anyone has got to find a hot streak in front of goal sooner or later.
CBS Sports has a brand new daily soccer podcast, covering everything you need to know about the beautiful game. Make sure to give House of Champions a follow for coverage of the biggest games, stories, transfer news with Fabrizio Romano, and everything else going on in the world's most popular sport.
Benfica

vs. Club Brugge: Parker finds himself on the brink

With Benfica two goals to the good before the home leg, this tie is likely done. Club Brugge aren't fighting for their European status, they're fighting for the continued employment of their second manager of the season. So far Scott Parker has found the Belgian Pro League, let alone the Champions League, to be rather more difficult than the Championship, from which he was a specialist in getting promoted.

A 3-0 defeat to Oostende, currently in the relegation zone, had Parker himself acknowledging that he could not answer questions over his own future. Two wins and three defeats from his 11 games in charge mean that Club Brugge are facing an almighty battle just to make the top four playoffs that decide the Belgian title. That is where their focus must surely lie, not against a Benfica side who have cruised through their three games since winning the first leg in Bruges. Parker must know his side is not up to the task of reviving this tie, instead it would be enough to simply get a result that does not add to the pressure on him. Coming up against the in-form Joao Mario and Goncalo Ramos, it is hard to see that happening.
Bayern Munich vs. PSG: Goals flow at the Allianz Arena
Since the moment Kylian Mbappe took the field at the Parc des Princes in last month's first leg, PSG have been revived as an attacking force. Lille, Marseille and Nantes have all been defeated with Christophe Galtier's side running up 11 goals in three games with Mbappe himself scoring five of them. Appearing on House of Champions after the first leg, Thierry Henry laid out three reasons why PSG were in trouble: structure, form and desire. Set against that, four words that would strike fear into the heart of Bayern Munich defenders — "But they have Kylian."
The man himself is traveling to Munich with a simple gameplan in mind. 
"When we play attacking football, it's uncomfortable for them," Mbappe said after the 1-0 defeat in Paris. "You have to be positive. From what I've seen [in the first leg], it's not over. We're going over there to qualify." 
Individually there appear to be components in Bayern's backline that can be targeted and Julian Nagelsmann never hesitates in asking a great deal from the few defenders he has on the pitch. If we know anything about Mbappe in the Champions League, he will score.
And yet it is hard to see that being enough. Even as PSG have clicked into gear offensively, they have left the stable door open behind them; both Lille and Marseille had shots worth more than two expected goals combined in defeat and across the entire Ligue 1 season the Parisians are giving up shots worth around 1.2 xG per game. For most that would hardly be reason for fear but Galtier's side are supposed to be so far clear of the field that that looks to be too high a number. Similarly in their seven Champions League matches they have given up 8.1 xG, not a colossal amount but hardly all that much given they have had shots worth 9.9 xG in games where they have mostly been the favorite.
Frankly, we have seen enough of PSG in the Champions League to have a pretty strong sense of how this will go. Even without Neymar a frontline of Mbappe and Lionel Messi will give Bayern Munich all sorts of trouble, a moment might well come in this tie when the hosts seemed overwhelmed. But Bayern will not be carrying two passengers off the ball who simply wait for possession to be won back. They will have the numerical superiority to create chances of their own and if this PSG backline has wobbled against domestic opposition, wait to see what happens when it faces the riches Nagelsmann has in the final third.
Tottenham vs. Milan: Hosts lack attacking punch
They may somehow occupy a place in the Premier League's top four but Tottenham fans are growing mutinous. Anyone who has sat through 90 minutes of their football of late could hardly blame them, a showreel of their games since the turn of the year would serve as a more than adequate Ludovico technique for any footballing addicts out there. A year ago Spurs were morphing into a well-oiled machine, hardly a Cruyffian vision of interchangeability but a team who could turn defense into attack with a few electrifying strides from their front three. 
As Michael Caley noted following Tottenham's 1-0 defeat to Wolves on Saturday, the trident of Dejan Kulusevski, Heung-min Son and Harry Kane has gone from averaging 0.49 goals and 0.41 xG per 90 minutes last season to 0.37 and 0.31 this, one of the Premier League's most intimidating attacking tridents morphing into something eminently resistible. Similarly all three players have seen their expected assists (xA) fall off, a combined 0.72 in 2021-22 now 0.6. No one from a supporting cast that includes Ivan Perisic, Pierre-Emile Hojbjerg and Richarlison, more on whom later, has really plugged the gap whilst the absence of Rodrigo Bentancur robs Tottenham of the link man between their disparate parts as well as a potential fourth scorer.
Faltering forwards
Spurs' attacking stats, per 90 Premier League minutes
Goals

0.47

0.7

0.36

0

0.36

0.13

0.69

0.24

Non-penalty xG
0.39
0.44
0.26
0.33
0.21
0.1
0.42
0.28

Shots

3.7

3.56

2.57

2.45

1.85

1.76

2.56

2.71

Assists

0.25

0.08

0.18

0.27

0.57

0.33

0.21

0.15

xA

0.18

0.16

0.11

0.21

0.29

0.26

0.25

0.18

Penalty area entries

3.15

2.59

1.5

1.91

3.27

3.77

7.21

5.57
There are nits to pick at Kane, whose brief dalliance with life as numbers nine and 10 seems to have concluded this season and Kulusevski, taking as many shots as last season but ones of notably worse quality. But the reason it is hard to fancy Tottenham to get the two goals they would need to eliminate AC Milan in 120 minutes is the decline of Son, so often the man who delivered for them in clutch moments.
He shows all the signs one would expect of a 30 year old who is not just off form but regressing. His availability is patchier, his xG and xA are cratering and most notably the speed of thought and movement isn't there anymore. Son is taking more shots than in either of the two previous seasons, when he was competing for the Golden Boot, but almost as many are coming from outside the box, too many hit and hopes from outside the area or hurried efforts into a pile of bodies.
Richarlison was recruited to offer both an immediate alternative and a long term successor to at least one of Son and Kane and he may yet, it would be a bold man indeed who wrote off Brazil's starting No.9 after less than one season at Tottenham. For now, Tottenham need the player he was when he first arrived in England, a wide ball carrier who could work hard off the ball and create for others, and the player Everton needed him to become, a talismanic center forward whose job is to score the sort of big goals that Kane has historically provided for Spurs. 
Any team that has Kane in it can probably be trusted to get one goal but if Tottenham are to avoid a penalty shootout minefield they will need more than that. It is hard to see many others in their frontline aiding their captain in that pursuit.