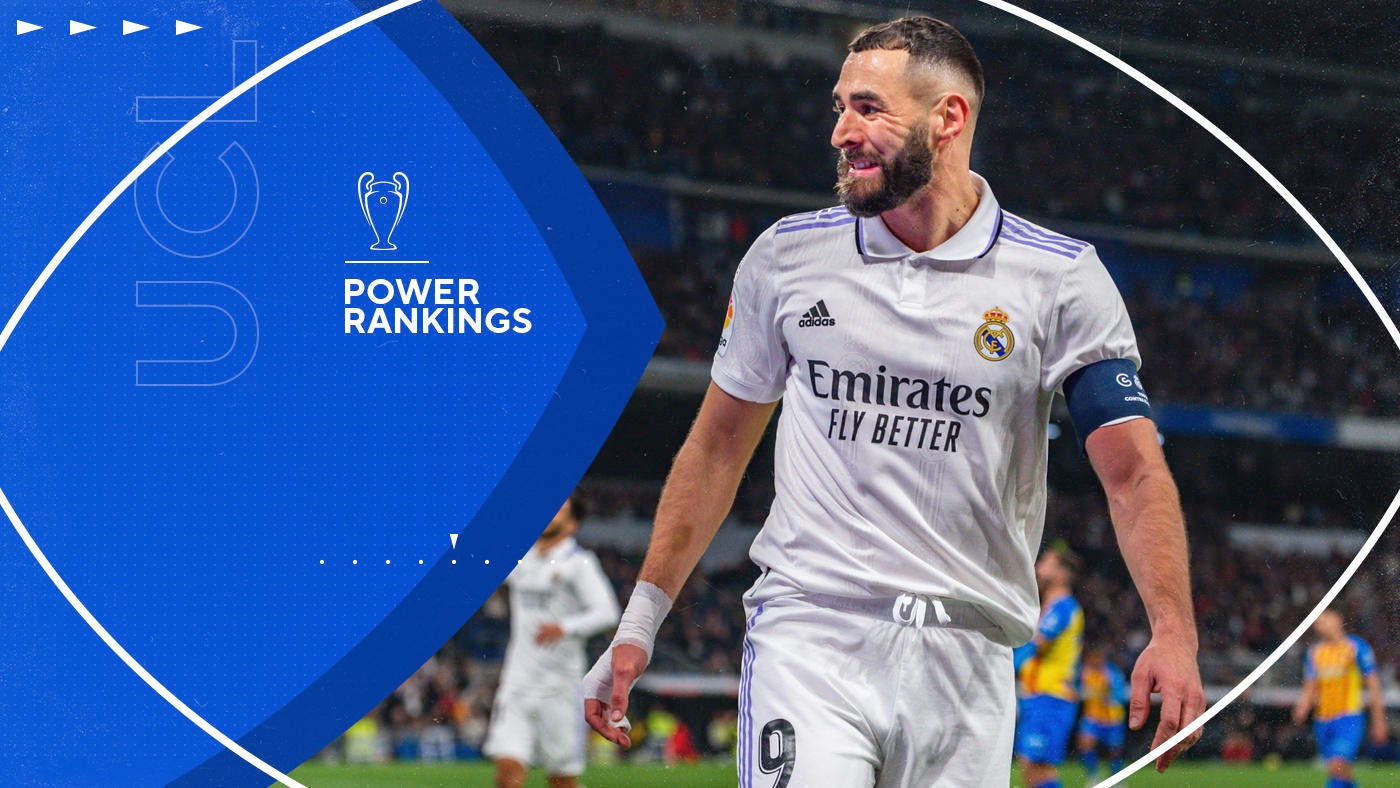 Now then, where were we? Such was the brisk nature of this season's Champions League group stages, concluded in a hurry to make room for the World Cup, that it rather feels like the games that got us here have been lost to the sands of time, obliterated by events in Qatar. 
It does not help that there is something curious about the makeup of the 16 teams still standing. The leading lights in England and Spain are nowhere to be seen while so many of the clubs that are here this time out might not be back with us for the 2023-24 edition. Liverpool and Chelsea, we're looking at you.
Meanwhile, none of the perennial contenders look quite right. Manchester City are in trouble on and off the pitch and while Bayern Munich were the grateful recipients of Joao Cancelo, they spent much of the time before his arrival scrabbling around in search of wins. Their last 16 opponents, Paris Saint-Germain, are slumping and Real Madrid too. The English sides have strengthened their squads on paper but good luck finding evidence of it paying off on the pitch.
Perhaps then this will be one of those Champions Leagues. A 2003 or 2012, a year when so many of the so-called big teams do not quite pass muster and a surprise package sweeps in to claim it all. There is plenty of time between now and the final in Istanbul, though, and here is how we rank the teams as the return of European football's biggest prize looms large:
The top tier: Title or bust
These teams should be disappointed with anything less than a semi-final berth and frankly even that might not be enough, such is their talent profile.
1. Napoli (+2)
I do appreciate how ludicrous this might appear to some. This is not a side with great recent pedigree in this competition, one that rather emerged from nowhere at the start of the season, fully formed as a runaway Serie A champion. Those sides do not always translate their domestic form to the top tier of European football; there is something to be said for gaining experience at this level before you can be viewed as a really convincing contender.
Set against that are a few more convincing arguments. For starters, a fair few of the other favorites are bunched up against each other (whoever comes out of the Bayern Munich vs. PSG tie promises to be a leading contender) and the rest have cratered in the form table. Napoli returned from the World Cup and picked up exactly where they left off and have still lost only two games in all competitions. There are a few question marks to be asked over their defense, which gave up 8.4 expected goals (xG) in a tough group before Christmas, but who would doubt that they have the attacking firepower to overwhelm any opponent?
2. Manchester City (-1)
There are an awful lot of matters away from the pitch that seem destined to discombobulate City, most notably the Premier League allegations that could lead to points deductions and possibly even relegation. That rather eclipses Pep Guardiola's complaints about his "happy flowers" team, one that lacks the sheer need to win that has taken over their title rivals Arsenal. Those factors alone could derail a Champions League campaign for a settled squad with a clearly defined best XI.
City do not have that right now with Guardiola still tinkering in search of a way to fully exploit Erling Haaland, who (and this does rather feel like picking at the brushwork of a Botticelli) has been kept scoreless in five of his last seven appearances. Bar Rodri, the midfield seems to be in a state of permanent flux, Phil Foden's form has slowed and the backline could be reliant on consistency from Rico Lewis, 18. He could deliver that, the star players could find their form and all would look rosy for a side who have tended to be a defensive force in this competition of late. If all that does happen then this is the tournament's clear favorite.
Serious contenders: If things go right, why not us?
It certainly is not beyond the realm of imagination that any of these teams could be lifting the European Cup in Istanbul come June, though it may require a few fortunate breaks for the tournament to go their way.
3. Bayern Munich (+1)
After a slow start to 2023, recent results have looked rather favorable for Bayern Munich, who seem to have been revitalized by the arrival of Joao Cancelo. Such a versatile player could suit Julian Nagelsmann almost too well, allowing him to try out some of his most perverse tactical ideas. He and Alphonso Davies will doubtless be tested by the Paris Saint-Germain frontline but equally, Bayern are going to have an awful lot of attacking weapons to throw at their opposition, particularly with Sadio Mane on track to return during this competition even without an elite level number nine. 
4. Real Madrid (-2)
Having bottled lightning a year ago, Madrid seemed to have taken strides forward as a squad during the early weeks of this season. Since the World Cup, however, something has not quite clicked with Carlo Ancelotti's side, off the pace in La Liga with star players including Karim Benzema and Thibaut Courtois picking up light, nagging injuries. They may not be sidelined for the games against Liverpool but they might not be back to peak performance either. The generous assessment of Madrid might be that this seasoned group of old-timers will merely click into gear when required. Better sooner than later.
Dark horses: Unlikely contenders, but contenders all the same
These teams are unlikely champions, but then so were Real Madrid at this time in 2021. It may take a change of circumstances, or a new tactical plan, or simply Karim Benzema having the season of his life, but it's possible. It's certainly not probable, but stranger things have happened.
5. Inter Milan (+4)
Back-to-back results against Atalanta and AC Milan suggest that the newfound solidity of Simone Inzaghi's side can bear up against tougher opponents while at the other end Lautaro Martinez is continuing his penchant for scoring in the biggest of games, a far cry from the struggling forward of Argentina's World Cup campaign. Between them is the excellent Hakan Calhanoglu, a one-time attacking midfielder repurposed as the heartbeat of Inter from the base of midfield in Marcelo Brozovic's absence.
Here's a look at his passing flow chart:
This is a seasoned side that knows each other's qualities well and has a favorable draw; outright winning the competition in its entirety seems unlikely but not impossible.
6. Benfica (-1)
Losing Enzo Fernandez will doubtless be a blow even if they are yet to feel it in league play, where they average over two and a half goals per game and are in an imposing position at the top of the table. Florentino Luis, Chiquinho and Joao Mario make for the sort of solid midfield who should have few difficulties dictating the terms of engagement against Club Brugge, while if he recovers his fitness, Goncalo Ramos might make a real impact on this competition.
What could go on to define their tournament is the form of their defense, an impressive mix of veterans such as Nicolas Otamendi and Odisseas Vlachodimos with the brilliant young talent Antonio Silva. The quality might be there at the back to keep things tight in a quarter or semifinal tie and give Ramos and company the chance to nick something on the break.
7. Paris Saint-Germain (-1)
There may be no more reliable performer in the Champions League than Kylian Mbappe. Even with the galaxy of stars at Christophe Galtier's disposal, the PSG No. 7 has already proven himself to be capable of blowing Bayern Munich out of the water. On current form, Lionel Messi could do exactly the same. So could Neymar if he is in the mood. However, there are fewer gaps for the Bavarians to plug, at least in the first leg.
The greatest concern might be that we have seen this sort of PSG at this stage in the year before. As Jonathan Johnson notes in his dissection of Les Parisiens' stuttering start to 2023, this is a team who seem to be in a sluggish mood. A dip in form has struck at the wrong time for Neymar while Marco Verratti is struggling to prove his fitness and the defense is not quite clicking. We've seen this story before. It does not end with European glory.
8. Liverpool (-1)
Since returning from the World Cup, Liverpool's form book reads three wins, two draws and four defeats, midtable form for a side who are firmly logged in the Premier League's middle pack. Almost no one seems to be playing at their highest level, those who do hit a patch of form tend to get injured and Jurgen Klopp is at his most irritable. If anything eighth seems a generous spot for the Reds.
It might prove to be the case but there is one strong argument to be made in Liverpool's defense, particularly if Virgil van Dijk returns to anchor it at something approaching his best. We have seen the bulk of this side establish itself as a serious European force: if Trent Alexander-Arnold and Andrew Robertson can get back to their best form, if Mohamed Salah can click with the new forwards as he did the olds, if the midfield could just be adequate. That's a lot of ifs.
In the quarterfinal mix
Only in the most unlikely of circumstances could these teams make seriously deep runs in the competition but don't rule them out of winning a round, perhaps even two, before they bid farewell.
9. Tottenham (+1)
The blueprint for a successful European campaign was established in the 1-0 win over Manchester City, a game where Spurs defended with ferocity, pressed shrewdly but largely left their excellent front three to fend for themselves. Now that Heung-min Son seems to be rounding towards some sort of form, that seems a viable strategy for a team that also have plenty of weapons off set pieces.
It would just be helpful to see this sort of Tottenham for more than 90 minutes as opposed to the more familiar sight of a team who do not seem to have the fitness to operate at full capacity beyond one half of football. They might well have enough to overcome AC Milan but perhaps not a lot more.
10. Borussia Dortmund (+2)
Three straight wins since returning from their winter break mean Borussia Dortmund should welcome Chelsea to Germany on something of a high; such are the attacking deficiencies of their opponents that they might not even see much reason to fear their shaky defense coming under undue pressure. Across this side there are attacking weapons to test the Blues in different ways, from the pace of Karim Adeyemi to the elegance of Julian Brandt via all-action Jude Bellingham, whose display will doubtless be closely examined by Todd Boehly.
11. Chelsea (-3)
On each of the two occasions that Chelsea have won the Champions League, they have changed manager midseason, seemingly teetering on the brink of crisis before the old heads in the squad put their hands on the wheel and guide their side to glory. Unless Thiago Silva is inclined to deliver yet more miracles in his advanced years it is hard to see a repeat for Graham Potter's side, who simply cannot find the net on a regular basis. 
It won't help that their No. 9 Pierre-Emerick Aubameyang — who has struggled for form mightily but is still their third-highest scorer with just three goals — isn't even in the squad as a break glass in case of emergency option off the bench. He had to make way for some of the January signings though there wasn't room for the most impressive of them all so far, center back Benoit Badiashile. Perhaps by this time next year, this reimagined squad will have worked out all the kinks. They almost certainly won't be in the Champions League for us to find out.
12. Porto (+1)
Since the start of November Porto have failed to win just one game, a 0-0 draw away to Casa Pia, and they have seen the likes of Galeno and Mehdi Taremi enjoy impressive runs of form in front of goal. In their Champions League group stage campaign, Sergio Conceicao's side were not the obdurate force they had been in previous knockout rounds but instead registering 11.9 xG while giving up 9.3. The same is not quite true in the Primeira Liga, where they have not given up more than one xG in a game since losing to Benfica in October, but it will be intriguing to see which side they show against Inter Milan.
13. AC Milan (-2)
Their performances against Chelsea in the group stages sewed the seeds of doubt as to how AC Milan might compare to Europe's best. Results of late have seen those questions blossom; right now it is hard to find a Champions League side sliding so swiftly. In a bid to stop the rot Stefano Pioli ditched the 4-2-3-1 in which the Rossoneri had performed so vibrantly on their way to the Serie A title but his new back three system does not appear to have room in it for his best player, Rafael Leao. With no Mike Maignan for the first leg at the very least, Milan's defense will have to be on their best behavior. If that were to be the case they would be breaking the habit of recent games.
Bound for the exit
In reality, the greatest achievement of this team might simply have been getting this far in the first place.
14. RB Leipzig (+2)
Since appointing Marco Rose in early September, Leipzig have morphed into an extremely effective force, one filled with attacking weapons that can test Manchester City in both legs. The likes of Christopher Nkunku and Dominik Szoboszlai need no introduction to seasoned Champions League viewers but this particular version of Timo Werner might take many by surprise, particularly as he has the sort of electric pace that can turn City's defensive line into a high-wire act.
15. Eintracht Frankfurt (-1)
Another German side who have hit a decent patch of form after a slow start to the season with Randal Kolo Muani seemingly determined to take out his World Cup frustrations on the Bundesliga. The bigger questions for Frankfurt lie at the other end of the pitch and whether a defense that profiles as a middle-of-the-pack domestic backline can hold the likes of Victor Osimhen and Kvicha Kvaratskelia at bay. The likely answer is no.
16. Club Brugge (-1)
Such was the scale of Club Brugge's achievement that you could hardly blame them if they concluded their season was done when they qualified for the knockout stage after four games in the autumn. It rather seems that they are, struggling to stay in the race for the playoffs in their domestic league and with just one win from their first seven games after the World Cup. The core of the playing staff that reached the last 16 are in place but not the coach. Former Fulham and Bournemouth boss Scott Parker has plenty of experience in the Championship but the Champions League could be another kettle of fish entirely.