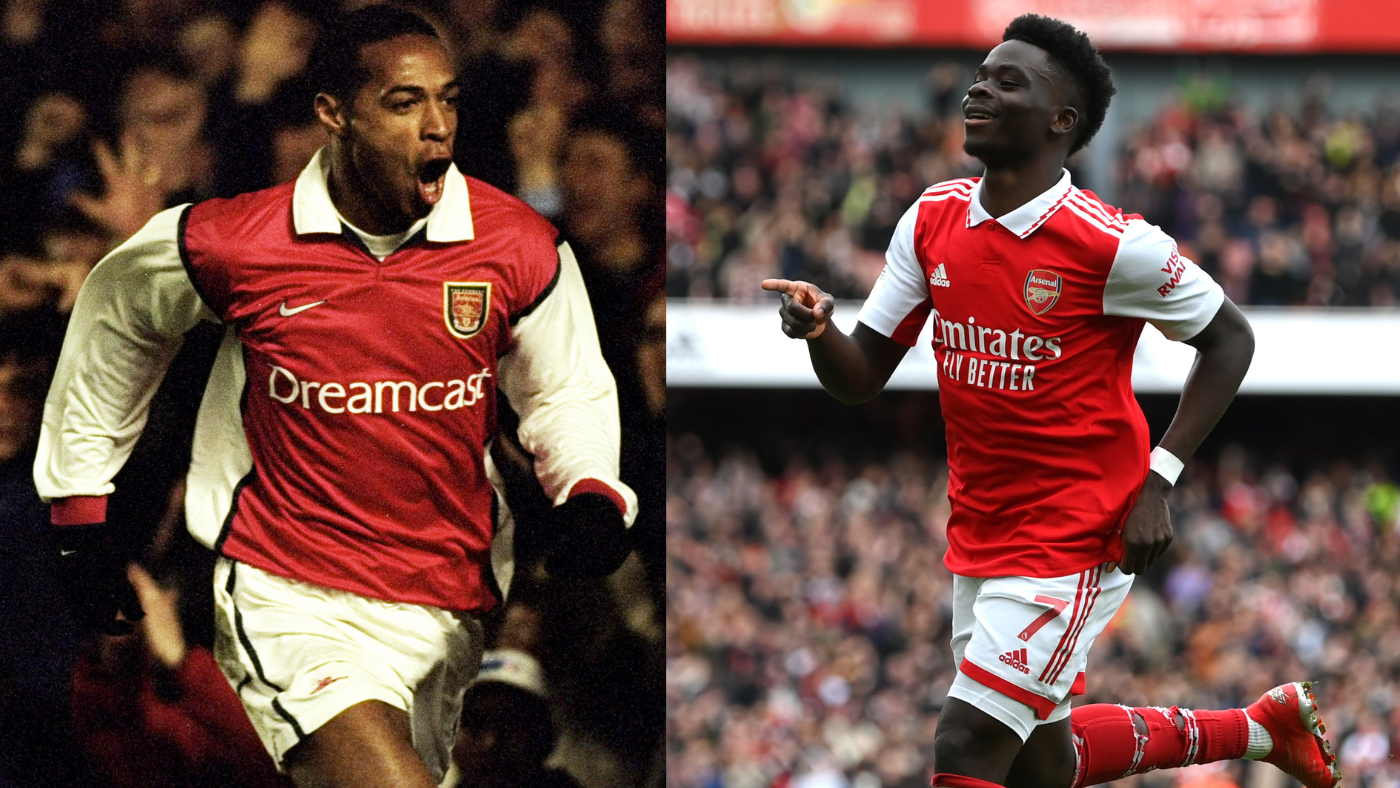 For anyone in Arsenal colors, the 2003-04 side are the lodestar on whose light a trajectory must be set. Much as supporters will decry any other Premier League champion with three simple words — "is yours golden?" — so the Arsenal teams that have followed the Invincibles have been set a bar that no other English side has cleared in the modern age of football, to go an entire league season undefeated.
Suffice to say, Mikel Arteta's 2023 vintage will not match that achievement, one which has been beyond their reach since the 3-1 loss they suffered to Manchester United on September 4. In another way, however, they're on pace to best that side. The Invincibles golden season saw them net 90 total points, Arsenal's best ever return on a campaign. On their current pace, this Arsenal side would be set to finish between 93 and 94 points.
And, of course, they do have a serious chance of becoming the first Arsenal side since the Invincibles to be crowned champions of England. Eight points clear of Manchester City, who have a game in hand as the Premier League rounds into its finishing straight, there is much left to do for the Gunners, but the belief that they can do it is an increasingly widely held one. Betting markets make them odds-on favorites (according to Caesars Sportsbook they're at -162 to win it all, which works out to an almost 62% chance to win the title), the website FiveThirtyEight's model gives them a 56 percent chance of winning the title and there is scarcely an opposition manager who does not talk up their chances of winning the league after they have fallen victim to the Gunners firepower.
Please check the opt-in box to acknowledge that you would like to subscribe.
Thanks for signing up!

Keep an eye on your inbox.

Sorry!

There was an error processing your subscription.

Today's Arsenal is built on their Invincibles history
The singular achievement of the Invincibles might be out of reach, but the results of the current vintage speak for themselves. To experience this group is to feel a side building bridges to their predecessors. Arsene Wenger swept away the labels of "boring, boring Arsenal" with front-footed football that arguably set a benchmark for the Premier League. At their apex there was a fluidity and incision to them that made Highbury the peak of London's artistic output. Players were reinterpreting what it was to play in their position. The most obvious, of course, was Thierry Henry, the center forward who spent most of his time lurking on the left wing where he created merry havoc with Ashley Cole and Robert Pires. The similarities are there in Arteta's current side, where nominal left back Oleksandr Zinchenko masquerades as a midfield playmaker while Gabriel Jesus, nominally the center forward, is a free roaming creator of wide overloads. For Jeremie Aliadiere, who made 15 appearances in all competitions during the Invincibles season, the great recurring motif between these two sides is the "fluent, attacking football." 
"The system doesn't really matter," says the former Gunner, "it's the movement of the players, the understanding and synchronization of passing. I can see the similarities when I remember us back in that time, Pires and Henry, the movement of players on the same page. These days, the likes of Odegaard and Saka are showing that similarity."
It is not just how they play where you can see signs of greats from yesteryear. Wenger's best Arsenal sides, particularly the Double winners of 2002, had a tendency to blow opponents away from the outset. Turn up 20 minutes late to Highbury in those days and you may well find yourself watching a match already in garbage time. The same is true at the Emirates this season. 
Arteta's men have scored 17 goals in the first 30 minutes of games, the joint most in the division with Manchester City, and have by far the Premier League's highest non-penalty expected goals tally for that time period, 17.2 to City's 14.9. As Henry and Pires did in years gone by, this team tends to respond to the opening bell by smashing its opponent with a knockout blow. Before kick off at the Emirates Stadium the ground pulsates with a video in which Arteta lays out a mini-manifesto for his team; naturally some of it feels buzzwordy but that word "aggression" feels pointed. For so long the critique laid at post-Invincibles teams was that they were elegant but insubstantive. From the outset this team plays with a ferocity that was supposed to have departed this part of the world with Patrick Vieira. Not for nothing did Henry say on CBS Sports' House of Champions podcast that this "looks like the Arsenal I know".
Experience gives way to youth
And yet, this squad does not profile as all that comparable with Henry's. Those who featured most regularly back then were almost to a man in their mid-to-late 20s. The core of that squad had already won one Double, there were even a few holdovers from the 1998 Double winners as well. There had been pruning around the edges — in the summer of 2003 Jens Lehmann and Kolo Toure were added to the starting XI — but Wenger had been fine tuning this side for the best part of a decade. This was a perennially successful team who all hit their greatest heights at the same moment.
Set against them are a team whose entire status as an elite club seemed open for debate three games into last season when they followed two straight eighth placed league finishes with three defeats out of the gate. Pushing Tottenham close for fourth was a sign of real progress in 2022-23 for a squad in their early 20s. Internally the view was that this was the year to qualify for the Champions League. Externally that was a matter of not little debate. Before this season began no one on CBS Sports' panel of experts picked the Gunners to finish higher than fourth, three of the seven did not even have them qualifying for the Champions League. Now a mere 15 points from their remaining 10 games would formally guarantee them a top four finish that is effectively in the bag already. 
"The difference is the level of expectation," says Andrew Mangan, who has been recording the trials and tribulations of his team since 2002 as Arseblog. "Back then, Arsenal were an established side who had just missed out on the league title the season before and had done the Double the season before that. It was a mature side, full of 'world class' players, and this was the height of Wenger's prowess as Arsenal manager.
"This time, Arsenal are challenging having hit something of a rock bottom. The process to rebuild has been painful at times, and there is an element of surprise. There was an expectation of improvement, but perhaps not this much this soon."
Arsenal supporters saw themselves winning the Premier League in the summer of 2003, or at least giving Manchester United an almighty run for their money. Wenger had even predicted that his was a team that could go unbeaten over the course of a season, it's just he had it coming a year earlier. Comparable success was, at best, a long term aspiration going into this campaign. It would be hard for anything to be sweeter than an achievement Arsenal share only with the Preston North End side of 1888-89. Winning this year might be. "I'm not saying winning the league back in 2003-04 didn't feel great, of course it did," says Mangan, "but I think now there's a sense that if Arsenal did it — especially in the context of how some clubs are now financed — it would be really special."
CBS Sports has a daily soccer podcast, covering everything you need to know about the beautiful game. Make sure to give House of Champions a follow for coverage of the biggest games, stories, transfer news with Fabrizio Romano, and everything else going on in the world's most popular sport.
All the more so because of the bond that has built up between players and supporters. The return of fans to stadiums across the country after the pandemic brought a sense of exuberance to grounds that had grumbled their way through the 2010s. At Arsenal that energy has not dissipated, partly because Arteta has deliberately cultivated it, but also because the crowd have found players to believe in. 
It all seemed to begin with the "Saka and Emile Smith Rowe" chant that away fans struck up en masse in an EFL Cup game against West Bromwich Albion in August 2021. In those two players of prodigious talent fans saw players they could relate to, boyhood Gooners living their dreams. The "little disconnection" that Henry spotted between players and supporters after he left is a thing of the past.
"Around the Invincibles era the players stopped seeming like me anymore," says Dave Seagar, a season ticket holder at the Emirates and author of four books on Arsenal (a fifth, on the 2003-04 team, is in the works). "You just couldn't have the same connection that you had with Paul Merson, Perry Groves and David Rocastle. Ray Parlour was the last of that era probably. For many years they weren't like you; you'd support the team but for me I didn't have a particular favorite player that I felt I could connect with in the same way I did with Rocky [Rocastle] and Charlie Nicholas.
"Now I feel that way about most of this team. My wife, who doesn't love football, loves Bukayo Saka. You feel a connection with these players. You feel like they're trying to win the league for you. I haven't felt that way about players earning £150,000, £200,000 a week for a long, long time."
There was a sense of the superhuman to Wenger's great side. With the exception of Ashley Cole and an ageing Parlour, the Invincibles were a triumph of recruitment, particularly the underexploited French market. But this current side has a distinct Hale End flavor to its triumphs. It's not just the weekly brilliance of Saka, but the last gasp winners from Eddie Nketiah and Reiss Nelson that have propelled Arsenal to top spot. As Seager notes, "It's always more special when it feels like something you've created as a club."
Even if much of the core XI was recruited in a hurry in the summer of 2021, there is an alchemy to Arteta's squad. When Invincible Edu arrived in Arsenal's front office in 2019 he spoke of the value of a squad where "everybody [is] pushing in the same direction" as his teammates had. Through expensive payoffs to veterans and even more expensive signings of youngsters looking to take a leap in their career, the manager and technical director have forged a similar dressing room.
"There is a togetherness to them," says Aliadiere. "You can see they all work hard for each other. They've all got the same ideas, the same vision for football which makes a massive difference. They all enjoy playing the same way."
The end result of a staff who know what a winning Arsenal look like, a fanbase looking for players to connect with and some very good players may or may not be the Premier League title. Of course, it matters greatly to supporters who have waited 19 years that this year is their year, but even if it is not few supporters will take for granted that these players have made following Arsenal fun again. Perhaps even more than Highbury in 2004, the Emirates Stadium feels like the place to be in London, tickets like gold dust, fans whipped into a state of fervor by the Ashburton Army before a ball has even been kicked.
"The atmosphere at the Emirates today is better than it was in the Invincibles year," says Seagar. "There is not even any question about that. Anything who tells you differently is wrong, they're looking back with a false memory."
That perhaps is the one achievement that this team will always have that even the great men of the past cannot obtain. Saka, Arteta and company have built something out of ashes and rubbles, not the building blocks that were laid down in the years before the majestic unbeaten run through 2003-04. In doing so they have changed what it means to be an Arsenal supporter. A club that was once defined by the rancour of YouTube channels, riven asunder by questions over whether Jackson Martinez was 28 or 29 now has a propulsive unity to it.
The Invincibles have set a footballing bar that may well prove to be beyond the reach of Arteta, just as it has Sir Alex Ferguson, Pep Guardiola and Jurgen Klopp. Perhaps though, in so radically changing the sense of who Arsenal are and can be, the class of 2022-23 will ultimately prove to have had as profound an impact on north London as their unbeatable predecessors.