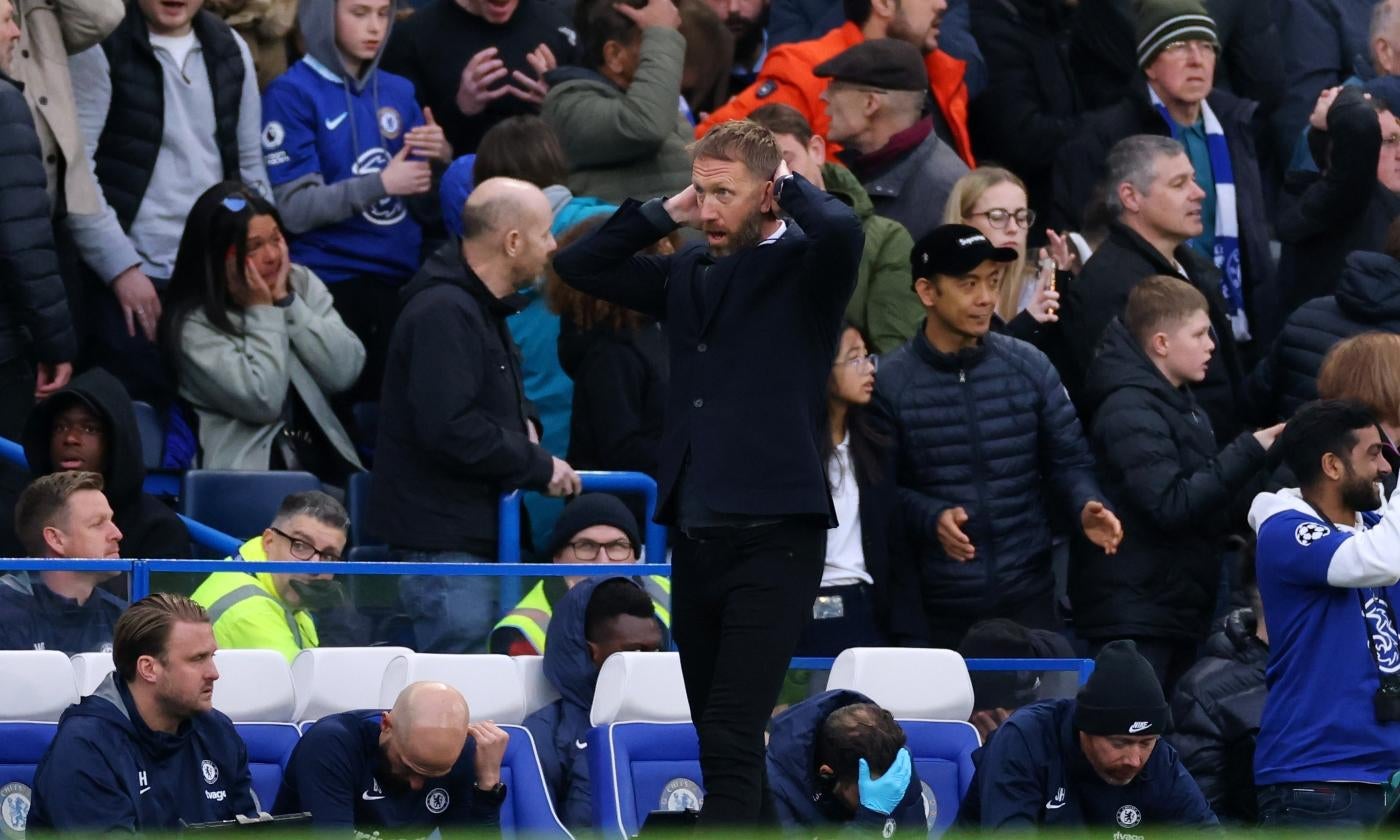 Less than seven months after the dawn of what was supposed to be a new era of "collaboration, innovation, teamwork, player development, and a commitment to excellence on and off the pitch," Chelsea have sacked head coach Graham Potter in a humiliating defeat for their ownership consortium. The words of Behdad Eghbali and Jose E. Feliciano might be remembered as having always set Potter up for a fall, the manager who they and Todd Boehly were prepared to sack Thomas Tuchel for doomed by the reality that few coaches could live up to such lofty promises.
Ultimately Potter departs after a 2-0 defeat to Aston Villa, the 11th defeat of a 31-match tenure that ends with Chelsea in the bottom half of the Premier League table but still in the hunt for the Champions League even if they are heavy underdogs against Real Madrid in the quarterfinals.
Former Brighton right-back Bruno will take charge of Chelsea on an interim basis, starting with the visit of Liverpool to Stamford Bridge on Tuesday night. 
"On behalf of everyone at the club, we want to thank Graham sincerely for his contribution to Chelsea," said Boehly and Eghbali. "We have the highest degree of respect for Graham as a coach and as a person. He has always conducted himself with professionalism and integrity and we are all disappointed in this outcome.
"Along with our incredible fans, we will all be getting behind Bruno and the team as we focus on the rest of the season. We have 10 Premier League games remaining and a Champions League quarterfinal ahead. We will put every effort and commitment into every one of those games so that we can end the season on a high."
Aside from the quarterfinal, the first leg of which is in 10 days, there is precious little for Chelsea to focus on over the remainder of their season. European qualification is only possible in a mathematical sense (or by a Champions League win that, even by the Blues' standards, would be improbable in the extreme), Bruno's immediate focus will be avoiding the ignominy of a league campaign that ends in the bottom half of the table.
Potter might reflect that he was ultimately right in describing Chelsea as "the hardest job in football," as he labelled it on Jan. 11. Indeed it did not get any easier for him from then onwards as Boehly and Eghbali presided over a remarkable recruitment spree that saw Potter's squad balloon to 32. The promises of an end to the hire-and-fire culture of Stamford Bridge seem to have fallen on deaf ears and a fanbase that has become used to serial trophy winning showed little patience for a manager forever in search of his best team.
Julian Nagelsmann is expected to be among the candidates that Chelsea consider as they search for a successor though there are those in the game who suggest that the new hierarchy may have some work to do to convince the upper echelon of managerial candidates that Stamford Bridge is the right place to move, such has been the tumult around the club since the change in ownership. Boehly, Eghbali and company have spent over half a billion dollars on new players since taking the helm in the summer but their approach has been scattergun, signing Pierre-Emerick Aubameyang to play for Tuchel at a time when they were already considering sacking the German.
Potter would ultimately cut Aubameyang from Chelsea's Champions League squad with no recognized senior center forward taking his place, one of several contentious decisions that were effectively foisted on him. Equally, as his reign petered out towards its conclusion, supporters had little patience for his chopping and changing, which included playing Ruben Loftus Cheek at wing-back on Saturday while handing a start to the struggling Mykhailo Mudryk. The 47-year-old could be forgiven for wondering whether anyone else could do a better job in such trying circumstances. He is about to find out.