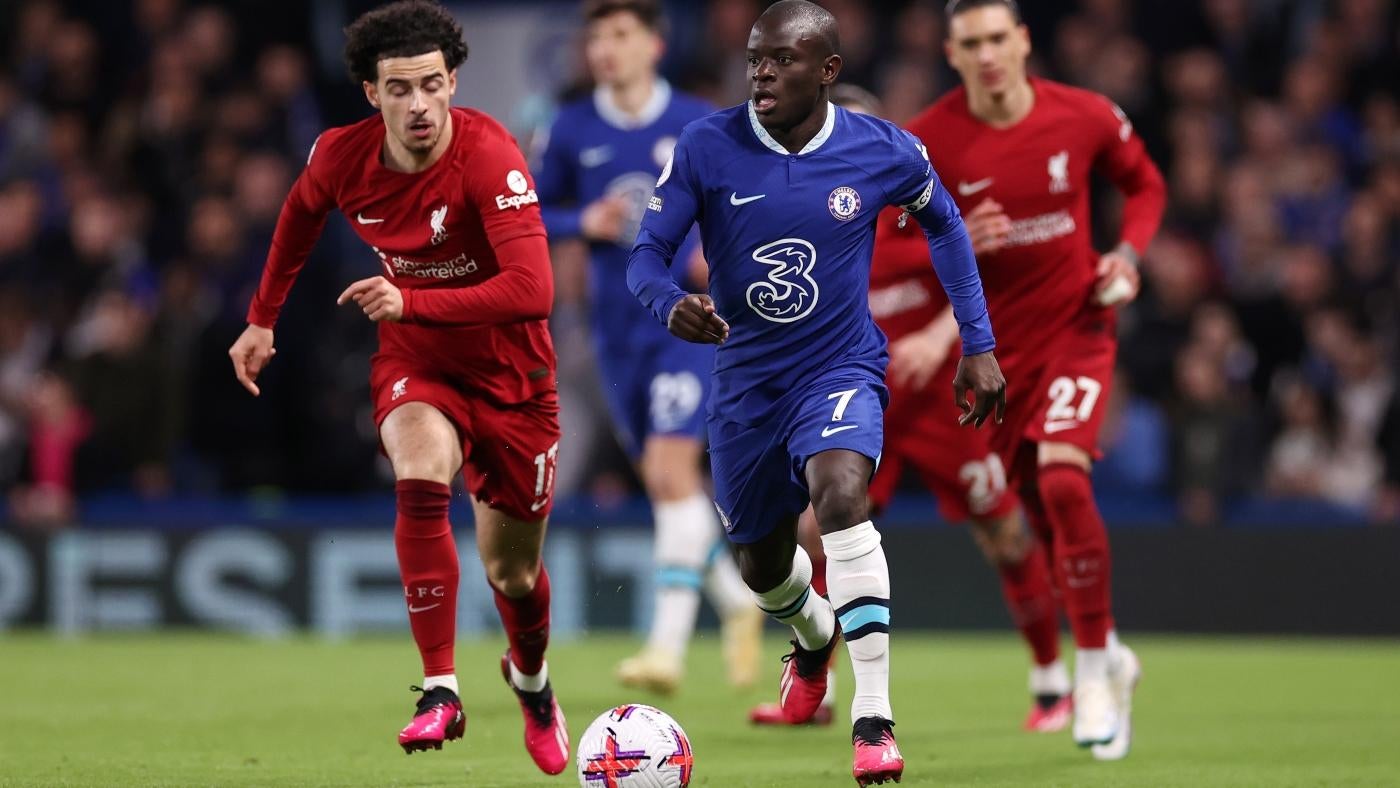 LONDON — It took all of 90 seconds here for one's mind to turn to what might have been if only N'Golo Kante had returned before the Graham Potter cycle had run aground. Onto his third manager in as many games, the Frenchman sparked the faintest of flames from the embers of this Chelsea season, not quite enough to carry his side to victory over Liverpool in his first start since mid-August, but enough to at least suggest that their Champions League quarterfinal with Real Madrid will offer more than further humiliation in a season of crushing lows.
Injuries and aging mean that any form of Kante might be a fleeting sight in Chelsea colors. It is probable that he will never get back to the force that Thomas Tuchel fell head over heels with, the player who should have won the Ballon d'Or in 2021 solely on the strength of his continual man-of-the-match displays in the Champions League. But in combination with Mateo Kovacic and the impressive Enzo Fernandez, Kante delivered to Chelsea a drive through central areas that they all too often lacked in Potter's six and a bit months at the helm. The finishing was as woeful under interim boss Bruno Saltor as any of the dog days of the last few months but the ball was at least flying up the pitch with a degree more of purpose and energy.
Aside from Kante and his partners in crime across midfield, this was midtable fare served up by midtable teams. Chelsea will need to go through a few more than three coaches before they solve the intractable problem that has plagued them more often than not since they won their last league title under Antonio Conte: how to score goals. 
Doubtless, it does not help their cause that Kai Havertz is the subject of some ancient curse, one which dooms him to find ever more imaginative ways through which to not score goals. Get him involved in your build-up and he delivers swift one-twos, creative movement and an ability to draw multiple defenders his way before delivering the ideal layoff. Ask him to kick a nine-inch sphere into a 24-foot wide entry and everything falls apart.
There is no convincing explanation beyond necromancy to explain the skewed shot on his stronger left foot nor his misjudging the flight of a ball so that he kneed it to safety with the goal at his mercy. Even when everything came up Kai, for a moment, fate had other plans for him. As he wheeled off to celebrate his chip shot bouncing off Alisson's glove, into his frame and then onwards to the net he must have surely sensed what was coming next, a VAR review swiftly establishing that the ball had hit his arm.
Chelsea are not a side that can make up for a doomed center forward, even against this shallow approximation of Liverpool. Joao Felix and Mateo Kovacic were denied by Joel Matip and Ibrahima Konate at the end of runs through a Liverpool defense with all the structural integrity of a wacky waving inflatable tube man. Reece James found the net with a sweet enough strike but an offside flag on Fernandez, one of this game's few bright sparks, denied him his goal.
At least Chelsea played with the determination of a team with something to prove. The much-changed Liverpool side that Jurgen Klopp named should have felt the same way but delivered the performance of 11 men killing time until the end of the season. Time will tell if the six changes made from the XI that were brushed aside by Manchester City elicit a response from faltering stars such as Andrew Robertson and Trent Alexander-Arnold but their replacements made an underwhelming case for starting spots.
Indeed had Klopp not raged so visibly on the sidelines, one could have been convinced that this was Liverpool attempting to tank their way out of the lesser European places. Maybe they even fancy getting into the Victor Wembanyama sweepstakes. We are firmly at the stage where there are no bad midfield signings for this summer.
Set against the morass of mediocrity, Kante shined. Every half-counter by Liverpool seemed to crash into the Frenchman, Kostas Tsimikas bouncing back to Anfield when he tried to beat the diminutive dynamo to a loose ball. In flashes, you could see the player who had been arguably the best in the world in driving Chelsea to the Champions League title in 2021, a ball-winner and progressor who had gone that step further by developing an eye for the killer pass. Through his 69 minutes on the pitch, no one created more chances than the three he laid on. On eight occasions he recovered possession for his teammates, no one got the ball back in Chelsea's possession more frequently in the middle third of the pitch.
He will face greater tests than this papier-mache Liverpool midfield but when he does he will be sharper and fitter. Indeed he did not really appear to be tiring when Bruno concluded that it was time for him to make way. A fit Kante is a precious commodity, what minutes are left in his legs are not to be wasted on the dead rubber that is the remainder of Chelsea's Premier League season.
A marquee clash with Real Madrid in the Champions League, however? That is the sort of game he has already proven he can bend to his will. And if this drab side are to achieve anything in the remainder of the season, it seems inevitable that it will be Kante driving them on.