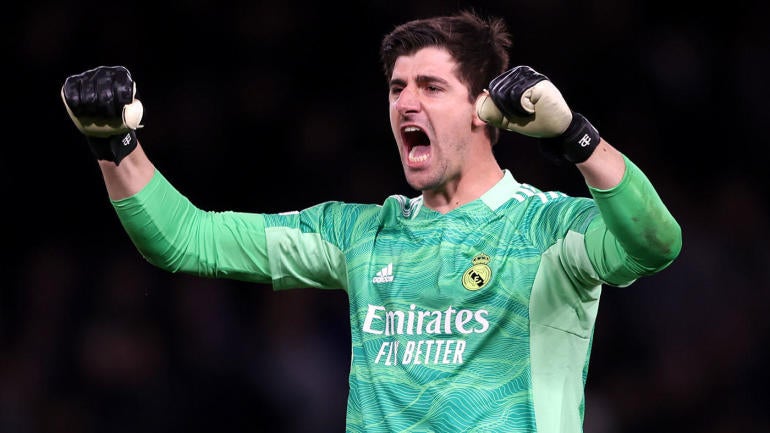 Getty Images
Real Madrid convincingly beat Chelsea 3-1 on the road on Wednesday in their Champions League quarterfinal first leg behind a Karim Benzema hat trick. The Blues were stunned with his three strikes in the space of half an hour, putting them in an uncomfortable position ahead of next week's second leg in Spain. 
But how did each player perform in this one? Here are our player ratings for the match for every starter, substitute and manager.
All ratings are out of 10, and the higher the number the better. A zero would be a first-minute red card. A 10 would be a dominant hat trick.
Chelsea player ratings
(GK) Edouard Mendy

90

Gifting Real Madrid a goal, this was far from a vintage Mendy performance. Making two saves on five shots on goal isn't what you'd expect although Benzema's headers were unstoppable.

5

(DEF) Antonio Rudiger

90

Rudiger didn't win a single tackle the entire match, while he wasn't targeted much — more on that to come —  like most of the Chelsea defense, he didn't do his job on the day.

5

(DEF)  Thiago Silva 

90

Out of Chelsea's defense, Silva is the only player who got a pass, leading the team in recoveries, stepping up to win tackles and interceptions when it was needed.

7

(DEF)  Andreas Christensen

45

Pulled at the half as he couldn't keep up with Benzema, it was a night that could scare Christensen away from moving to La Liga, or scare Barcelona from chasing him.

3

(DEF)  Cesar Azpilicueta

90

Almost scored a goal forcing quite the diving save out of Courtois. Didn't create any chances which is rare but when Real Madrid ran Chelsea off the pitch like that, there wasn't much he could do.

6

(DEF) Reece James

90

James was a danger going forward and was among Chelsea's best creators on the day but also didn't bring enough on the defensive end.

6

(MID)  N'Golo Kante

45

Kante didn't look like his usual self in the first half. He let frustration shine through leading to ill-advised shots but it was shocking to see him pulled at half time.

5

(MID)  Jorginho

64

A lovely clipped assist for Chelsea's opener highlighted a solid day for Jorginho during the match. A lot went wrong for Chelsea but none of it was his fault.

7

(MID)  Christian Pulisic

64

Didn't make much of an impact registering the fewest touches of any Chelsea outfield player who played more than a half. While Pulisic did have two shots, neither tested the keeper.

5

(FWD) Mason Mount 

90

Came close to scoring but also didn't create enough chances as Real Madrid's defense did a good job containing Chelsea's key players.

6

(FWD) Kai Havertz

90

⚽ 40′ A brave header for Chelsea's opener, Havertz had space to shoot all day but wasn't able to score again and Chelsea defense meant he needed to.

7

Mateo Kovacic

Kante '45

Didn't do a ton to change the game when he came on. Ticked over possession but at that point, Real Madrid were already coasting.

5

Ruben Loftus Cheek

Jorginho '64

Brought energy when he came into the match as Thomas Tuchel rolled every die he had to chase the match, but it still wasn't enough.

6

Romelu Lukaku

Pulisic '64

Had a chance at redemption for Chelsea with a free header in the box but he drove it right into the ground when it could've been an easy goal.

4

Hakim Ziyech
Christensen '45
It was easy to forget that Zyiech was subbed in even when Chelsea were pushing for goals, that's not great.
4

Thomas Tuchel

4

Chelsea's vaunted defense crumbling is still a mystery, but whatever the reason, allowing seven goals in their last two games isn't good at all. He tried to change the flow of the match but the players just weren't up for it. Something drastic will need to change in the second leg.

5
Real Madrid ratings
(GK) Thibaut Courtois

90

The Belgian made four saves, conceding just once, and he pulled off a miraculous save on a shot by Azpilicueta. He was up for the challenge and haunted his former team with a dashing display.

8

(DEF) Dani Carvajal

90

He was aggressive all night, recording a team-high five clearances, while also looking sharp in his duels and in the air. So often he was in the right spot inside the box to eliminate danger with a well-timed clearance.

7

(DEF) Eder Militao

64

The Brazilian will miss the second leg due to suspension after a silly early yellow, but he was pretty sharp for the most part. At times he was slow to react but more often than not he was that strong force at the back to contain Chelsea's speed.

6

(DEF) David Alaba

90

Made a crucial stop early on and was calm all match long. He did next to everything right, but he would have liked to have gotten a crack or two at goal.

7

(DEF) Ferland Mendy

90

Impressive. He won nearly all of his duels, recovered the ball well and tucked in when needed to provide support. It wasn't flashy, but he was the best Mendy on the field, though that's not saying much.

7

(MID) Toni Kroos

74

Was effective in terms of switching play, but largely his passing was just to feet to find a tad of space. He did his job, it just wasn't super appealing to the eye.

7

(MID) Casemiro

90

Never afraid to get dirty, he was energized after being suspended for their last Champions League game. His quick passing back to the defense helped them avoid pressure, and he was fairly efficient in possessoi.

6

(MID) Luka Modric

90

Recorded a stunning assist to Benzema with a brilliant cross. It was his only really massive contribution, but boy was it a big one to get the second goal.

7

(MID) Federico Valverde

86

Created a team-high two chances and did damage on the right. He should have recorded at least one assist. The Uruguayan was superb with nearly all of his passing.

7

(FWD) Vinicius Jr.

90

Got an assist with a fine ball to Benzema on the opener, but he really should have scored too. He hit the crossbar in the first half but did well to control the ball while dealing with Chelsea being all over him.

7

(FWD) Karim Benzema

86

⚽21′ ⚽24′ ⚽46′ OK, it should have been four. He missed his easiest chance of the night! But what more do you want? The most in-form striker in the world. He was absolutely electric and has six goals in his last two UCL games.

9

Nacho

Militao (64′)

Came in due to a Militao injury and held his own. He was always quick to clear the ball out of danger.

6

Eduardo Camavinga

Kroos (74′)

Didn't get as involved off the bench as he would have liked, but he passed well enough to keep possession.

6

Gareth Bale 

Benzema (86′)

Late sub to waste time. He played a very minimal role.

N/A

Dani Ceballos
Valverde (86′)
Another body in the middle to see out the game.
N/A

Carlo Ancelotti

4

He's got to be thrilled. Benzema has nearly put this tie all away by himself. Not having Militao in the second leg will cause some concern, but he saw enough from his attack that he may not have to worry much about the defense.

7