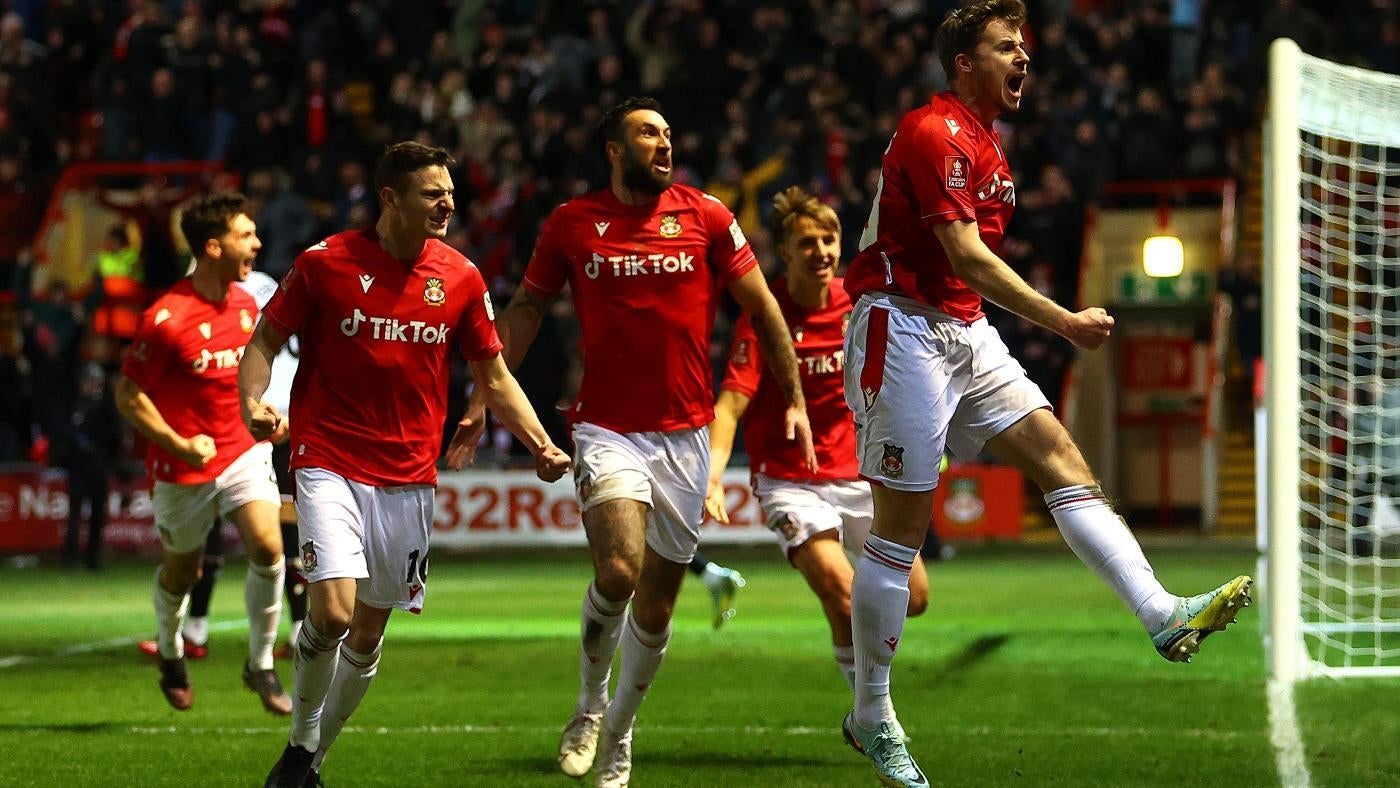 Wrexham's magical run in the FA Cup will either continue or be halted on Wednesday when the popular Welsh club take on Sheffield United in the fourth-round replay. Separated by 71 places in the English pyramid, Wrexham have already defied the odds by pushing a replay but with a date against Tottenham looming, it will be a tough trip to face the Blades at their home stadium. But backed by both traveling support and new fans worldwide, the Red Dragons can cause an upset.
The oldest club in Wales, Wrexham were a club spiraling until Hollywood stars Ryan Reynolds and Rob McElhenney purchased them and injected cash to help turn them into a Vanarama National League powerhouse. It's something that has ruffled feathers in England due to the team looking to "buy" promotion but, with the help of the TV show "Welcome to Wrexham," the club now have fans from all over and is picking up steam with their FA Cup run.
Here's what to know: 
How Wexham got here
Coming into the FA Cup in the fourth qualifying round, Wrexham have played five matches in the completion so far winning four. The team have already knocked off one Championship side (second division) in Coventry City but they look to topple Sheffield United after drawing them 3-3. The second-placed team in the Vanarama National League behind Notts County, promotion is the expectation for the Red Dragons after coming up just short last season. The team have been on a tear and are unbeaten in their last four matches following a defeat on penalties in the FA Trophy. This will be one of the biggest games of their recent history in an away match against a team on track to be promoted to the Premier League, where Wrexham would like to be.
The Blades have followed a similar path as the one Wrexham would want to, being promoted from League One to the Premier League over a six-season span. But that's only starting in the third division, two divisions above where Wrexham currently are.
'Welcome to Wrexham' increases popularity
After the purchase of the club by Reynolds and McElhenney, last season's promotion campaign was turned into a TV show. While it ended in disappointment with the team not making it to League Two, Wrexham's story has now gone mainstream. The Racecourse Ground is sold out and rocking weekly, the cub can barely keep jerseys in stock, they received a visit from King Charles, and they players have become legends overnight. The show has made recruitment easier and also shows the promotion process and excitement that it brings in a way that draws people in to get them excited about the possibilities behind the club.
How to watch Wrexham vs. Sheffield United
Date: Tuesday, Feb. 7 | Time: 2:45 p.m. ET
Location: Bramall Lane — South Yorkshire, England 
Live stream: ESPN+
Odds: Sheffield United -210; Draw +320; Wrexham +525 (via Caesars Sportsbook) 
How to watch Wrexham matches  
Streaming has been an issue for the Welsh club and it's something that the owners are trying to change. While games in higher divisions are watchable for most, even with the midday blackouts in England to incentivize fans to go to games, in the National League, watching Wrexham play is quite a challenge. Reynolds took to Twitter about the issues back in August and continues to work to improve the streaming rights of the National League.
The revenue streams from allowing more visibility of games would be a game changer for clubs just as the "Welcome to Wrexham" series has been for the Welsh club. While not every team has the story or production that Wrexham are able to put on display, the opportunity to grab more fans is only a good thing for keeping clubs in business after COVID has stricken revenues for lower division teams.
In England, BT Sport has the broadcast rights of the league but only shows a few games from teams per week. Teams would like a streaming alternative but nothing has come to fruition yet on that front although Reynolds will be among the people pushing the hardest for it. It's similar in the United States where, unlike the Championship where all games are available on ESPN+, lower divisions only see a few key games available for streaming.
What does this game mean to their season? 
Facing a team that has been in the Premier League and is also on track for a return is a landmark moment for Wrexham. While they likely won't win the FA Cup — and if they do, it could be damaging to them due to the number of games and travel that the Europa League would bring — the tournament makes their goals tangible. Tangling with Championship teams shows that these players are able to compete. 
It gives them a platform to push on for promotion and not fall one match short for two seasons running. It's also another chance to gain more fans as the FA Cup is an easy-to-watch competition.
How soon could the team be in the Premier League? 
It's tough to tell how quickly they could make it to the Premier League since there are quite a few steps. If they're promoted every season, at minimum it would take four consecutive promotions to make it to the Premier League, but it's not that simple when the jump from the Vanarama National League to League Two is a big one. League One to the Championship is another big one. It would likely take around 10 years for them to adjust to a different play style, greatly bolster their squad and then push for promotion. Realistically, becoming a stable Championship team would be a massive accomplishment for them.
What should I know about the game 
Wrexham have the top scorer in the FA Cup in Paul Mullin who has seven goals on 16 shots. The heartbeat of the team, Mullin will drop back in defense and also orchestrate play. But it's a team attack with Ben Tozer's long throw causing issues along with Luke Young and Elliot Lee orchestrating the defense. The team has some injuries coming into the match but they'll be up for it despite being in a hostile away environment.