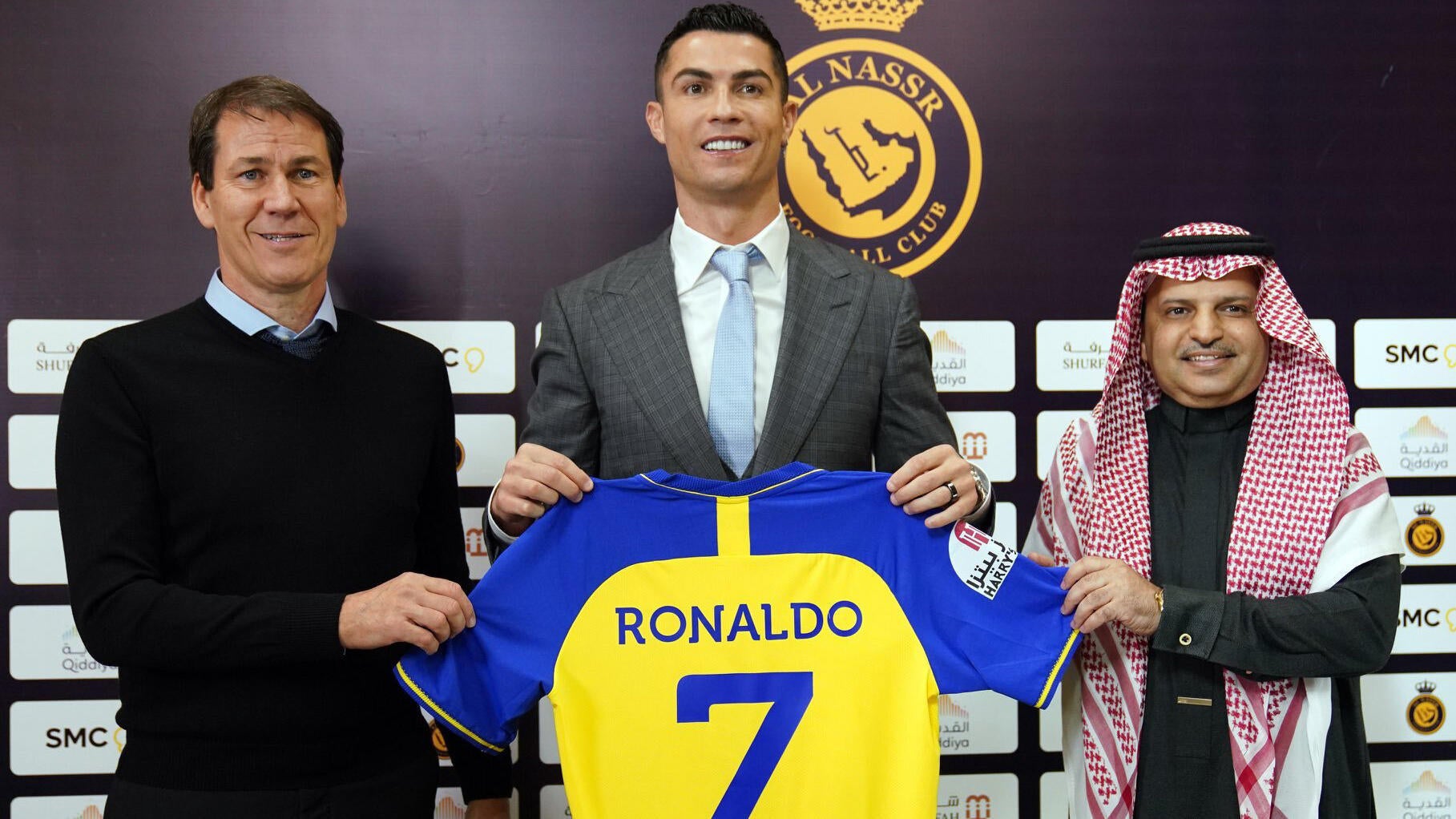 After completing his two-and-a-half-year contract — that will pay a mammoth $75 million per year — to move to Saudi Arabian club Al Nassr, Cristiano Ronaldo was unveiled to their fans in the country's capital of Riyadh on Tuesday. 
The 37-year-old Portuguese star saw his contract with Manchester United terminated at the beginning of the 2022 World Cup due to an inflammatory interview with Piers Morgan where he questioned manager Erik ten Hag's authority while expressing other frustrations with the club. Still, he received a king's reception in Saudi Arabia.
In that same interview, Ronaldo agreed with Morgan's statement, "If it were about the money, you'd be in Saudi Arabia earning this king's ransom, but that's not what motivates you. You want to keep at the top." That was foreshadowing for what was to come in Saudi Arabia as only a month after that interview, Ronaldo traded in his UEFA Champions League pursuits for Asian Champions League hopes with one of the Saudi Pro League's top clubs.
In Ronaldo's introductory press conference on Tuesday, the former Manchester United, Real Madrid, and Juventus forward said he turned down many clubs before coming to Al Nassr.
"Nobody knows this, but I had many opportunities in Europe, Brazil, Australia, the U.S., and even Portugal. Many clubs tried to sign me. I gave my word to this club," Ronaldo said. "I want to give a different vision of this country and football. This is why I took this opportunity."
It was revealed that Sporting Kansas City in MLS made a run at Ronaldo with a competitive package as multiple meetings were held with his team, according to MLS insider Tom Bogert. But CBS Sports also reported interest in Ronaldo's services around Europe was scant following his Manchester United dismissal.
Al Nassr's 25,000-seat stadium was packed with fans Tuesday waiting to get a glimpse of his arrival. On his first walk onto the pitch, Ronaldo was welcomed with open arms.
"He is the best player in football history, so it is normal he will be the highest in terms of cost or salary," Al Nassr's president Musalli Almuammar said in reference to the size of Ronaldo's contract. "This is something he really deserves, so the amount of money he will take, he really deserves."
Ronaldo raved about the increase in competition levels of the Saudi league, which was established in 1976. His immediate challenge will be to break Al Hilal's dominance — winners of five of the past six titles in the Saudi Pro League — and lift Al Nassr to their first title since 2019. Both clubs were well represented at the World Cup last month in Qatar, where the Saudi national team secured a memorable upset victory over Argentina.
Currently, Al Nassr are atop the table after 11 games played with 26 points and only one loss this season. The club will now pair leading scorer and Brazilian international Talisca (nine goals) with Ronaldo to stave off tough competition from Al Hilal and around the league. Next up for Al Nassr is a clash with Al Ta'ee on Jan. 5.