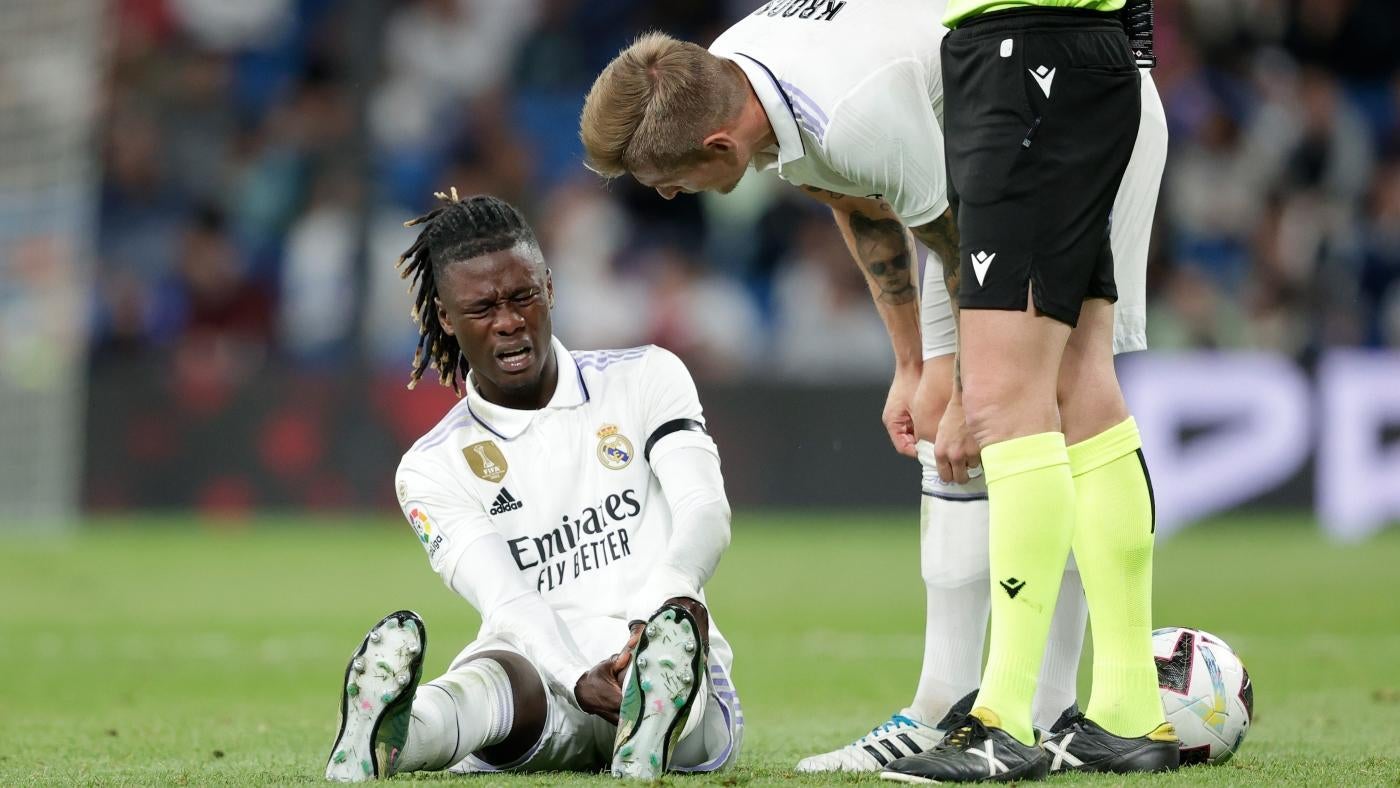 After struggling to break into the midfield at the Santiago Bernabeu following his move from Rennes to Real Madrid, Eduardo Camavinga has turned into a big contributor for Los Blancos due to a positional tweak by Carlo Ancelotti. Camavinga is great when he can make direct runs with the ball and also has good defensive awareness so with Ferland Mendy getting injured, he was used as an emergency left back. It's a change that stuck and also paid dividends as Camavinga's amazing run was able to help generate Vinicius Junior's goal in the 1-1 draw with Manchester City in the Champions League semifinal first leg, but there's a chance that Real won't have their dynamic midfielder for the second leg on Wednesday.
Camavinga was withdrawn near the end of Real Madrid's victory over Getafe Saturday with a potential injury. Ancelotti quelled concerns about Camavinga's fitness but there's still a chance that things could go sideways between now and the match. On Monday, Madrid confirmed that he was in the squad for the match, but his ability to make the starting lineup remains a question mark.
What did Ancelotti have to say about the injury?
"He twisted his knee, but it's just a knock," Ancelotti said, according to ESPN. "[Sunday] he'll rest like everyone who played and I hope that on Monday he trains with the team. He'll recover soon for sure. The knee is stable, he has some discomfort now but the important thing is the stability and he has that 100%. He has some discomfort in the knee but it's nothing."
While Ancelotti describes this as a knock, that doesn't mean that Camavinga will be 100% by Wednesday. Knee injuries especially are something to be careful with as it only takes a step in the wrong direction to aggravate. Camavinga is only 20 so he is a quick healer but there's a need to be careful.
Why has Camavinga been so important?
Similarly to John Stones playing as an inverted fullback for Manchester City, Camavinga has given Real Madrid more room for error in their style of play. Dynamic enough to keep up with the best wingers in the world, he has helped the team cope with some of their defensive issues while also stepping into the attack at times. When Real Madrid push forward, Camavinga comes inside if space allows him to give the team a stronger presence in midfield.
With the defensive presence offered by Eder Militao, he's able to push forward to make things happen while covering for Toni Kroos' lack of pace as he ages in midfield. Without Camavinga, it creates a situation where Mendy isn't as strong with the ball at his feet that City can exploit.
Who will play if Camavinga can't go?
Ancelotti did receive a big injury boost over the weekend in the return of Mendy from injury. Absent since mid-March, Mendy has only featured in 26 games for Real Madrid this season due to multiple injuries. He played 45 minutes against Getafe to get up to match fitness before Camavinga moved to left back when he went off at halftime. Fitness will be in question for Mendy but that 45 minutes could be the difference for getting him ready to start against Manchester City if needed.
Due to availability, Mendy only has one assist this season but he can still contribute to the attack if needed. Where things get dicey is that he's more likely to allow wingers to get behind him when he goes forward which could provide Bernardo Silva with chances. If Ancelotti is able to cover for that, it may not hurt the team too much but the attack loses a punch without Camavinga in the lineup.