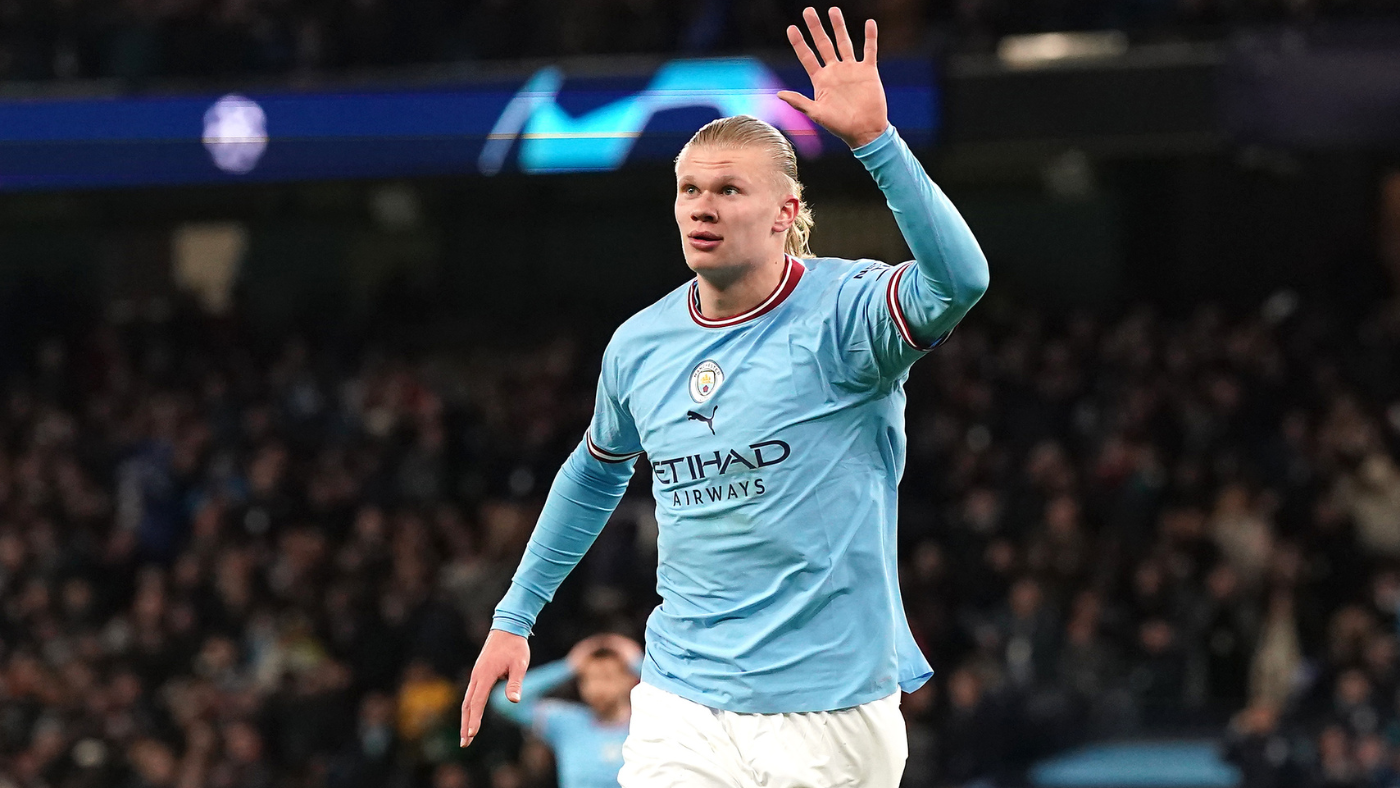 There are iconic individual performances in the game of soccer that typically come on massive nights under the lights. Tuesday was one of them. Manchester City striker Erling Haaland's five goals in a single game tied an all-time competition record as his side cruised into the quarterfinals past RB Leipzig, 7-0 and 8-1 on aggregate. Nobody in the competition has ever scored more goals in a single game, and there may just be no better player to lift City to the summit of European soccer. 
Haaland entered Tuesday's Champions League showdown averaging just under a goal per game, scoring 34 times in 35 matches. He's now given himself some wiggle room with three in the first half — his first two came in a three-minute span before the half-hour mark — and two in the second to become the third player to score five in a UCL game. He joins Lionel Messi for Barcelona in 2012 (coached by Pep Guardiola) and Luiz Adriano for Shakhtar Donetsk in 2014 as the only players to score five. 
Haaland and Messi are the only two to do it in a knockout round. His fifth goal made it 6-0 with over half an hour to go, meaning a six-goal record performance was still in play, but Guardiola removed him from the game in favor of Julian Alvarez in the 63rd minute since the game was already getting out of hand.
Putting the ball away in crazy fashion is nothing new. But reaching the continental summit would be uncharted territory would be for the blue side of Manchester, and Haaland knows what this display could mean. 
"It's an amazing feeling," Haaland told the Champions League Today postgame crew on site at Etihad Stadium after the game. 
"In the first half I could have scored more," he said. "I [was] alone with the goalkeeper with the pass from Nate [Ake] and I had the rebound with Gundo [Ilkay Gundogan] — I thought he was going to play the ball. That's why I went a bit more. If I had dropped down two meters I would have scored. Because he shot at the keeper. So I could have had two more goals in the first half. And there were also crosses from Kevin [De Bruyne] I could have been at. There was possibilities, but if I stayed on the pitch [longer] no one knows what would have happened. In my mind, I think I always have to look for the next [opportunity] and to try to reach more and stay hungry. Because maybe someone if they score five goals would be happy. You have to be happy, but you have to want more of course."
The nonchalant Norwegian did it in almost every way imaginable, finishing with precision, cleaning up in front of goal, scoring a penalty kick, heading home and more. While he has a ways to go to match Sergio Aguero in terms of being the club's most prolific striker statistically, he could surpass him in status come season's end if he continues on this trend. Haaland is the fastest player to ever score 10, 20 and 30 Champions League goals. He also looks like the answer to City's UCL dreams.
Craving more soccer coverage? Listen below and follow House of Champions, a CBS Sports soccer podcast, bringing you top-notch analysis, commentary, picks and more. 
There were worries that this night could have been another needless nightmare in Europe for Manchester City, done in way too often by the likes of Tottenham, AS Monaco and others in years past. They've come so close to climbing that European mountain, losing in the final against Chelsea in 2021 and twice more falling in the semifinals, including last season. But now they have something they've never had — the best pure striker in the world. 
This is not the Manchester City of the past, the one with a lineup filled with the world's best players yet a defense that too often can let them down, with an attack that sometimes just never showed up when it mattered most. It's a team that has a future multiple Ballon d'Or winner who has everything it takes to be a true legend of the game and prolifically lift them to the highest of heights. 
Whether that ends up happening remains to be seen, but City are in as great of a spot as they have ever been to reaching their ultimate goal. This club is no longer measured by Premier League titles, as winning that has been nothing new. 
This performance in no way satisfies the 22-year-old superstar, as he is well aware that the competition that his heart most desires, and that the supporters most desire, could soon be, finally, theirs. It's why he dawns that light blue kit with passion, the same his father wore years ago.
"You have to be happy, but you have to want more of course," Haaland said.
"They won the Premier League four times out of the last five years, so they didn't bring me to win the Premier League."