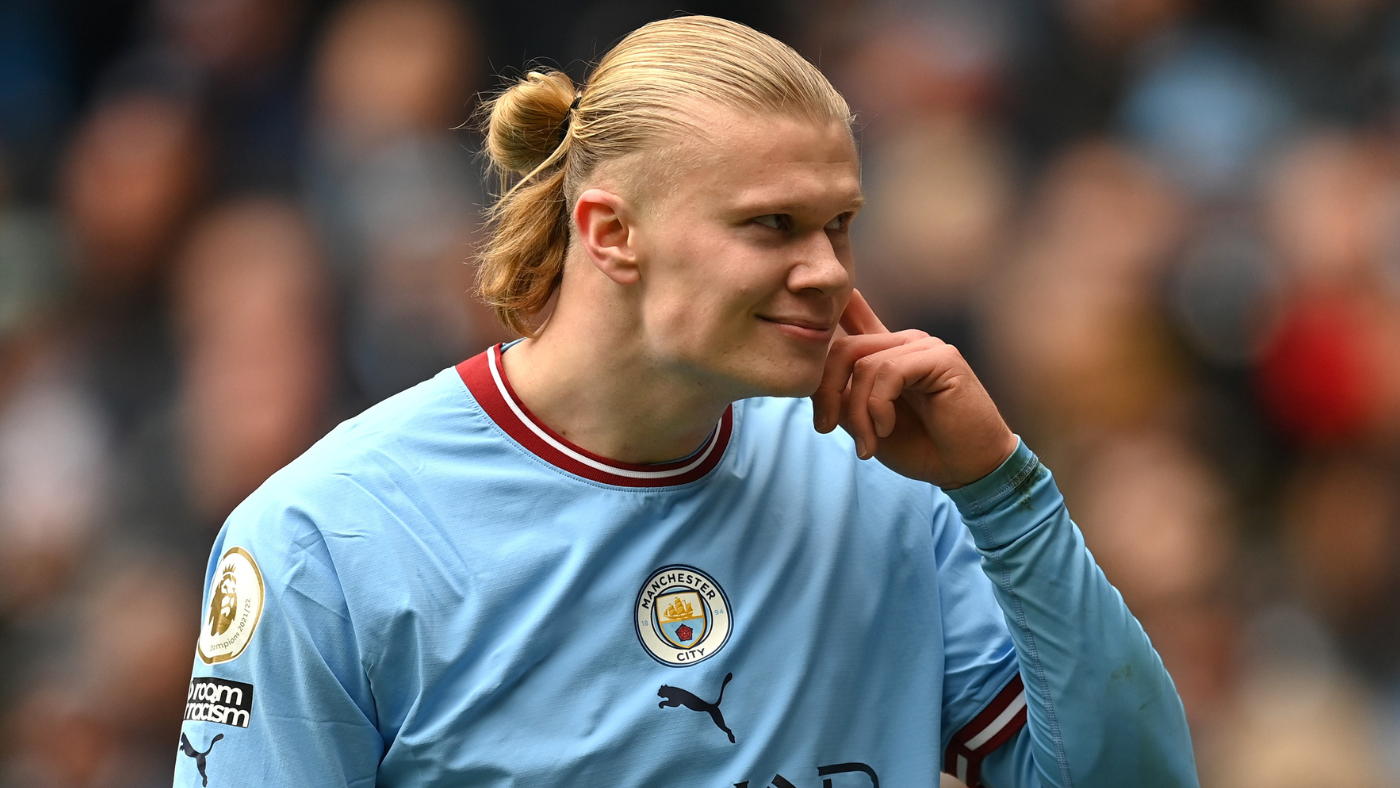 When discussing Manchester City, a large part of the conversation has been around the goals that their star striker Erling Haaland is scoring — or not scoring. But, when City plays the Norwegian is warping the way opposing teams are able to defend the club to the point that his mere presence opens spaces for his teammates. Despite "only" registering an assist in their 2-0 victory over Newcastle United, Haaland's influence was felt everywhere, even while he didn't add to his league leading goal total. 
Haaland has scored 27 Premier League goals on only 601 touches this season, and his impact on matches shows in games even when he doesn't score because of his excellent movement without the ball. On City's opening goal, Kevin De Bruyne's run to free Phil Foden was important, but Haaland, along with Ilkay Gundogan, drew the attention of four Newcastle players to give Foden space to run into.
Few forwards demand respect, and force defenders to adjust to their positioning in the way that Haaland does. When you're on course to break the Premier League record for goals in a season — 34, shared by Andy Cole and Alan Shearer —  defenses must be not only be aware of where you are, but move to try and stop you from influencing the match.
And while defenses might be able to limit Haaland's touches, they still can't stop him from being the most lethal striker in the Premier League. Haaland averages a shot every 7.2 touches and scores on every 22nd touch in Premier League action, so even though it can sometimes feel like he should touch the ball more, City are able to maximize his ability by giving him the ball in the most dangerous areas possible. For context, the number two striker in the Golden Boot standings, Harry Kane, only scores once in every 54 touches of the ball. That's how Haaland manages to be a volume shooter with 83 shots this season, averaging 3.68 shots per 90 minutes, the fourth best total in the league. His ability to take lots of shots from relatively few touches, and for those shots to still be from the most dangerous areas of any striker in the league means that defenses are failing to stop him, despite devoting an inordinate amount of energy to doing so.
Saturday's match against Newcastle showed just how dangerous focusing on Haaland can be for a defense, even on those occasions where you succeed in keeping him off the scoresheet. Haaland makes an excellent decoy as long as he's surrounded by midfielders and wingers who aren't afraid to shoot. And he also isn't afraid to setup his teammates like on City's second goal scored by Bernardo Silva. It was his fifth Premier League assist of the season, only seven players have more, and of course, Kevin De Bruyne, the league leader with 12, has the benefit of passing it to Haaland.
Here, Haaland again has the  Newcastle defense collapsing on him but has the awareness to see Silva behind him to play a pass and City gets an insurance goal. This was when Newcastle were pushing in the match for an equalizer, so it also ended up being a goal that broke the Magpie's resolve and effectively ended the match.
Haaland may have only registered one touch on City's two goals, but it was clear that his impact was felt in each. Of course, for City's season to be successful they will still need to at least win the Premier League, preferably winning Champions League as well, and it is fair to ask, as Thierry Henry did on the UEFA Champions League Today show (which you can always catch on Paramount+ before all the big UCL action), if in the biggest games, Haaland acting as a decoy is the best course of action, or if he needs to mature his game even further. But, on a weekly basis, it's hard to chalk Haaland joining the club as anything but a successful move. He's either scoring the goals or creating the space for his teammates to score. 
Watching Haaland weekly we're witnessing one of the greatest strikers to ever play in the league and he's in the midst of the greatest statistical season in league history as well. And when we extend Haaland's impact to goal contributions, including assists, the number to beat is 47 in the Premier League (also held by Cole and Shearer). At 33 goals and assists with 13 matches to go, that number is within reach as well. He's great, he's already on the verge of having the best Premier League season for a striker of all time. The question now is only, how much better can he be.