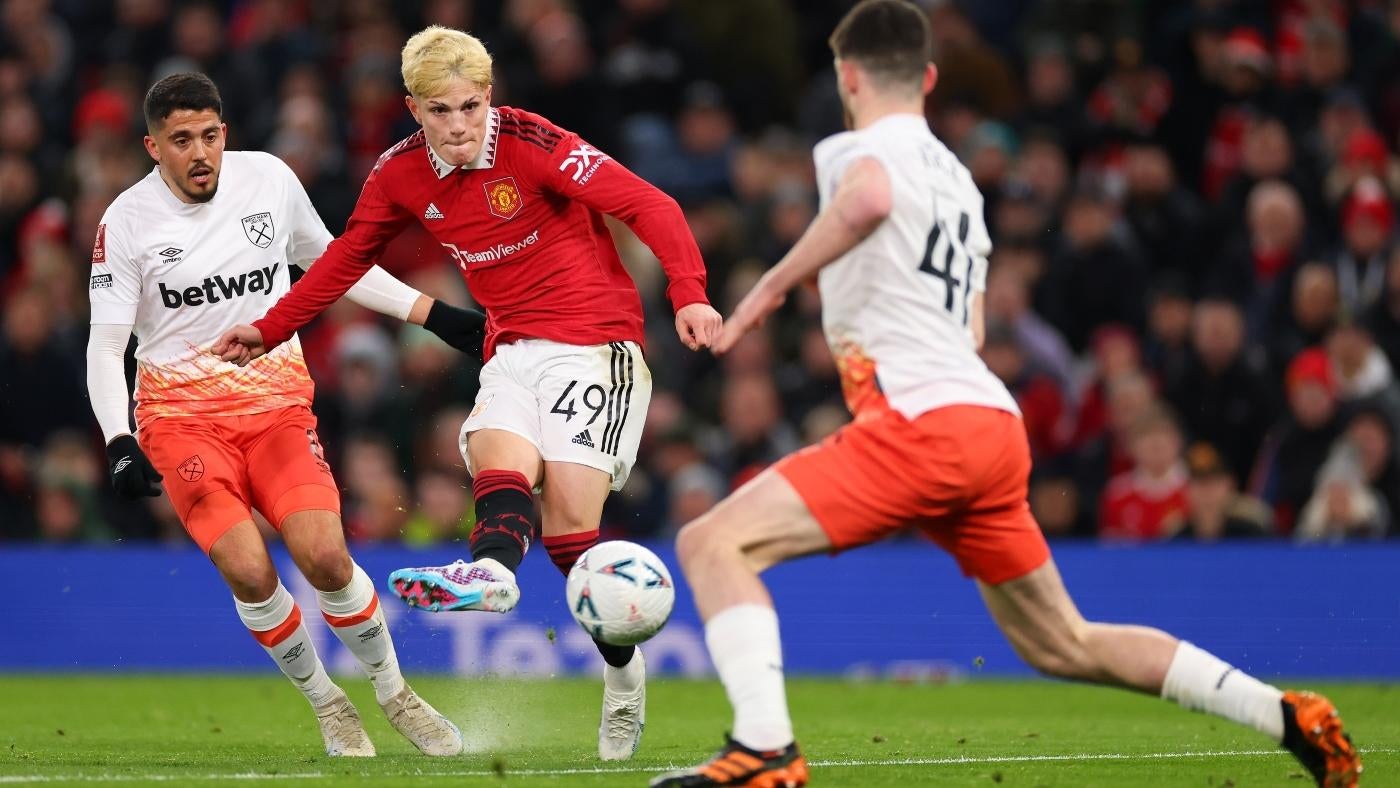 As we reach the business end of the FA Cup, the back half of round five turned into the late show to determine the quarterfinals, led by League Two's Grimsby Town upsetting Southampton while Manchester United kept their unreal run going with a comeback victory against West Ham United. Tottenham's away woes continued as Sheffield United marched on while it took Vincent Kompany's Burnley all of regulation to get past a 10-man Fleetwood Town side.
Wednesday's FA Cup Scores
Southampton 1, Grimsby Town 2
Burnley 1, Fleetwood Town 0
Manchester United 3, West Ham United 1
Sheffield United 1, Tottenham 0
Can anyone stop Manchester United?
Erik ten Hag tried to rest Marcus Rashford and the starters after they've had a tough but fruitful week toppling Barcelona and Newcastle United, but after going down after the half due to a good finish from Said Benrahma, ten Hag had to adjust as he has done with success many times this season. But even he likely didn't see United scoring three unanswered goals after Lisandro Marinez, Casemiro, Marcus Rashford, and Fred were all introduced. 
Casemiro thought he leveled things in the 73rd minute but his header would be ruled out due to him being in an offside position. That wouldn't matter as another Bruno Fernandes delivery found Harry Maguire before pinging off of Nayef Aguerd to level the score. Alejandro Garnacho would continue his breakout season by driving a clearance around Ben Johnson and into the back of the net. Once Fred got the insurance goal, it was all over.
This is a match that usually would be summed up as West Ham collapsing and while that's partially true, United have done this to teams time and time again. A few more wins and his inaugural season will have United winning at least a double although they want more. 
Grimsby with the unlikely "cupset"
Already a shock team to make it this far, Grimsby are firmly midtable in League Two, the fourth division. While Southampton are bottom of the Premier League the valuation difference between these teams couldn't be more different as Grimbsby's squad is worth €1.43 million per Transfermarkt compared to €387.5 million for Southampton. But the penalty spot levels all and the Mariners finished their chances with one penalty to end the first half and another to begin the second to secure an impressive upset. They've now knocked out a Premier League team, a Championship side (Luton Town), and a League One side (Burton Albion) in the last three rounds. While that doesn't equate to promotion for them, the players on this side will be etched in Grimsby's history for years to come. They've also become the first club to eliminate five teams from a higher division than them in FA Cup history to redefine what the term giant killer means.
Tottenham can't win away from home
Another cupset also took place but this one was to a much smaller degree as Sheffield United are on the road back to the Premier League while Tottenham can't win away from home. Tottenham showed where their priorities are in the league with Harry Kane starting the match on the bench and despite the attack producing 17 shots, only four tested the Blades' goal. Sheffield United didn't do much better with only one shot finding the target but that's all it takes sometimes as Iliman Ndiaye's strike in the 79th minute made the difference. 
Tottenham will likely go another year without a trophy but similarly to the teams in the relegation race, they likely aren't too fussed with crashing out of the FA Cup at this stage due to a top-four finish being the top prize that they can realistically win this season. But for Sheffield United, the dream run continues and with a seven-point lead on an automatic promotion place, the team can afford to rotate in the Championship.
Vincent Kompany has Burnley on the comeback trail
Another Championship side that left things late were the Clarets. Burnley needed the full 90 minutes before Connor Roberts grabbed the winner but it was a big one due to who Burnely will face in the next round. Kompany will return home for a date against Manchester City, his former club, and the Burnley squad will get to admire the statute of their boss outside of the Etihad. It's quite a moment for Kompany upcoming with Burnely already having one foot in the Premier League barring quite a collapse but it wasn't an easy road to get there.