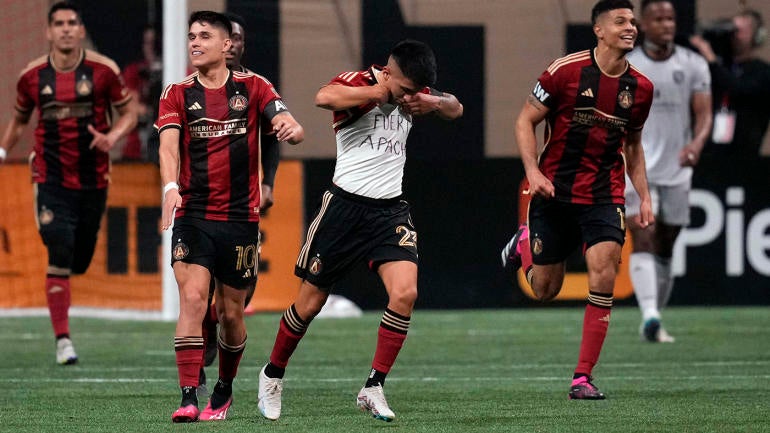 Dale Zanine / USA TODAY Sports
It took Atlanta United a while to get into the match after falling behind the San Jose Earthquakes only 12 minutes into the match, but two stoppage time free kicks from Thiago Almada were enough to see the five stripes to a 2-1 victory. Without their new Designated Player striker Giorgos Giakoumakis, it was a game that was going to be tough sledding for Gonzalo Pineda and the team, and that it was. 
After Jeremy Ebobisse opened the scoring, Atlanta had a chance to level the scoring from the penalty spot but Luiz Araujo missed everything including the target to keep San Jose in the lead. Atlanta absorbed pressure as San Jose dominated thanks to Miles Robinson's return from an Achilles injury suffered in May of 2022 but it was down to the reigning young player of the year, Almada as to why Atlanta won the match. 
His first goal was a strike from outside the box that Daniel had no chance of stopping for San Jose in the 93rd minute. It was a goal that felt like an important equalizer, but Almada wouldn't stop there when Atlanta won a free kick in the 99th minute. Stepping up with confidence, he fired that one home too starting Atlanta's season off on the right foot.
Almada's equalizer:
Almada one-upping himself with the winning goal:
Moments like this are where Almada's experience at the World Cup with Argentina shows. Learning from players like Lionel Messi and Angel Di Maria while becoming the first player to win the World Cup while playing in MLS, this wasn't a moment that was too big for Almada. He and Atlanta United needed that victory after a season where they missed the playoffs and club legend Josef Martinez moved to Inter Miami.
Rolling over late and letting San Jose have the victory on opening day would've been easy to do, but wins like this go a long way to building a team's confidence. With Robinson back and Almada able to score from anywhere on the pitch, Giakoumakis can help elevate this team back to the upper reaches of the Eastern Conference. The Five Stripes will need to prove that they can be consistent, but if Almada is improving on a season where he scored six goals and assisted seven more, Atlanta will be hard to stop.
Also, if he continues at this rate only being 21, a move similar to Miguel Almiron going to Newcastle United could be on the horizon too. Almada is becoming a must-watch performer who should be enjoyed for as long as he remains in the league. We'll likely get to see more of him with Argentina too if he keeps this up.