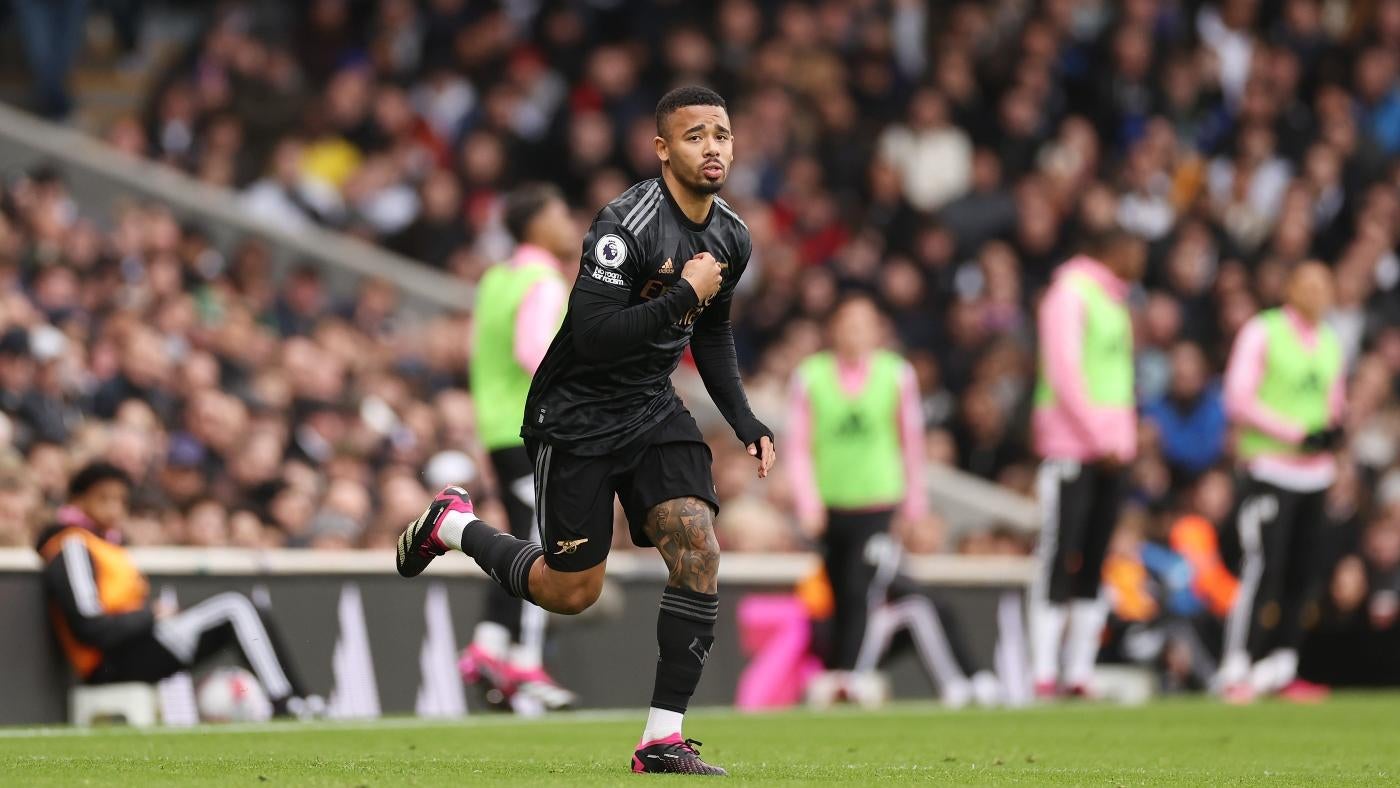 LONDON — This was supposed to be the run of games that broke Arsenal's title challenge. Without Gabriel Jesus, the propane on Mikel Arteta's wildfire, for two and a half months it seemed inevitable that the Gunners would slip back into Manchester City's chasing pack.
Instead, he returned to find Arsenal much where he left them, five points clear at the summit, playing the best football in the Premier League, more than capable of scoring without their transformative No. 9. Not that they have not needed and will not need Jesus, a player who links together disparate parts of a team as well as anyone in the league. Instead, what we have learned over the last 15 games is that Arsenal can cope without their most important player. Is there any setback that can blow this team off course?
Certainly, there were none that Fulham could offer. There were individuals in Marco Silva's side who struggled to make their mark — Andreas Pereira was particularly wasteful — and their cause might have been aided had they dropped their line a little deeper to neuter the threat of Gabriel Martinelli and Bukayo Saka in behind. However, there was no great collective failure, just an opponent who was significantly superior from the outset. Arsenal passes zipped through the lines, Arteta's side looking to advance the ball quickly through the center of the pitch after weeks in which their attacks got bogged down by opposition doubling up on their wide forwards.
At the heart of Arsenal's fizzing attack was Leandro Trossard, offering as convincing an impression of Jesus as could be hoped for. He could drift out to the left flank to interchange with Martinelli but functioned equally at the tip of a midfield diamond, leaving Fulham's center backs with no reference point.
As early as the 17th minute Arsenal tore through the Cottagers, a give-and-go between Martinelli and Trossard releasing the former. Bernd Leno could only parry the ball into Antonee Robinson, whose blushes were spared when VAR concluded that the Brazilian had drifted slightly offside in the build-up. It was a matter of when, not if, Arsenal finally broke the levee, however, and after a flowing move had ended with Granit Xhaka hooking a shot at his former teammate in the Fulham goal, the opener came.
Arsenal's set-piece defense has been under the microscope in recent weeks but when they're attacking dead balls they have proven to be an imaginative and incisive force. Here again, they delivered a clutch of smart low balls to the penalty spot, short corners and clipped crosses to the near post. Sometimes nothing is more effective, however, than hitting the big guy and there is a reason why they call their No. 6 "Big Gabby" He hung in the air as Fulham defended with concrete boots.
If one were looking for an explanation as to why Silva had such a thunderous expression it may well come in the repetition of this error, Robinson allowing Martinelli to get the jump on him as Trossard registered his second assist. A niche in Premier League history was carved out when the Belgian teed up Martin Odegaard to bend the ball into the far corner, becoming the first Premier League player ever to record three assists in a half in an away game. It reflects the impressive variety in Arsenal's attack that their three top scorers are the attacking midfielders whilst both Jesus and Trossard have more assists to their name than goals.
As for the latter man, he has been nothing short of a revelation since arriving from Brighton in January, bringing with him a spark of impudence that Arsenal might never have known they needed. If his five assists and a goal help them to cross the finish line in May, £21 million and another £5 million in add-ons would constitute a snip.
"When we talk about composure and finding the right pass and finding the right color when it's looking really blurry in the box, he's the opposite," said Arteta. "He got three assists and could have scored two. I think he was really impressive. 
"Not only that, he had an injury three days ago which could have taken a week, or another 10 days, but he was really willing to come back early and the doctors and medical staff did a lot of good work to get that. It makes a big difference in the team. We needed him today and his contribution was superb."
Sufficiently impressive indeed that Arteta warned that there were no guarantees that Jesus' sprightly 13 minutes off the bench would necessarily lead to a starting role. 
"It's a great problem to have, believe me," Arteta said. 
Given the numbers and quality at Arsenal's disposal, it is hard to doubt him.
The game long since won, Arsenal defended with a tenacity that reflects what their manager labeled a "love for defending."
Aaron Ramsdale was berating captain Odegaard for a clumsy free kick conceded in the Fulham half, Gabriel celebrated a goal kick in the 93rd minute with almost as much delight as he had his goal. These clean sheets matter. Where once Manchester City seemed to own the de facto bonus point that was a better goal difference now the gap is rather tighter, just five now separating these two teams. 
Add Jesus back into this team, an admittedly shaky finisher but one whose dovetailing with those around him makes for a propulsive force in the final third, and that lead might just shrink further over the coming weeks. Arsenal have come through what was supposed to be a long and tough winter without their best player. Now they can dream of what spring might bring.