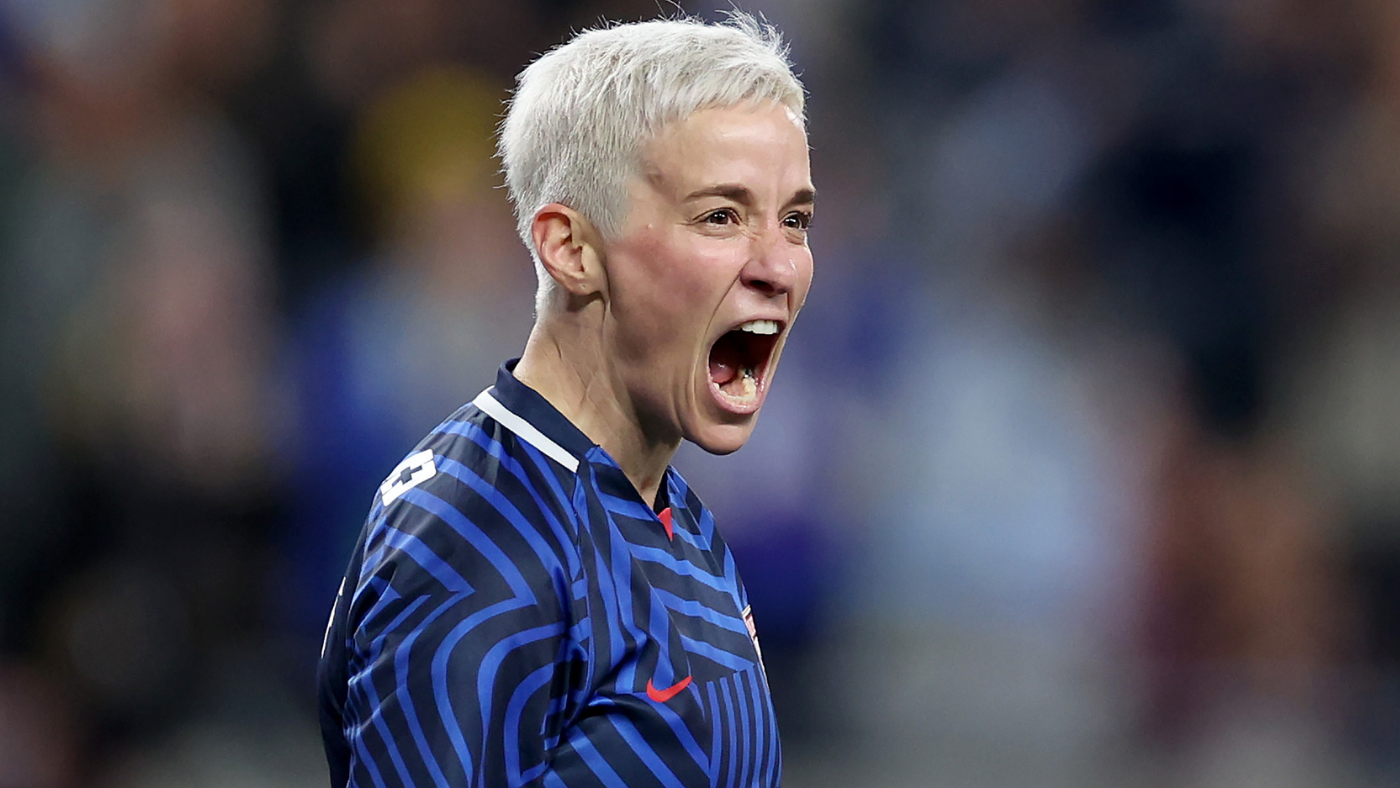 Hello there! The National Women's Soccer League will crown a new Champion on Saturday, and the storylines are endless. I'm Sandra Herrera here to get you ready for the league's biggest game of the year.
???? Footy fix
All times U.S./Eastern

Saturday, Nov. 11
???????????????????????????? Premier League: Manchester United vs. Luton, 10 a.m. ➡️ USA Network
???????? NWSL Championship: OL Reign vs. NJ/NY Gotham FC, 8 p.m. ➡️ CBS
Sunday, Nov. 12
???????????????????????????? Premier League: Chelsea vs. Manchester City, 11:30 a.m. ➡️ USA Network
???????? Serie A: Lazio vs. Roma,12 p.m. ➡️ Paramount+
???????? USL Championship: Charleston Battery vs. Phoenix Rising, 7 p.m. ➡️ ESPN2
⚽  The Forward Line
 ???? Ali Krieger and Megan Rapinoe battle for one last trophy
Two former U.S. women's national team players and two-time World Cup champions will hang up their boots at the conclusion of the NWSL season. The former national team teammates are now on opposite teams and will compete for one final piece of hardware. Megan Rapinoe and the Reign are back in the NWSL Championship after runner-up appearances in 2014 and 2015. Ali Krieger returns for another run at the title after previously playing in the final in 2016 with the Washington Spirit. 
During media day, several reporters were able to chat for a brief moment with players from both teams and for the veteran players, both agreed that the 2023 NWSL Championship feels different compared to events in the past. Here's what Krieger had to say on the evolution of the NWSL final. 
Krieger: "It's so nice to feel like you are at this elite level of NWSL. Because before, I mean, I don't think we would have had such a thing. I don't even think the signage would be what it is. I mean, look at the diversity in the signage [around town] too. Like that's something that to me is elevated, and people are paying attention, and listening and really trying to make this what we deserve. I think that in a way, this is why we want to continue to show up and do our job because of the response that we get. It feels like a final. It feels more important. It feels like people care. It feels that people want to watch and show up and cheer for us."
Sponsored by Paramount+
????  Midfield Link Play
???? CBS is the home of the NWSL Championship
The NWSL announced a new multiplatform broadcast rights agreement on Thursday. The new agreement will feature games on CBS Television Network, Paramount+, and CBS Sports Network through a multiyear deal as well as other outlets. The partnership includes the most matches on broadcast television in the league's history, including the NWSL Championship match, which will be televised and streamed live on Paramount+ in primetime every year.
The broadcast contract begins with the 2024 NWSL season and includes the Championship game and multiple playoff matches. CBS Sports will air up to 12 matches per season across CBS and Paramount+, while CBS Sports Network will televise up to 10 matches each year. 
Sean McManus, CBS Sports Chairman: "We're thrilled to extend our relationship with the NWSL, continuing as the home of the NWSL Championship and offering an expanded slate of matches on CBS as we build on the success of the last four years. Extending this partnership further demonstrates our commitment to elevating women's sports as we continue to work hand-in-hand with the NWSL to highlight the world's best women's soccer players. As we prepare to present the 2023 NWSL Championship this weekend, we are excited to continue to showcase this league across our platforms for years to come and remain the ultimate destination for soccer fans."
The league took a multiplatform approach for their new deal, with additional games across ESPN, Prime Video, and Scripps (ION). The NWSL's commissioner, Jessica Berman, explained the thinking behind the new deal.
Berman: "These partnerships fundamentally change the game for our league and the players who take the pitch each week. We have taken great care to ensure our games are discoverable by increasing our reach in order to expose new audiences to everything that makes our league special, without compromising the economic value of our product."
????  Top Stories
???? Get set for NWSL Championship Saturday: As her career winds down, Erica Ayala has another look back at one of the moments that defined her career, meanwhile Gotham FC coach Juan Carlos Amoros locked down NWSL's manager of the year award.
???? NWSL keeps growing: Despite the United States women's national team's early exit from the Women's World Cup, NWSL growth kept right on chugging in 2023, with 10 of 12 teams seeing growth in attendance.
???????? Pulisic, Weah miss USMNT squad: The top of the USMNT roster for the upcoming international break will be extremely thin as Christian Pulisic joins Tim Weah, and long-time absence Tyler Adams on the injury list. 
???? UCL VAR controversy: Another week another refereeing controversy. This time it was Marcus Rashford's red card in Manchester United's loss which drew criticism.
???? Champions League shakeup: With Barcelona, PSG and Manchester United all losing, don't miss our Champions League Power Rankings to help you make sense of it all and the Champions League team of the week has some surprises as well.
❌ Liverpool upset: In Europa League action, Liverpool couldn't get past Toulouse, and that leaves Bayer Leverkusen as the most in-form team in the tournament.
???? Maddison out until January: The fallout from Spurs dramatic Monday loss to Chelsea continues as James Maddison's ankle injury seems worse than expected and he won't be back until some time in the new year according to manage Ange Postecoglu.
????  The Back Line
???? Best bets
NWSL: OL Reign vs. NJ/NY Gotham FC Saturday, 8 p.m.
???? THE PICK: Both teams to score (-116) — Both teams have had several goal scorers step up this season. There have been nine different goal scorers for OL Reign, while Gotham has had 11 different players connect on target.

Lynn Williams

leads Gotham with 7 goals scored, while

Veronica Latsko

and

Bethany Balcer

have each converted six attempts on target.
???? What's on CBS Sports Golazo Network
☀️ Morning Footy (Weekdays 8-10 a.m.): Hosts Susannah Collins, Charlie Davies, Nico Cantor and Alexis Guerreros help fans get their day started on the network's flagship morning show with highlights, interviews and the biggest soccer storylines. Morning Footy is also available in podcast form, so you'll never have to miss an episode.
???? Box 2 Box (Weekday afternoons): The news-driven show quickly recaps all the latest headlines from around the world with panelists previewing the top matchups of the day. Catch Box 2 Box on CBS Sports Golazo Network on the CBS Sports app, PlutoTV and Paramount+. 
3️⃣ Attacking Third (Monday, Wednesday and Friday evening): The leading women's soccer podcast and social brand is now a live studio show. This week catch them Friday at 9 p.m. with a final preview as our analysts break down the best highlights and analysis and share insider information for all things women's soccer. And don't miss a special postgame show following the NWSL final on Saturday night.
???? Kickin' It (Tuesday, 7 p.m.): CBS Sports Golazo Network's new unfiltered interview show returns Tuesday Hosted by Kate Abdo, Clint Dempsey, Mo Edu and Charlie Davies, the group chat candidly with the biggest names from the Beautiful Game and share their stories from on and off the pitch. 
???? Scoreline (Daily): Scoreline is the newest place for fans to catch up on all the biggest news and results impacting global football, match highlights from the top soccer competitions and all the can't-miss goals from the day's action, starting Thursday and airing seven days a week.
???? How to watch: CBS Sports Golazo Network is a free 24/7 channel exclusively dedicated to offering unparalleled coverage of all the top soccer competitions worldwide. You can stream for free on the CBS Sports app, Pluto TV and Paramount+.



Summarize this content to 300 words Hello there! The National Women's Soccer League will crown a new Champion on Saturday, and the storylines are endless. I'm Sandra Herrera here to get you ready for the league's biggest game of the year.???? Footy fixAll times U.S./EasternSaturday, Nov. 11???????????????????????????? Premier League: Manchester United vs. Luton, 10 a.m. ➡️ USA Network???????? NWSL Championship: OL Reign vs. NJ/NY Gotham FC, 8 p.m. ➡️ CBSSunday, Nov. 12???????????????????????????? Premier League: Chelsea vs. Manchester City, 11:30 a.m. ➡️ USA Network???????? Serie A: Lazio vs. Roma,12 p.m. ➡️ Paramount+???????? USL Championship: Charleston Battery vs. Phoenix Rising, 7 p.m. ➡️ ESPN2⚽  The Forward Line ???? Ali Krieger and Megan Rapinoe battle for one last trophy USATSI Two former U.S. women's national team players and two-time World Cup champions will hang up their boots at the conclusion of the NWSL season. The former national team teammates are now on opposite teams and will compete for one final piece of hardware. Megan Rapinoe and the Reign are back in the NWSL Championship after runner-up appearances in 2014 and 2015. Ali Krieger returns for another run at the title after previously playing in the final in 2016 with the Washington Spirit.  During media day, several reporters were able to chat for a brief moment with players from both teams and for the veteran players, both agreed that the 2023 NWSL Championship feels different compared to events in the past. Here's what Krieger had to say on the evolution of the NWSL final. Krieger: "It's so nice to feel like you are at this elite level of NWSL. Because before, I mean, I don't think we would have had such a thing. I don't even think the signage would be what it is. I mean, look at the diversity in the signage [around town] too. Like that's something that to me is elevated, and people are paying attention, and listening and really trying to make this what we deserve. I think that in a way, this is why we want to continue to show up and do our job because of the response that we get. It feels like a final. It feels more important. It feels like people care. It feels that people want to watch and show up and cheer for us."Sponsored by Paramount+ Sponsored by Paramount+ ????  Midfield Link Play???? CBS is the home of the NWSL Championship Getty Images The NWSL announced a new multiplatform broadcast rights agreement on Thursday. The new agreement will feature games on CBS Television Network, Paramount+, and CBS Sports Network through a multiyear deal as well as other outlets. The partnership includes the most matches on broadcast television in the league's history, including the NWSL Championship match, which will be televised and streamed live on Paramount+ in primetime every year.The broadcast contract begins with the 2024 NWSL season and includes the Championship game and multiple playoff matches. CBS Sports will air up to 12 matches per season across CBS and Paramount+, while CBS Sports Network will televise up to 10 matches each year.  Sean McManus, CBS Sports Chairman: "We're thrilled to extend our relationship with the NWSL, continuing as the home of the NWSL Championship and offering an expanded slate of matches on CBS as we build on the success of the last four years. Extending this partnership further demonstrates our commitment to elevating women's sports as we continue to work hand-in-hand with the NWSL to highlight the world's best women's soccer players. As we prepare to present the 2023 NWSL Championship this weekend, we are excited to continue to showcase this league across our platforms for years to come and remain the ultimate destination for soccer fans."The league took a multiplatform approach for their new deal, with additional games across ESPN, Prime Video, and Scripps (ION). The NWSL's commissioner, Jessica Berman, explained the thinking behind the new deal.Berman: "These partnerships fundamentally change the game for our league and the players who take the pitch each week. We have taken great care to ensure our games are discoverable by increasing our reach in order to expose new audiences to everything that makes our league special, without compromising the economic value of our product."????  Top Stories???? Get set for NWSL Championship Saturday: As her career winds down, Erica Ayala has another look back at one of the moments that defined her career, meanwhile Gotham FC coach Juan Carlos Amoros locked down NWSL's manager of the year award.???? NWSL keeps growing: Despite the United States women's national team's early exit from the Women's World Cup, NWSL growth kept right on chugging in 2023, with 10 of 12 teams seeing growth in attendance. ???????? Pulisic, Weah miss USMNT squad: The top of the USMNT roster for the upcoming international break will be extremely thin as Christian Pulisic joins Tim Weah, and long-time absence Tyler Adams on the injury list. ???? UCL VAR controversy: Another week another refereeing controversy. This time it was Marcus Rashford's red card in Manchester United's loss which drew criticism.???? Champions League shakeup: With Barcelona, PSG and Manchester United all losing, don't miss our Champions League Power Rankings to help you make sense of it all and the Champions League team of the week has some surprises as well. ❌ Liverpool upset: In Europa League action, Liverpool couldn't get past Toulouse, and that leaves Bayer Leverkusen as the most in-form team in the tournament.???? Maddison out until January: The fallout from Spurs dramatic Monday loss to Chelsea continues as James Maddison's ankle injury seems worse than expected and he won't be back until some time in the new year according to manage Ange Postecoglu.????  The Back Line???? Best betsNWSL: OL Reign vs. NJ/NY Gotham FC Saturday, 8 p.m.???? THE PICK: Both teams to score (-116) — Both teams have had several goal scorers step up this season. There have been nine different goal scorers for OL Reign, while Gotham has had 11 different players connect on target. Lynn Williams leads Gotham with 7 goals scored, while Veronica Latsko and Bethany Balcer have each converted six attempts on target.???? What's on CBS Sports Golazo Network☀️ Morning Footy (Weekdays 8-10 a.m.): Hosts Susannah Collins, Charlie Davies, Nico Cantor and Alexis Guerreros help fans get their day started on the network's flagship morning show with highlights, interviews and the biggest soccer storylines. Morning Footy is also available in podcast form, so you'll never have to miss an episode. ???? Box 2 Box (Weekday afternoons): The news-driven show quickly recaps all the latest headlines from around the world with panelists previewing the top matchups of the day. Catch Box 2 Box on CBS Sports Golazo Network on the CBS Sports app, PlutoTV and Paramount+. 3️⃣ Attacking Third (Monday, Wednesday and Friday evening): The leading women's soccer podcast and social brand is now a live studio show. This week catch them Friday at 9 p.m. with a final preview as our analysts break down the best highlights and analysis and share insider information for all things women's soccer. And don't miss a special postgame show following the NWSL final on Saturday night.???? Kickin' It (Tuesday, 7 p.m.): CBS Sports Golazo Network's new unfiltered interview show returns Tuesday Hosted by Kate Abdo, Clint Dempsey, Mo Edu and Charlie Davies, the group chat candidly with the biggest names from the Beautiful Game and share their stories from on and off the pitch.  ???? Scoreline (Daily): Scoreline is the newest place for fans to catch up on all the biggest news and results impacting global football, match highlights from the top soccer competitions and all the can't-miss goals from the day's action, starting Thursday and airing seven days a week.???? How to watch: CBS Sports Golazo Network is a free 24/7 channel exclusively dedicated to offering unparalleled coverage of all the top soccer competitions worldwide. You can stream for free on the CBS Sports app, Pluto TV and Paramount+. require.config({"baseUrl":"https:\/\/sportsfly.cbsistatic.com\/fly-0583\/bundles\/sportsmediajs\/js-build","config":{"version":{"fly\/components\/accordion":"1.0″,"fly\/components\/alert":"1.0″,"fly\/components\/base":"1.0″,"fly\/components\/carousel":"1.0″,"fly\/components\/dropdown":"1.0″,"fly\/components\/fixate":"1.0″,"fly\/components\/form-validate":"1.0″,"fly\/components\/image-gallery":"1.0″,"fly\/components\/iframe-messenger":"1.0″,"fly\/components\/load-more":"1.0″,"fly\/components\/load-more-article":"1.0″,"fly\/components\/load-more-scroll":"1.0″,"fly\/components\/loading":"1.0″,"fly\/components\/modal":"1.0″,"fly\/components\/modal-iframe":"1.0″,"fly\/components\/network-bar":"1.0″,"fly\/components\/poll":"1.0″,"fly\/components\/search-player":"1.0″,"fly\/components\/social-button":"1.0″,"fly\/components\/social-counts":"1.0″,"fly\/components\/social-links":"1.0″,"fly\/components\/tabs":"1.0″,"fly\/components\/video":"1.0″,"fly\/libs\/easy-xdm":"2.4.17.1″,"fly\/libs\/jquery.cookie":"1.2″,"fly\/libs\/jquery.throttle-debounce":"1.1″,"fly\/libs\/jquery.widget":"1.9.2″,"fly\/libs\/omniture.s-code":"1.0″,"fly\/utils\/jquery-mobile-init":"1.0″,"fly\/libs\/jquery.mobile":"1.3.2″,"fly\/libs\/backbone":"1.0.0″,"fly\/libs\/underscore":"1.5.1″,"fly\/libs\/jquery.easing":"1.3″,"fly\/managers\/ad":"2.0″,"fly\/managers\/components":"1.0″,"fly\/managers\/cookie":"1.0″,"fly\/managers\/debug":"1.0″,"fly\/managers\/geo":"1.0″,"fly\/managers\/gpt":"4.3″,"fly\/managers\/history":"2.0″,"fly\/managers\/madison":"1.0″,"fly\/managers\/social-authentication":"1.0″,"fly\/utils\/data-prefix":"1.0″,"fly\/utils\/data-selector":"1.0″,"fly\/utils\/function-natives":"1.0″,"fly\/utils\/guid":"1.0″,"fly\/utils\/log":"1.0″,"fly\/utils\/object-helper":"1.0″,"fly\/utils\/string-helper":"1.0″,"fly\/utils\/string-vars":"1.0″,"fly\/utils\/url-helper":"1.0″,"libs\/jshashtable":"2.1″,"libs\/select2″:"3.5.1″,"libs\/jsonp":"2.4.0″,"libs\/jquery\/mobile":"1.4.5″,"libs\/modernizr.custom":"2.6.2″,"libs\/velocity":"1.2.2″,"libs\/dataTables":"1.10.6″,"libs\/dataTables.fixedColumns":"3.0.4″,"libs\/dataTables.fixedHeader":"2.1.2″,"libs\/dateformat":"1.0.3″,"libs\/waypoints\/infinite":"3.1.1″,"libs\/waypoints\/inview":"3.1.1″,"libs\/waypoints\/jquery.waypoints":"3.1.1″,"libs\/waypoints\/sticky":"3.1.1″,"libs\/jquery\/dotdotdot":"1.6.1″,"libs\/jquery\/flexslider":"2.1″,"libs\/jquery\/lazyload":"1.9.3″,"libs\/jquery\/maskedinput":"1.3.1″,"libs\/jquery\/marquee":"1.3.1″,"libs\/jquery\/numberformatter":"1.2.3″,"libs\/jquery\/placeholder":"0.2.4″,"libs\/jquery\/scrollbar":"0.1.6″,"libs\/jquery\/tablesorter":"2.0.5″,"libs\/jquery\/touchswipe":"1.6.18″,"libs\/jquery\/ui\/jquery.ui.core":"1.11.4″,"libs\/jquery\/ui\/jquery.ui.draggable":"1.11.4″,"libs\/jquery\/ui\/jquery.ui.mouse":"1.11.4″,"libs\/jquery\/ui\/jquery.ui.position":"1.11.4″,"libs\/jquery\/ui\/jquery.ui.slider":"1.11.4″,"libs\/jquery\/ui\/jquery.ui.sortable":"1.11.4″,"libs\/jquery\/ui\/jquery.ui.touch-punch":"0.2.3″,"libs\/jquery\/ui\/jquery.ui.autocomplete":"1.11.4″,"libs\/jquery\/ui\/jquery.ui.accordion":"1.11.4″,"libs\/jquery\/ui\/jquery.ui.tabs":"1.11.4″,"libs\/jquery\/ui\/jquery.ui.menu":"1.11.4″,"libs\/jquery\/ui\/jquery.ui.dialog":"1.11.4″,"libs\/jquery\/ui\/jquery.ui.resizable":"1.11.4″,"libs\/jquery\/ui\/jquery.ui.button":"1.11.4″,"libs\/jquery\/ui\/jquery.ui.tooltip":"1.11.4″,"libs\/jquery\/ui\/jquery.ui.effects":"1.11.4″,"libs\/jquery\/ui\/jquery.ui.datepicker":"1.11.4″}},"shim":{"liveconnection\/managers\/connection":{"deps":["liveconnection\/libs\/sockjs-0.3.4″]},"liveconnection\/libs\/sockjs-0.3.4":{"exports":"SockJS"},"libs\/setValueFromArray":{"exports":"set"},"libs\/getValueFromArray":{"exports":"get"},"fly\/libs\/jquery.mobile-1.3.2″:["version!fly\/utils\/jquery-mobile-init"],"libs\/backbone.marionette":{"deps":["jquery","version!fly\/libs\/underscore","version!fly\/libs\/backbone"],"exports":"Marionette"},"fly\/libs\/underscore-1.5.1″:{"exports":"_"},"fly\/libs\/backbone-1.0.0″:{"deps":["version!fly\/libs\/underscore","jquery"],"exports":"Backbone"},"libs\/jquery\/ui\/jquery.ui.tabs-1.11.4″:["jquery","version!libs\/jquery\/ui\/jquery.ui.core","version!fly\/libs\/jquery.widget"],"libs\/jquery\/flexslider-2.1″:["jquery"],"libs\/dataTables.fixedColumns-3.0.4″:["jquery","version!libs\/dataTables"],"libs\/dataTables.fixedHeader-2.1.2″:["jquery","version!libs\/dataTables"],"https:\/\/sports.cbsimg.net\/js\/CBSi\/app\/VideoPlayer\/AdobePass-min.js":["https:\/\/sports.cbsimg.net\/js\/CBSi\/util\/Utils-min.js"]},"map":{"*":{"adobe-pass":"https:\/\/sports.cbsimg.net\/js\/CBSi\/app\/VideoPlayer\/AdobePass-min.js","facebook":"https:\/\/connect.facebook.net\/en_US\/sdk.js","facebook-debug":"https:\/\/connect.facebook.net\/en_US\/all\/debug.js","google":"https:\/\/apis.google.com\/js\/plusone.js","google-csa":"https:\/\/www.google.com\/adsense\/search\/async-ads.js","google-javascript-api":"https:\/\/www.google.com\/jsapi","google-client-api":"https:\/\/accounts.google.com\/gsi\/client","gpt":"https:\/\/securepubads.g.doubleclick.net\/tag\/js\/gpt.js","hlsjs":"https:\/\/cdnjs.cloudflare.com\/ajax\/libs\/hls.js\/1.0.7\/hls.js","recaptcha":"https:\/\/www.google.com\/recaptcha\/api.js?onload=loadRecaptcha&render=explicit","recaptcha_ajax":"https:\/\/www.google.com\/recaptcha\/api\/js\/recaptcha_ajax.js","supreme-golf":"https:\/\/sgapps-staging.supremegolf.com\/search\/assets\/js\/bundle.js","taboola":"https:\/\/cdn.taboola.com\/libtrc\/cbsinteractive-cbssports\/loader.js","twitter":"https:\/\/platform.twitter.com\/widgets.js","video-avia":"https:\/\/vidtech.cbsinteractive.com\/avia-js\/2.12.0\/player\/avia.min.js","video-avia-ui":"https:\/\/vidtech.cbsinteractive.com\/avia-js\/2.12.0\/plugins\/ui\/avia.ui.min.js","video-avia-gam":"https:\/\/vidtech.cbsinteractive.com\/avia-js\/2.12.0\/plugins\/gam\/avia.gam.min.js","video-avia-hls":"https:\/\/vidtech.cbsinteractive.com\/avia-js\/2.12.0\/plugins\/hls\/avia.hls.min.js","video-avia-playlist":"https:\/\/vidtech.cbsinteractive.com\/avia-js\/2.12.0\/plugins\/playlist\/avia.playlist.min.js","video-ima3″:"https:\/\/imasdk.googleapis.com\/js\/sdkloader\/ima3.js","video-ima3-dai":"https:\/\/imasdk.googleapis.com\/js\/sdkloader\/ima3_dai.js","video-utils":"https:\/\/sports.cbsimg.net\/js\/CBSi\/util\/Utils-min.js","video-vast-tracking":"https:\/\/vidtech.cbsinteractive.com\/sb55\/vast-js\/vtg-vast-client.js"}},"waitSeconds":300});

Source link