Before the final game of Juan Martin del Potro's loss in the first round of last month's Argentina Open against Federico Delbonis, the fan favourite burst into tears. It had been two-and-a-half years since his most recent tournament. Four right knee surgeries made the Argentine doubt he would ever make it back. In that emotional moment, it hit Del Potro.
Seventeen years after turning professional, this might be the end. 
Del Potro's tears were not from a place of sadness, though. In fact, he smiled for most of the night in front of the raucous Buenos Aires crowd. "Ole! Ole, Ole Ole! Delpo! Delpo!" Those chants reverberated throughout the stadium as Argentine flags waved in the air. Del Potro whirled his racquet like a magician's wand, encouraging the fans with a wide grin.
The 33-year-old had nothing else to prove on a tennis court — the former World No. 3's 22 tour-level titles speak for themselves. But after years of rehab and ups and downs, the determined Argentine wanted another moment with his fans. Although Del Potro has not announced his retirement, the night will not soon be forgotten.
"It was something spectacular and an unforgettable day that I will remember forever as one of the best days of my career," Del Potro told ATPTour.com. "I experienced one of the most beautiful emotions that this sport gave me and I will always keep it in my heart."
It was an emotional evening for everyone in tennis, including his colleagues, both in Buenos Aires and around the world. Diego Schwartzman had plenty of praise for his countryman.
"Delpo deserved everything he [experienced] on the court," Schwartzman said. "Everything was emotional, his tennis was not a priority and he achieved all that he wanted, which was to rediscover the love of the people."
As good as Del Potro has been at the sport he loves, he is even better at making people happy. The Tandil native is known for his trademark forehand. But more important than the number of winners the gentle giant struck is how he treats his profession and those around him.
People love Del Potro, win or lose. He invited fans along for the ride and no matter the result, he fought his hardest to give them a moment to remember. You will not find many people — if any — who have a bad thing to say about Del Potro. His smile is infectious and his game magnetic. Nobody competed with a greater mix of ferocity and sportsmanship.
Del Potro might not have known just how emotional his Buenos Aires match would be, but he was aware of how much it means to players when they near the end. At the 2013 US Open, former World No. 4 James Blake retired following a late-night loss in the first round. When he returned to Arthur Ashe Stadium, there were three players in the locker room: Andy Murray, Alex Bogomolov Jr. and sixth-seeded Del Potro.
"He came over and gave me a big hug. He said, 'Congratulations, I wanted to be here. I saw what happened'," Blake told ATPTour.com. "I was walking around and his trainer came over and said, 'Hey, just so you know, he saw what was possibly going to happen and we have been waiting here for an hour. He wouldn't leave. He wanted to wait'.
"He was waiting around because he saw I was losing in the fifth set and waited to see me. I just thought that showed him as someone who cared. He was just a genuinely nice person who cared about his competitors… I really appreciated it."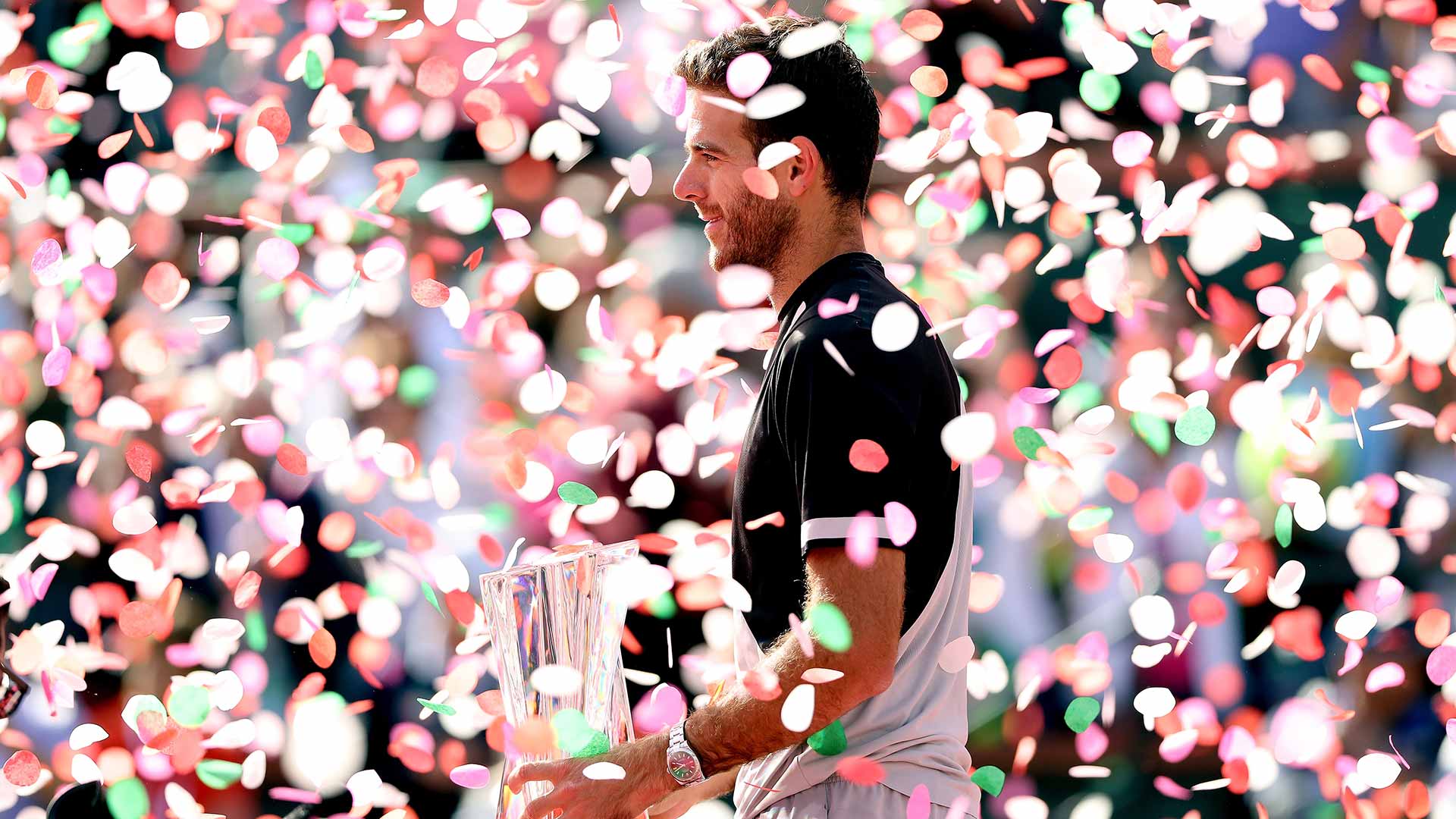 Juan Martin del Potro, Indian Wells champion 2018. Photo Credit: Getty Images.
That has always been his way, whether with colleagues or fans he had never met before. Del Potro towers above his opponents — physically and often in skill — but he never sees himself as better or more important than anyone around him. The Argentine makes plenty of lifetime fans by simply being kind, whether stopping to sign an autograph, saying hello or snapping a selfie.
In 2008, Frances Tiafoe's coach told him about a rising player he should model his game after: Del Potro. Tiafoe did not often pursue autographs as a kid, but he asked the Argentine for one at the Citi Open, and he happily obliged.
"I just wanted to be like this guy. This guy's a legend," Tiafoe said. "When we played for the first time in Acapulco [in 2017], he won 7-6 in the third. It was a great battle. I remember telling him he was my favourite player growing up and he was like, 'I heard, I heard. I think you're going to have a great future.' He's just a legend, honestly.
"People just got behind him. He showed emotions, he cared, he had personality. I was a fan of his and he's a legend. I hope he keeps going, but if this is it, he should walk with his head high forever."
Perhaps the toughest part of evaluating Del Potro's career is wondering what could have been if he had a clean bill of health. Early on, Del Potro appeared to be the man who would halt the dominance of the 'Big Four'. The Argentine feared no opponent. A smooth stroke of his monstrous forehand could take the racquet out of anyone's hands. He knew it, and so did the rest of the Tour.
His biggest moment came more than 12 years ago at the 2009 US Open. Del Potro, who had cracked the top five in the ATP Rankings earlier in the year, reached the semi-finals at only 20 years old. However, he faced a daunting task. The other three semi-finalists were Roger Federer, Novak Djokovic and Rafael Nadal.
A clear underdog, he cruised past Nadal in straight sets before rallying from two sets to one down to stun five-time defending champion Federer in the final. Del Potro was the first US Open champion from Argentina since the legendary Guillermo Vilas in 1977.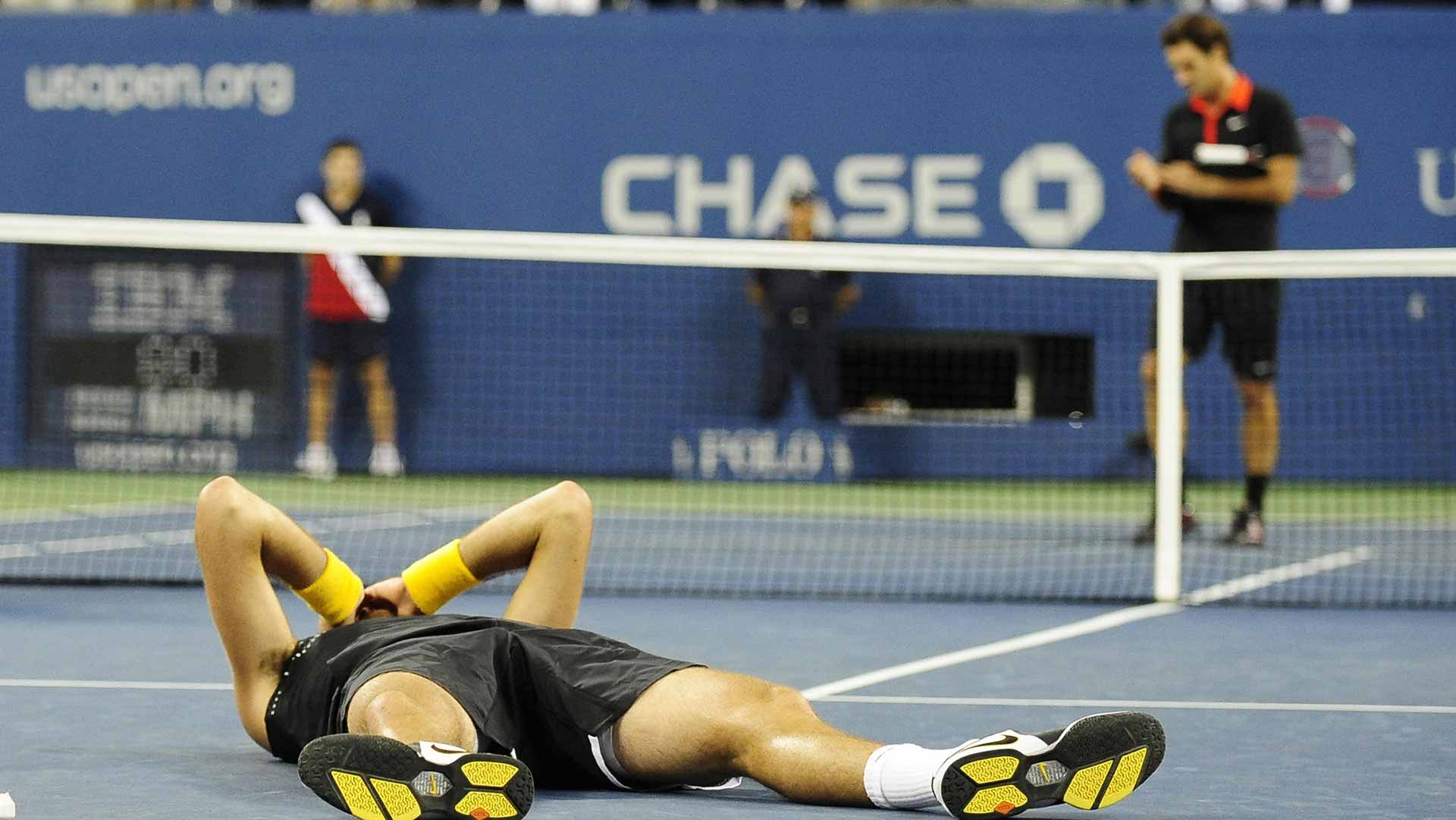 Juan Martin del Potro celebrates victory over Roger Federer in the 2009 US Open final. Photo Credit: AFP/Getty Images.
In the years to come, there was more success. Del Potro has earned 10 wins against opponents ranked World No. 1, the most by anyone who has never held the top spot. He also made four Nitto ATP Finals appearances and racked up many wins against the best players in the sport.
But there has been a lot of suffering, too. In May 2010, Del Potro underwent right wrist surgery. From 2014-15, he had three left wrist surgeries. Those tough periods never dampened his resiliency, though.
At the 2016 Rio Olympics, the gentle giant was ranked well outside the Top 100. Not only was his level unknown as he rebuilt his game, but he faced a determined top seed in Djokovic in the first round. In a cruelly ironic twist, Del Potro got stuck in an elevator before the match.

The Argentine wins silver at the 2016 Olympics in Rio de Janeiro. Photo Credit: Getty Images.
But like he did throughout his career, the Argentine dusted himself off and gave his best. Not only did he stun the Serbian, but he later eliminated Nadal too, and battled to his second singles silver medal.
No matter the toll injuries took on Del Potro's body, his forehand never went away. More than perhaps any shot of his generation, that stroke was an equaliser.
"Playing against it was crazy. It was an absolute missile," Tiafoe said. "I've played Roger, I've played Rafa, but I think it's the best forehand of all-time, honestly. He can create space, on the run he hits it as well as anyone."
Two years later, Del Potro earned his only ATP Masters 1000 title at the BNP Paribas Open at Indian Wells. The Argentine saved three championship points to claw past the resurgent Federer for one of the biggest wins of his career. Later that season, he reached a career-high World No. 3 and advanced to his second major final, riding the New York crowd's support to the championship match.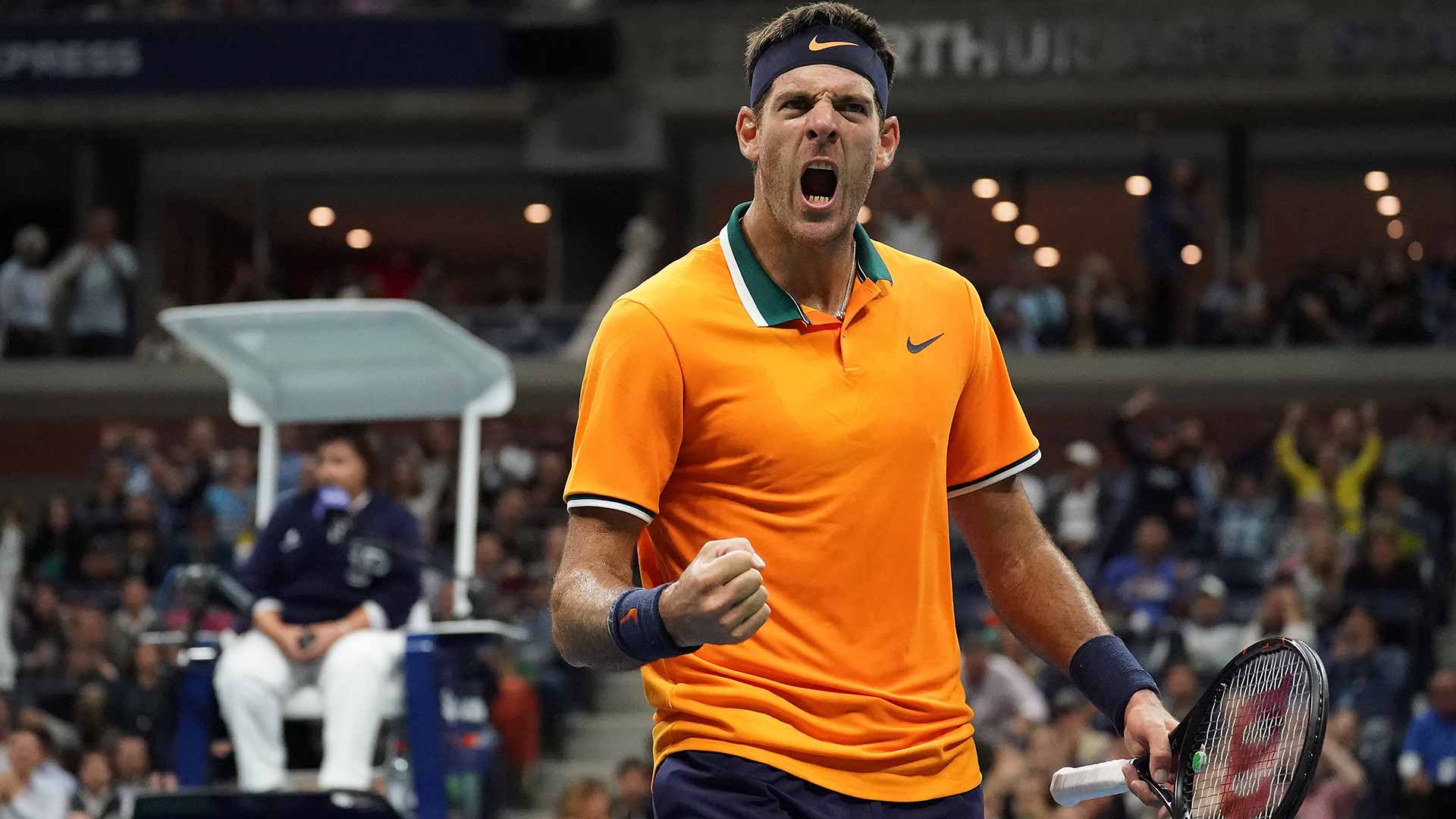 Del Potro made a surprise return to the US Open final in 2018. Photo Credit: Getty Images.
Through no fault of his own, Del Potro has been unable to avoid the injury bug. At the Rolex Shanghai Masters in 2018, Del Potro fractured his patella during a match against Borna Coric. After making his return four months later, he had to take nearly three more months off. Del Potro then slipped on the Queen's Club grass and suffered the same injury.
The Argentine underwent four right knee surgeries — one in 2019, two in 2020 and another in 2021. Before his return in Buenos Aires, he had not seen competition since.
Blake, who broke his neck and suffered from shingles early in his career, explained how impressed he is by how often Del Potro was able to battle back. 
"My biggest wish for every athlete is they go out on their own terms and they get the most out of their potential and for him, I'm not sure he's going out on his own terms," Blake said. "For a great champion like him, I wish he would get that ability to be able to finish healthy and when he wants to, not when he's somewhat forced to be."
Most players share the same sentiment. Not only have they been honouring the Tower of Tandil, but they have been sad to see their colleague go, wishing he could continue on. Delbonis, Del Potro's longtime friend and final conqueror, gave him a big hug at the net after their match.
"I said when we gave [each other] a hug that [he should] continue. I think all the tennis world wants him to continue," Delbonis said. "I think he won a small match that he came again to a tennis court."
Two days after his emotional Buenos Aires finale, Del Potro sounded content. If the Argentine never plays another match, he will always be able to say he left no stone unturned. And for that, the gentle giant will never be forgotten.
"I am a person who gave everything for this sport and I always gave my life in each tournament and in each place where I played," Del Potro said. "Until the last day I gave my best and I hope that many kids can follow the path that I followed."