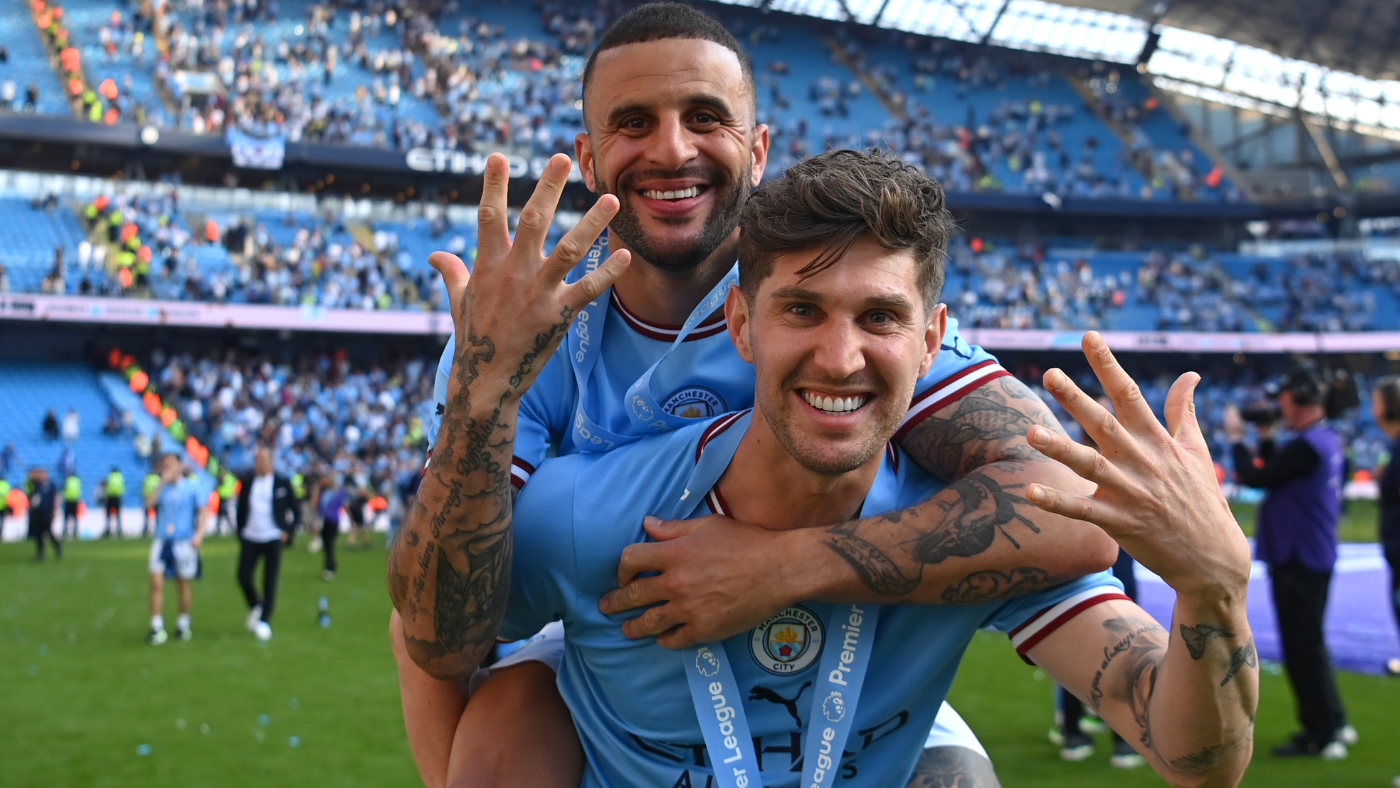 While Manchester City winning their third consecutive league title with games to spare may make it seem like it was a one horse race in the league this season, that wasn't the case. Arsenal pushed Pep Guardiola's men as far as they could. City triumphing felt inevitable, especially with a destroyer of teams like Erling Haaland in the attack but Arsenal led the league for more days than any team to not win the title with Mikel Arteta's team-leading the league for 278 days. 
City faltered a bit after the World Cup and the title was in Arsenal's hands but City took care of business when it mattered most winning their two matches against the Gunners by a combined score of 7-2. The moral blows sunk in as Arsenal went on a three-match winless streak in April prior to losing to City. 
The turnaround for Pep Guardiola's men started before that as Kyle Walker pointed out to NBC Sports during City's trophy celebrations.
"We ground out that result against Liverpool which was as you know a top team. So, I think from then on, we always believed that we could do it,"  Walker said amid the celebrations. "Obviously, we went to Leeds then which was a tough place, and ground out a result there and it's just kind of carried on from then."
After the World Cup, City and quite a few teams around the world were struggling due to a lack of rhythm but this is where Guardiola is at his best. Never afraid to make a change, Joao Cancelo exited stage left to Bayern Munich while Manuel Akanji who had come in from Dortmund over the summer took on a bigger role and helped the team adapt to a formation shift.
City's shift to a 3-2-4-1 meant that Walker wasn't even a guaranteed starter as John Stones became the inverted right back with Nathan Ake taking up a spot as the left center back to contain speedy wingers and forwards. Guardiola even publicly stated that Walker — who has been involved in all five of Guardiola's titles at City — was struggling with the demands of the position. With Guardiola's demands and attention to detail, these are only things that push players to stay at the top of their game as the entire squad has had a part to play in this title. 
"This group of lads is second to none, they're professionals, they're winners and I think that's how we get across the line more often than not but rest assured, we're not finished," Walker said. "We've got the FA Cup against our bitter rivals Manchester United, and we've got the Champions League final come the 10th of June. So, we'll enjoy it today we'll have a few glasses of champagne finally tonight and then we'll move on to the third of June which you know is the big one, the FA Cup."
You can hear Guardiola speaking through Walker as the team is laser-focused on the treble that they can win. No extra motivation is needed to defeat your rivals in a cup final and the Champions League trophy is the only thing that has eluded Guardiola while in charge of City. Winning these next few games will ensure that this team goes down as one of the best City sides in history as they'd attain an accomplishment that even the centurions of 2017-18 didn't. Flexibility and everyone knowing their roles are chief reasons why this treble is at play.