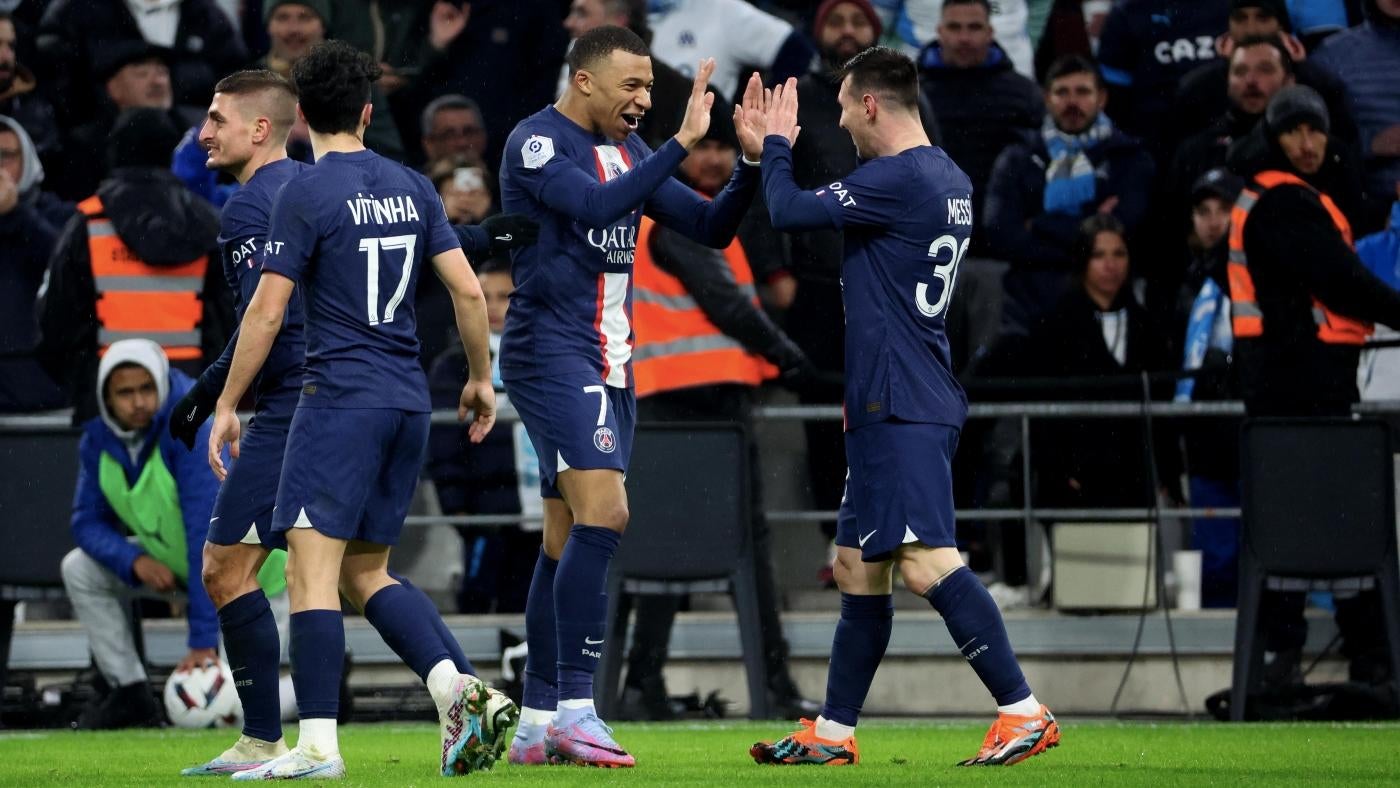 Paris Saint-Germain served up their best performance since the FIFA 2022 World Cup with a 3-0 win away at Olympique de Marseille in Ligue 1 on Sunday. Kylian Mbappe scored twice and Lionel Messi got the other as the French champions' two star attackers combined to devastating effect at Stade Velodrome. The French superstar's brace moved him to 200 PSG goals and level with Edinson Cavani as the Championnat leaders' all-time top scorer. However, of greatest importance was how this display against a very good Marseille side could point the way to Les Parisiens overcoming Bayern Munich in the UEFA Champions League round of 16.
What this result and performance underlined more than anything was its credence in the idea that PSG can get more out of the likes of Mbappe, Messi, and Neymar with two of the trio — not all three. Without the injured Brazilian, Mbappe and Messi thrived with the France international lethal on the counterattack and the legendary Argentine at his brilliant creative best behind Mbappe's sheer pace.
It did not start in the best fashion as Presnel Kimpembe had to be stretchered off early with a serious injury which left him on crutches when he returned during the second half. With Neymar already out after being stretchered off in the 4-3 home win over Lille OSC last week, it was not a welcome development for head coach Christophe Galtier just 16 minutes in and he later confirmed that Kimpembe's season is over. 
Mbappe and Messi quickly swung the contest in the visitors' favor, though, with a clinical four-minute show of power where each one teed up the other for two well-worked goals. The third arrived 10 minutes into the second half and was the pick of the bunch as Mbappe scored with a superb low-volleyed effort from a magnificent Messi assist to definitively silence their hosts.
Gianluigi Donnarumma did have to make some important saves and also had a few worrying moments of his own, but only a second Ligue 1 clean sheet of 2023 was a big boost. Per Opta, the Italy international kept out a stunning 2.7 goals, which is a new individual best since he arrived in the French capital.
We saw how PSG struggled without Mbappe when he was out recently and that Neymar and Messi were not as productive as the Mbappe-Messi combination was here. However, we also saw last week how devastating Mbappe and Neymar can still be together with Messi a passenger in the Lille win until his match-winning late free-kick. This was a much more involved showing from the Argentine and it is no surprise that it came given a switch back to a similar system to the one we saw from PSG early this season.
"We learned our lesson from the Coupe de France loss," said Galtier post-game after nearly coming to blows with an OM fan who was yelling abuse at the PSG boss from the stands. "We went back to a system that worked well at the start of the campaign and it worked again here. When you can perform like this at Stade Velodrome, you are capable of performing like that anywhere. Kylian has a sense for movement. He is fast, but is also fast in a technical sense. He is a player made to break records and there are still many games to go — clearly, he will break Cavani's record. His presence is important for the team as he gives other options during the games — especially depth and a presence in front of goal."
Listening to Galtier recognizing that need to go back to what served PSG so well earlier this term also brings us to why he has been unable to do so. Player availability post-World Cup has admittedly been chaotic and Neymar's injury is partly a product of that — as was Mbappe's. Galtier has rarely had most of his players available for the same game and his star trio have been in varying states of readiness without two really being match fit at the same time. 
That finally happened here after a full week of rest and the result was a devastating display which produced Mbappe's most instinctive qualities and combined them with some of Messi's most cerebral. Take out the need for the South American to move around the field at pace and his creative genius comes to the surface while — as Galtier pointed out — Mbappe can do things at speed which makes theirs a deadly pairing.
Galtier still has some defensive issues to iron out with Kimpembe now facing another long spell in the treatment room but he will know that Bayern would have found it hard to keep PSG out here — even with Yann Sommer on top form. Perhaps the big difference is in midfield where Marco Verratti, Vitinha, and Fabian Ruiz rediscovered some of their early season form with Nordi Mukiele and Nuno Mendes on either flank — the Portuguese already hurt Bayern in leg one and could do more of the same in Bavaria.
The defense will almost certainly remain vulnerable but it is not there where the second leg against Bayern must be won anyway given that the Germans lead 1-0 from Paris. Mbappe and Messi's brilliant dovetailing display should see them get another chance to strengthen that bond at home to FC Nantes this coming Saturday.