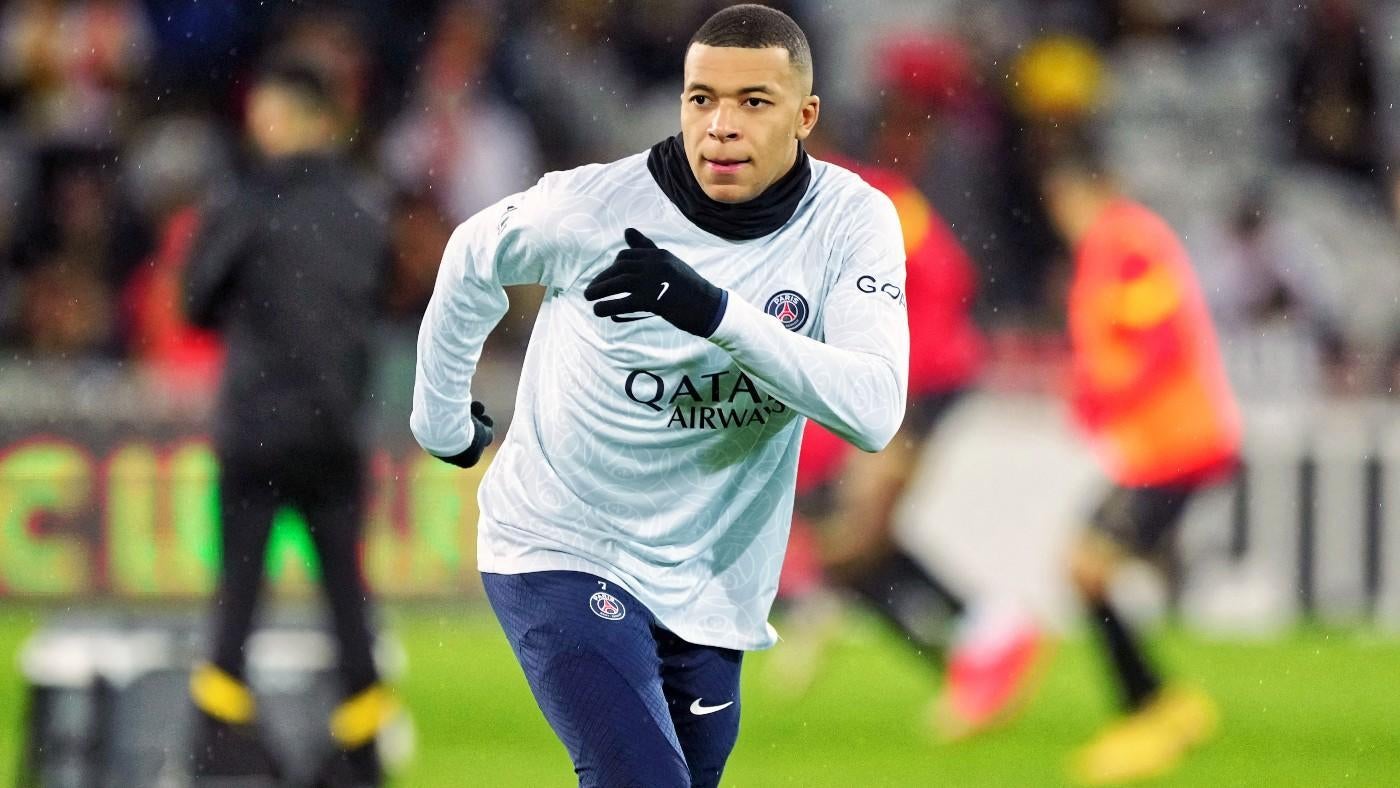 France and Paris Saint-Germain superstar Kylian Mbappe appears to have gone after French Football Federation president Noel Le Graet's for "disrespect" towards Zinedine Zidane after the boss was asked about Les Bleus' legendary former talisman in the wake of Didier Deschamps' new deal until 2026.
Le Graet and Deschamps announced that the French tactician will stay in place until after the next FIFA World Cup on Saturday when Zidane had been touted as a potential replacement for Deschamps if the 2022 Qatar campaign did not go according to plan. France, under Deschamps, reached the final and lost to Argentina on penalties with Mbappe scoring three goals, so the decision to extend the 1998-winning former captain and the 2018-winning head coach was somewhat expected.
However, quizzed on what Zidane would do now that Deschamps is staying on, Le Graet went on a bizarre and winding tirade which showed little regard for another 1998 champion and a 2006 beaten finalist who has gone on to enjoy managerial success with former club Real Madrid.
"I would be surprised if he went there," said Le Graet of Zidane's Brazil links on RMC Sport. "But he can do as he wants. It is of no concern to me. We never met (Le Graet and Zidane) and we (the FFF) never considered parting ways with Didier. I could not care less. He can go where he wishes — to a big club, a national team. Certainly not (asked if Zidane tried to reach him by phone) — I would not even have taken the call."
Despite Le Graet's powerful position at the FFF, 2022 World Cup top scorer Mbappe appeared to take aim at his president and rushed to the defense of one of his icons and an immensely popular national figure by calling out the huge lack of respect shown.
"Zidane is France — you cannot disrespect such a legend like that," he wrote on Twitter. 
Real Madrid reacted as an institution via Twitter to Le Graet's comments and defended their former player and head coach who won one Champions League title as a player and brought three more to the Santiago Bernabeu as a tactician.
"Real Madrid CF laments the unfortunate comments made by the president of the French Football Federation, Noel Le Graet, regarding Zinedine Zidane, one of the world's biggest sporting legends," read the official statement. "These remarks show a lack of respect for one of the most admired figures by football fans around the world and our club is awaiting an immediate correction. 
"Zinedine Zidane, World and European champion representing his country, amongst many other honours, he embodies the values of the sport and has proven this throughout his professional career as a player and as a coach. The statements by the president of the French Football Federation are inappropriate for someone holding such representation and are in themselves unsuitable, like those he also made about our captain Karim Benzema, current Ballon d'Or, Nations League champion with France in 2021 and winner of 5 Champions Leagues, amongst many other honours."
Deschamps' extension does mean that Zidane is unlikely to see the role as France boss available before at least 2024 and the UEFA Euros in Germany which could mean that he returns to the club game in the meantime. Per L'Equipe, Le Graet forced the extension through without consulting other FFF members.
An audit of the FFF is due to present its results in mid-February with Le Graet entering the last full year of his mandate which expires in 2024 anyway. Given the numerous accusations against the FFF, notably with regard to sexual misconduct and potential cover-ups, Le Graet might even find that cut short.
Sports minister Amelie Oudea Castera, who is involved with the audit of the federation, also took "offense" to Le Graet's "shameful lack of respect" and demanded that the FFF chief "apologize" for going too far with his remarks.
Le Graet, who is to be interviewed as part of the audit this week, apologized for his remarks on Monday morning via Agence France Presse: "I would like to apologize for these remarks which absolutely do not reflect my thoughts nor my consideration for the player that he was and the coach that he has become."