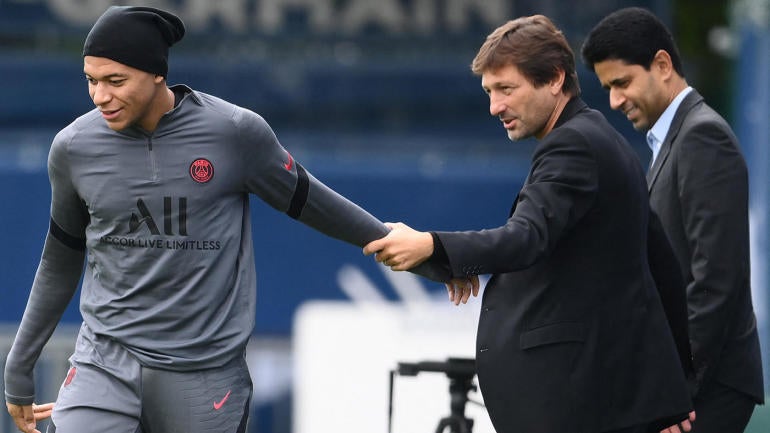 Getty Images
Kylian Mbappé's future continues to be the subject of intense speculation after his goal in Paris Saint-Germain's 1-0 UEFA Champions League round of 16 first leg win over Real Madrid gave his current club the advantage over the Spanish giants who crave his signature.
The French superstar remains Les Parisiens' star performer with a brace and an assist in the 3-1 home win over AS Saint-Etienne in Ligue 1 last week moving him level with Zlatan Ibrahimovic as PSG's all-time second-highest goal scorer on 156 — 44 behind outright leader Edinson Cavani on 200.
Mbappé, 23, has the chance to win the Champions League in the Paris region this season after the final was moved from Saint Petersburg to Stade de France in the suburb of Saint-Denis and recent reports have suggested that a proposed move to Real is not cut and dried as previously thought.
"I cannot say precisely what the chances are that Mbappé extends but we have possibilities," sporting director Leonardo told L'Equipe. "So long as there is no signature (with another club), we will try everything. We will do everything to keep Kylian. The last thing we will put on his contract will be the salary amount. We want to put Kylian in the best conditions to become the best player possible."
Mbappé is not the only PSG figure with their future the subject of conjecture with head coach Mauricio Pochettino continually linked with Manchester United and other posts which Leonardo shot down in the same interview and insisted that their relationship is strong.
"We have never thought about changing our coach," said the Brazilian. "We have never contacted Zinedine Zidane or anyone. I can say that Mauricio has never asked to leave. I have no problem with him. We talk about everything."
Unfortunately, the situation with Sergio Ramos has become concerning for PSG and Leonardo even admitted that there are doubts over the legendary Spaniard's ability to play on for much longer given his frequent physical breakdowns since joining last summer.
"When we signed him, Sergio was physically fine," PSG's transfer chief said. "Unfortunately, what we wanted did not happen. But wait — this season is not over. The day we say he can no longer play; it will be clear to everyone. That is not the case."
Ramos is almost certain to miss the return leg against Real in the Champions League while Mbappé will once again be the main point of interest at Santiago Bernabeu next week as Pochettino attempts to guide his team into the quarterfinals.
You can follow this mammoth clash on CBS and Paramount+.