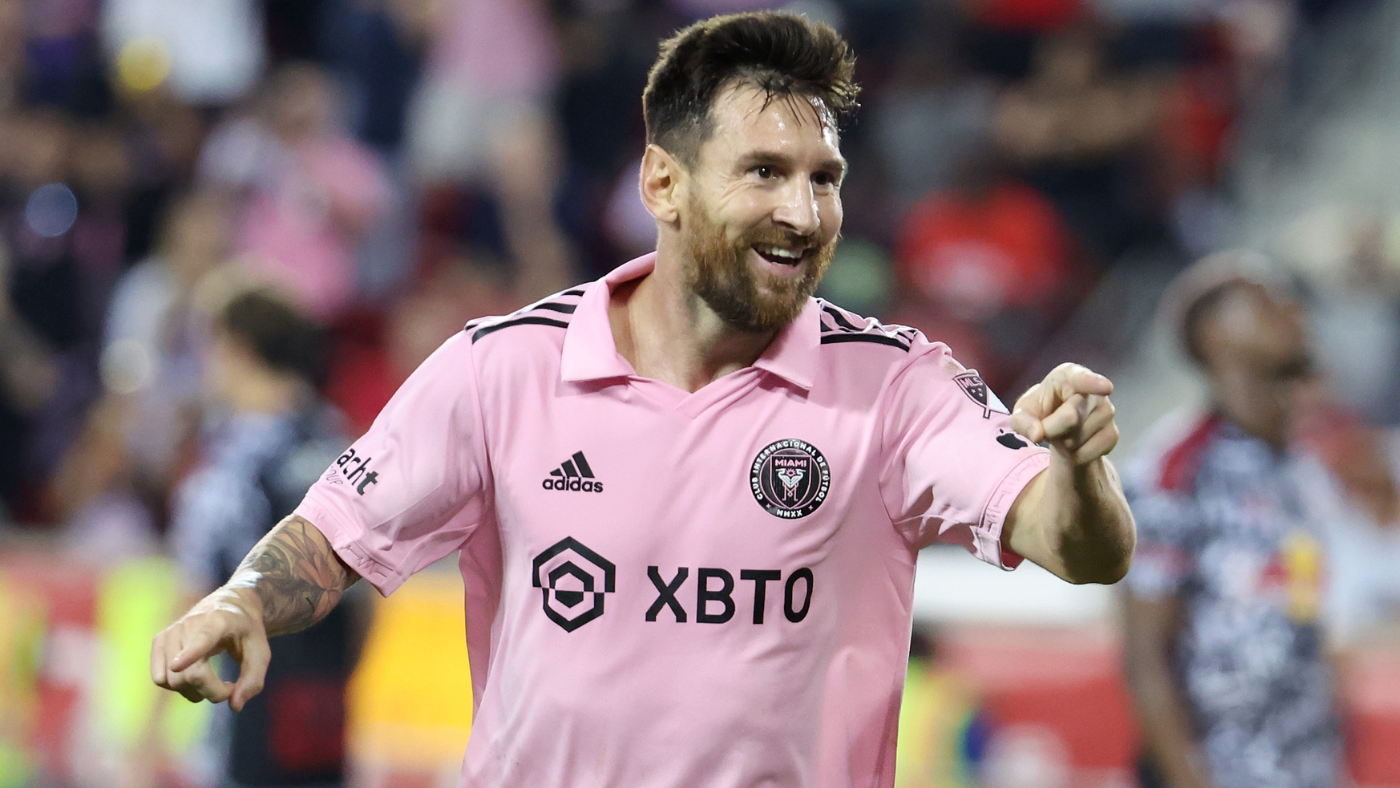 Happy Monday, everybody! What a weekend it was with Lionel Messi and Christian Pulisic not far from the headlines across the world's major soccer leagues. The legendary Argentina world champion was at it again as Inter Miami won on the road in Major League Soccer while the USMNT captain scored in consecutive games for new club Milan. As if that was not enough, there have been further developments in the Luis Rubiales scandal which threatens to descend into further farce. I am Jonathan Johnson bringing you the best bits ahead of this new week in the world of soccer.
New to the Golazo Starting XI newsletter? Get yourself the best deal in soccer and subscribe now to ensure you receive updates three times a week.
???? Footy fix
All times U.S./Eastern
Monday, Aug. 28
???????? Serie A: Cagliari vs. Inter, 2:45 p.m. ➡️ Paramount+
???????? La Liga: Rayo Vallecano vs. Atletico Madrid, 3:30 p.m. ➡️ ESPN+
???????? Argentina: Banfield vs. Rosario Central, 7 p.m. ➡️ Paramount+
Tuesday, Aug. 29
???????????????????????????? EFL Cup: Birmingham City vs. Cardiff City, 2:45 p.m. ➡️ ESPN+
???????? UCL qualifiers: Galatasaray vs. Dinamo Molde, 3 p.m. ➡️ Paramount+
???????? UCL qualifiers: Panathinaikos vs. Braga, 3 p.m. ➡️ Paramount+
???????? UCL qualifiers: Young Boys vs. Maccabi Haifa, 3 p.m. ➡️ Paramount+
⚽  The Forward Line
Messi's hot start to life in America continues
Major League Soccer this past weekend got what it has been waiting for since Messi's arrival as an Inter Miami player earlier this summer. The legendary Argentina international scored the second goal for Tata Martino's side in a 2-0 win away at New York Red Bulls to mark his MLS debut with another decisive contribution. Despite starting on the bench and coming in on the hour mark, Messi delighted the Red Bull Arena crowd by continuing his strong early form in America. 
Thanks to both the Leagues Cup and the U.S. Open Cup, the South American has already secured silverware and continental competition for next season. Messi racked up 10 goals from his first eight non-MLS appearances and was scoreless in just one of those — most recently against FC Cincinnati in the U.S. Open Cup, although he did find the back of the net during the penalty shootout. With two-goal hauls in three consecutive games at the start of his Leagues Cup run, the former Barcelona and Paris Saint-Germain star set the bar high before he even touched a ball in MLS.
However, Messi continued that impressive form into league play with a trademark finish after what was seemingly effortless buildup play to outwit the NYRB defense. If that was not enough, the three-point haul finally lifted Inter Miami off of bottom spot as Martino seeks to lead an improbable turnaround to reach the playoffs. Messi has been vocal about his happiness since moving from Paris to Miami and that is reflected in what we are seeing on the field at present. 
Even if his fast start statistically does not hold up now that MLS play has restarted, this past weekend in New Jersey has shown that American soccer's new superstar attraction is ready to give spectators up and down the country the glimpses of magic that they have been waiting to see for months. With the news that Inter Miami might be deprived of his services during the upcoming international periods, it will be interesting to see how Martino and his new teammates fare trying to keep this revival in form. Pardeep Cattry was at the match in New York to take in the experience. 
Cattry: "Messi mania was hard to avoid in and around Harrison, New Jersey, where the path to Red Bull Arena was lined with vendors selling unlicensed merchandise that included jerseys, scarves, flags and bucket hats emblazoned with the player's name. Music, air horns and excited chatter served as the pre-match soundtrack. Inside, multi-hyphenate Lin-Manuel

Miranda

, rapper French Montana and soccer stars Sam Kerr and Kristie Mewis settled into their seats. It was a Messi-themed festival, an experience that follows the World Cup winner everywhere he goes but is only reserved solely for his presence."
On Morning Footy, the crew broke down Messi's amazing first MLS goal.
Sponsored by Paramount+
????  Midfield Link Play
Two in two for rejuvenated Christian Pulisic in Milan

Pulisic is loving Serie A life with Milan so far after the USMNT captain scored his second goal in as many games after he tallied against Torino this past weekend. The American was on target in his Rossoneri debut on the road at Bologna on the opening day of the new season of calcio and he followed that up with another on his home bow. 
It is early days in Pulisic's time with Milan, but the early signs are good with immediate goals to settle him into his new surroundings, win the confidence of his teammates and justify the club's decision to move for him this summer. It was also telling that fellow attacker and two-goal penalty hero Olivier Giroud played down reports post-game that Milan are looking to reinforce their attack with PSG's Hugo Ekitike being heavily linked of late. 
Should Pulisic build on this fast start in the games leading into Milan's UEFA Champions League involvement (and remember you can catch all the action from both Serie A and the Champions League on Paramount+), then continental soccer could really see him hit his stride. The USMNT talisman lost his way with Chelsea and was stagnating at Stamford Bridge before his summer switch but is wasting not time in blowing away the cobwebs of Cobham.
U.S. soccer is understandably reveling in Messi's strong start to life with Inter Miami, but USMNT fans can be equally as stoked regarding Pulisic's, so far successful, relaunch at San Siro. With Folarin Balogun also expected to complete a move to Monaco for improved game time, there is much to be excited about surrounding the Stars and Stripes at club and international level with increased eyes on the soccer scene of late.
For more on Pulisic's hot start make sure to check out the Morning Footy crew breaking it all down.
???? James Benge weighs in with the latest on Mo Salah's future, with Al-Ittihad interested in the Egyptian superstar.
???? That after Darwin Nunez-inspired Liverpool fought back to beat Newcastle United 2-1.
???? Cattry fills you in as another Messi signs for Inter Miami — Lionel's son Thiago.
???? Benge laments Arsenal's 2-2 Premier League draw at home to Fulham.
???? Chuck Booth with the best of the rest from this weekend's Premier League action.
???? Sandra Herrera with the latest on the Luis Rubiales scandal.
???? Rubiales' mother has declared she's going on a hunger striker in support of her son.
???? Sophia Smith injured her knee on her first start back for the Portland Thorns after returning from USWNT duty.  
???? It is UEFA Champions League group stage draw week so check out the viewing details as well as the different pots.
???? As the European season kicks off get 50% off an annual subscription of Paramount+, deal ends 9/20. Annual Plan Only. T&Cs Apply.
????  The Back Line
???? Best bets
All times U.S./Eastern. SportsLine has you covered with all the info you need.
Serie A: Cagliari vs. Inter, Monday, 2:45 p.m.
???? THE PICK: Inter to win and both to score (+220) — It is early days in the new Italian season with little form to go by, but the Nerazzurri should be considered favorites here. Consequently, Inter to win with both teams scoring returns better than simply going for an away win. Cagliari look like they could be tricky customers this season so last campaign's Champions League finalists have been warned.
UCL: Galatasaray vs. Molde, Tuesday, 3 p.m.
???? THE PICK: Draw (+320) — After a five-goal thriller in the first leg which saw

Mauro Icardi

tally with a superb finish, the Turkish giants will probably trade another hectic game for a straightforward result which secures their Champions League group stage berth. Both sides may well score again, but Gala should emerge on the right side of the tie with a one-goal advantage heading into this second leg at 3-2.



Summarize this content to 300 words Happy Monday, everybody! What a weekend it was with Lionel Messi and Christian Pulisic not far from the headlines across the world's major soccer leagues. The legendary Argentina world champion was at it again as Inter Miami won on the road in Major League Soccer while the USMNT captain scored in consecutive games for new club Milan. As if that was not enough, there have been further developments in the Luis Rubiales scandal which threatens to descend into further farce. I am Jonathan Johnson bringing you the best bits ahead of this new week in the world of soccer.New to the Golazo Starting XI newsletter? Get yourself the best deal in soccer and subscribe now to ensure you receive updates three times a week.???? Footy fixAll times U.S./EasternMonday, Aug. 28???????? Serie A: Cagliari vs. Inter, 2:45 p.m. ➡️ Paramount+???????? La Liga: Rayo Vallecano vs. Atletico Madrid, 3:30 p.m. ➡️ ESPN+???????? Argentina: Banfield vs. Rosario Central, 7 p.m. ➡️ Paramount+Tuesday, Aug. 29???????????????????????????? EFL Cup: Birmingham City vs. Cardiff City, 2:45 p.m. ➡️ ESPN+???????? UCL qualifiers: Galatasaray vs. Dinamo Molde, 3 p.m. ➡️ Paramount+???????? UCL qualifiers: Panathinaikos vs. Braga, 3 p.m. ➡️ Paramount+???????? UCL qualifiers: Young Boys vs. Maccabi Haifa, 3 p.m. ➡️ Paramount+ ⚽  The Forward LineMessi's hot start to life in America continues Getty Images Major League Soccer this past weekend got what it has been waiting for since Messi's arrival as an Inter Miami player earlier this summer. The legendary Argentina international scored the second goal for Tata Martino's side in a 2-0 win away at New York Red Bulls to mark his MLS debut with another decisive contribution. Despite starting on the bench and coming in on the hour mark, Messi delighted the Red Bull Arena crowd by continuing his strong early form in America. Thanks to both the Leagues Cup and the U.S. Open Cup, the South American has already secured silverware and continental competition for next season. Messi racked up 10 goals from his first eight non-MLS appearances and was scoreless in just one of those — most recently against FC Cincinnati in the U.S. Open Cup, although he did find the back of the net during the penalty shootout. With two-goal hauls in three consecutive games at the start of his Leagues Cup run, the former Barcelona and Paris Saint-Germain star set the bar high before he even touched a ball in MLS.However, Messi continued that impressive form into league play with a trademark finish after what was seemingly effortless buildup play to outwit the NYRB defense. If that was not enough, the three-point haul finally lifted Inter Miami off of bottom spot as Martino seeks to lead an improbable turnaround to reach the playoffs. Messi has been vocal about his happiness since moving from Paris to Miami and that is reflected in what we are seeing on the field at present.  Even if his fast start statistically does not hold up now that MLS play has restarted, this past weekend in New Jersey has shown that American soccer's new superstar attraction is ready to give spectators up and down the country the glimpses of magic that they have been waiting to see for months. With the news that Inter Miami might be deprived of his services during the upcoming international periods, it will be interesting to see how Martino and his new teammates fare trying to keep this revival in form. Pardeep Cattry was at the match in New York to take in the experience. Cattry: "Messi mania was hard to avoid in and around Harrison, New Jersey, where the path to Red Bull Arena was lined with vendors selling unlicensed merchandise that included jerseys, scarves, flags and bucket hats emblazoned with the player's name. Music, air horns and excited chatter served as the pre-match soundtrack. Inside, multi-hyphenate Lin-Manuel Miranda, rapper French Montana and soccer stars Sam Kerr and Kristie Mewis settled into their seats. It was a Messi-themed festival, an experience that follows the World Cup winner everywhere he goes but is only reserved solely for his presence."On Morning Footy, the crew broke down Messi's amazing first MLS goal.Sponsored by Paramount+ Sponsored by Paramount+ ????  Midfield Link PlayTwo in two for rejuvenated Christian Pulisic in MilanPulisic is loving Serie A life with Milan so far after the USMNT captain scored his second goal in as many games after he tallied against Torino this past weekend. The American was on target in his Rossoneri debut on the road at Bologna on the opening day of the new season of calcio and he followed that up with another on his home bow. It is early days in Pulisic's time with Milan, but the early signs are good with immediate goals to settle him into his new surroundings, win the confidence of his teammates and justify the club's decision to move for him this summer. It was also telling that fellow attacker and two-goal penalty hero Olivier Giroud played down reports post-game that Milan are looking to reinforce their attack with PSG's Hugo Ekitike being heavily linked of late.  Should Pulisic build on this fast start in the games leading into Milan's UEFA Champions League involvement (and remember you can catch all the action from both Serie A and the Champions League on Paramount+), then continental soccer could really see him hit his stride. The USMNT talisman lost his way with Chelsea and was stagnating at Stamford Bridge before his summer switch but is wasting not time in blowing away the cobwebs of Cobham.U.S. soccer is understandably reveling in Messi's strong start to life with Inter Miami, but USMNT fans can be equally as stoked regarding Pulisic's, so far successful, relaunch at San Siro. With Folarin Balogun also expected to complete a move to Monaco for improved game time, there is much to be excited about surrounding the Stars and Stripes at club and international level with increased eyes on the soccer scene of late.For more on Pulisic's hot start make sure to check out the Morning Footy crew breaking it all down. ???? James Benge weighs in with the latest on Mo Salah's future, with Al-Ittihad interested in the Egyptian superstar.???? That after Darwin Nunez-inspired Liverpool fought back to beat Newcastle United 2-1.???? Cattry fills you in as another Messi signs for Inter Miami — Lionel's son Thiago.???? Benge laments Arsenal's 2-2 Premier League draw at home to Fulham.???? Chuck Booth with the best of the rest from this weekend's Premier League action.???? Sandra Herrera with the latest on the Luis Rubiales scandal.???? Rubiales' mother has declared she's going on a hunger striker in support of her son.???? Sophia Smith injured her knee on her first start back for the Portland Thorns after returning from USWNT duty.  ???? It is UEFA Champions League group stage draw week so check out the viewing details as well as the different pots.???? As the European season kicks off get 50% off an annual subscription of Paramount+, deal ends 9/20. Annual Plan Only. T&Cs Apply.????  The Back Line???? Best betsAll times U.S./Eastern. SportsLine has you covered with all the info you need.Serie A: Cagliari vs. Inter, Monday, 2:45 p.m.???? THE PICK: Inter to win and both to score (+220) — It is early days in the new Italian season with little form to go by, but the Nerazzurri should be considered favorites here. Consequently, Inter to win with both teams scoring returns better than simply going for an away win. Cagliari look like they could be tricky customers this season so last campaign's Champions League finalists have been warned.UCL: Galatasaray vs. Molde, Tuesday, 3 p.m.???? THE PICK: Draw (+320) — After a five-goal thriller in the first leg which saw Mauro Icardi tally with a superb finish, the Turkish giants will probably trade another hectic game for a straightforward result which secures their Champions League group stage berth. Both sides may well score again, but Gala should emerge on the right side of the tie with a one-goal advantage heading into this second leg at 3-2. require.config({"baseUrl":"https:\/\/sportsfly.cbsistatic.com\/fly-0537\/bundles\/sportsmediajs\/js-build","config":{"version":{"fly\/components\/accordion":"1.0″,"fly\/components\/alert":"1.0″,"fly\/components\/base":"1.0″,"fly\/components\/carousel":"1.0″,"fly\/components\/dropdown":"1.0″,"fly\/components\/fixate":"1.0″,"fly\/components\/form-validate":"1.0″,"fly\/components\/image-gallery":"1.0″,"fly\/components\/iframe-messenger":"1.0″,"fly\/components\/load-more":"1.0″,"fly\/components\/load-more-article":"1.0″,"fly\/components\/load-more-scroll":"1.0″,"fly\/components\/loading":"1.0″,"fly\/components\/modal":"1.0″,"fly\/components\/modal-iframe":"1.0″,"fly\/components\/network-bar":"1.0″,"fly\/components\/poll":"1.0″,"fly\/components\/search-player":"1.0″,"fly\/components\/social-button":"1.0″,"fly\/components\/social-counts":"1.0″,"fly\/components\/social-links":"1.0″,"fly\/components\/tabs":"1.0″,"fly\/components\/video":"1.0″,"fly\/libs\/easy-xdm":"2.4.17.1″,"fly\/libs\/jquery.cookie":"1.2″,"fly\/libs\/jquery.throttle-debounce":"1.1″,"fly\/libs\/jquery.widget":"1.9.2″,"fly\/libs\/omniture.s-code":"1.0″,"fly\/utils\/jquery-mobile-init":"1.0″,"fly\/libs\/jquery.mobile":"1.3.2″,"fly\/libs\/backbone":"1.0.0″,"fly\/libs\/underscore":"1.5.1″,"fly\/libs\/jquery.easing":"1.3″,"fly\/managers\/ad":"2.0″,"fly\/managers\/components":"1.0″,"fly\/managers\/cookie":"1.0″,"fly\/managers\/debug":"1.0″,"fly\/managers\/geo":"1.0″,"fly\/managers\/gpt":"4.3″,"fly\/managers\/history":"2.0″,"fly\/managers\/madison":"1.0″,"fly\/managers\/social-authentication":"1.0″,"fly\/utils\/data-prefix":"1.0″,"fly\/utils\/data-selector":"1.0″,"fly\/utils\/function-natives":"1.0″,"fly\/utils\/guid":"1.0″,"fly\/utils\/log":"1.0″,"fly\/utils\/object-helper":"1.0″,"fly\/utils\/string-helper":"1.0″,"fly\/utils\/string-vars":"1.0″,"fly\/utils\/url-helper":"1.0″,"libs\/jshashtable":"2.1″,"libs\/select2″:"3.5.1″,"libs\/jsonp":"2.4.0″,"libs\/jquery\/mobile":"1.4.5″,"libs\/modernizr.custom":"2.6.2″,"libs\/velocity":"1.2.2″,"libs\/dataTables":"1.10.6″,"libs\/dataTables.fixedColumns":"3.0.4″,"libs\/dataTables.fixedHeader":"2.1.2″,"libs\/dateformat":"1.0.3″,"libs\/waypoints\/infinite":"3.1.1″,"libs\/waypoints\/inview":"3.1.1″,"libs\/waypoints\/jquery.waypoints":"3.1.1″,"libs\/waypoints\/sticky":"3.1.1″,"libs\/jquery\/dotdotdot":"1.6.1″,"libs\/jquery\/flexslider":"2.1″,"libs\/jquery\/lazyload":"1.9.3″,"libs\/jquery\/maskedinput":"1.3.1″,"libs\/jquery\/marquee":"1.3.1″,"libs\/jquery\/numberformatter":"1.2.3″,"libs\/jquery\/placeholder":"0.2.4″,"libs\/jquery\/scrollbar":"0.1.6″,"libs\/jquery\/tablesorter":"2.0.5″,"libs\/jquery\/touchswipe":"1.6.18″,"libs\/jquery\/ui\/jquery.ui.core":"1.11.4″,"libs\/jquery\/ui\/jquery.ui.draggable":"1.11.4″,"libs\/jquery\/ui\/jquery.ui.mouse":"1.11.4″,"libs\/jquery\/ui\/jquery.ui.position":"1.11.4″,"libs\/jquery\/ui\/jquery.ui.slider":"1.11.4″,"libs\/jquery\/ui\/jquery.ui.sortable":"1.11.4″,"libs\/jquery\/ui\/jquery.ui.touch-punch":"0.2.3″,"libs\/jquery\/ui\/jquery.ui.autocomplete":"1.11.4″,"libs\/jquery\/ui\/jquery.ui.accordion":"1.11.4″,"libs\/jquery\/ui\/jquery.ui.tabs":"1.11.4″,"libs\/jquery\/ui\/jquery.ui.menu":"1.11.4″,"libs\/jquery\/ui\/jquery.ui.dialog":"1.11.4″,"libs\/jquery\/ui\/jquery.ui.resizable":"1.11.4″,"libs\/jquery\/ui\/jquery.ui.button":"1.11.4″,"libs\/jquery\/ui\/jquery.ui.tooltip":"1.11.4″,"libs\/jquery\/ui\/jquery.ui.effects":"1.11.4″,"libs\/jquery\/ui\/jquery.ui.datepicker":"1.11.4″}},"shim":{"liveconnection\/managers\/connection":{"deps":["liveconnection\/libs\/sockjs-0.3.4″]},"liveconnection\/libs\/sockjs-0.3.4":{"exports":"SockJS"},"libs\/setValueFromArray":{"exports":"set"},"libs\/getValueFromArray":{"exports":"get"},"fly\/libs\/jquery.mobile-1.3.2″:["version!fly\/utils\/jquery-mobile-init"],"libs\/backbone.marionette":{"deps":["jquery","version!fly\/libs\/underscore","version!fly\/libs\/backbone"],"exports":"Marionette"},"fly\/libs\/underscore-1.5.1″:{"exports":"_"},"fly\/libs\/backbone-1.0.0″:{"deps":["version!fly\/libs\/underscore","jquery"],"exports":"Backbone"},"libs\/jquery\/ui\/jquery.ui.tabs-1.11.4″:["jquery","version!libs\/jquery\/ui\/jquery.ui.core","version!fly\/libs\/jquery.widget"],"libs\/jquery\/flexslider-2.1″:["jquery"],"libs\/dataTables.fixedColumns-3.0.4″:["jquery","version!libs\/dataTables"],"libs\/dataTables.fixedHeader-2.1.2″:["jquery","version!libs\/dataTables"],"https:\/\/sports.cbsimg.net\/js\/CBSi\/app\/VideoPlayer\/AdobePass-min.js":["https:\/\/sports.cbsimg.net\/js\/CBSi\/util\/Utils-min.js"]},"map":{"*":{"adobe-pass":"https:\/\/sports.cbsimg.net\/js\/CBSi\/app\/VideoPlayer\/AdobePass-min.js","facebook":"https:\/\/connect.facebook.net\/en_US\/sdk.js","facebook-debug":"https:\/\/connect.facebook.net\/en_US\/all\/debug.js","google":"https:\/\/apis.google.com\/js\/plusone.js","google-csa":"https:\/\/www.google.com\/adsense\/search\/async-ads.js","google-javascript-api":"https:\/\/www.google.com\/jsapi","google-client-api":"https:\/\/accounts.google.com\/gsi\/client","gpt":"https:\/\/securepubads.g.doubleclick.net\/tag\/js\/gpt.js","hlsjs":"https:\/\/cdnjs.cloudflare.com\/ajax\/libs\/hls.js\/1.0.7\/hls.js","recaptcha":"https:\/\/www.google.com\/recaptcha\/api.js?onload=loadRecaptcha&render=explicit","recaptcha_ajax":"https:\/\/www.google.com\/recaptcha\/api\/js\/recaptcha_ajax.js","supreme-golf":"https:\/\/sgapps-staging.supremegolf.com\/search\/assets\/js\/bundle.js","taboola":"https:\/\/cdn.taboola.com\/libtrc\/cbsinteractive-cbssports\/loader.js","twitter":"https:\/\/platform.twitter.com\/widgets.js","video-avia":"https:\/\/vidtech.cbsinteractive.com\/avia-js\/2.12.0\/player\/avia.min.js","video-avia-ui":"https:\/\/vidtech.cbsinteractive.com\/avia-js\/2.12.0\/plugins\/ui\/avia.ui.min.js","video-avia-gam":"https:\/\/vidtech.cbsinteractive.com\/avia-js\/2.12.0\/plugins\/gam\/avia.gam.min.js","video-avia-hls":"https:\/\/vidtech.cbsinteractive.com\/avia-js\/2.12.0\/plugins\/hls\/avia.hls.min.js","video-avia-playlist":"https:\/\/vidtech.cbsinteractive.com\/avia-js\/2.12.0\/plugins\/playlist\/avia.playlist.min.js","video-ima3″:"https:\/\/imasdk.googleapis.com\/js\/sdkloader\/ima3.js","video-ima3-dai":"https:\/\/imasdk.googleapis.com\/js\/sdkloader\/ima3_dai.js","video-utils":"https:\/\/sports.cbsimg.net\/js\/CBSi\/util\/Utils-min.js","video-vast-tracking":"https:\/\/vidtech.cbsinteractive.com\/sb55\/vast-js\/vtg-vast-client.js"}},"waitSeconds":300});

Source link