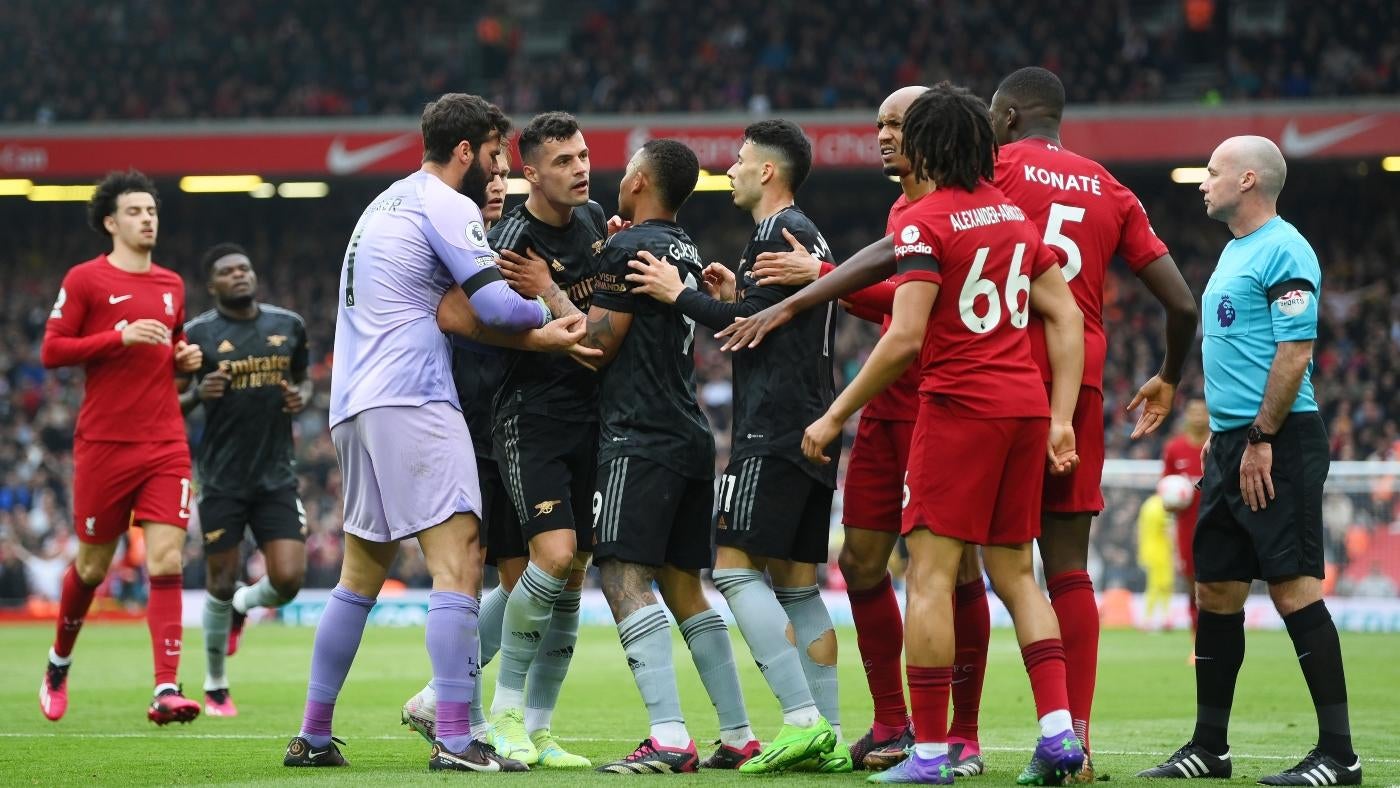 Two points blown by Arsenal that might cost them the title race. A point won for them by Aaron Ramsdale that might win them the title. The title is in Arsenal's hands. The title is in Manchester City's hands.
It seems appropriate that no clear conclusions can be drawn from this balmy, baffling 2-2 draw, one where Liverpool spent 35 minutes writing a fond farewell letter to life at the peak of Premier League football before an encore of their greatness. Trent Alexander-Arnold was this game in microcosm, beginning with an extremely awkward display of the full-back masquerading as a midfielder that he has been gravitating towards in recent weeks. Oleksandr Zinchenko he was not and yet Alexander-Arnold delivered this contest's killer blow by doing what he does best.
On the front foot, by far the best version of this uniquely talented right-back, he was devastating, flicking the ball through Zinchenko's legs as he charged down the right flank. In the heat of the moment, he had ice in his veins, spotting Roberto Firmino at the back post and lofting the ball into his path. In his last meeting with Arsenal, their old foe delivered the cruelest blow yet, an 11th goal against the Gunners that cut their lead to six points having played a game more than City.
In the nine minutes that followed, Arsenal should have lost a game that might have already slipped away from them. Mohamed Salah's bending shot deflected wickedly off Gabriel, somehow Ramsdale got a glove to it. On the goal line Ibrahima Konate, titanic in the second half, contrived not to scramble the ball in Darwin Nunez's flick-on.
Such circumstances were unimaginable an hour earlier. Arsenal had been rampant, drawing Liverpool into one vs. one duels across the pitch where they were the better players. Previous opponents have shown that if you are to have a chance at slowing the league leaders you simply must double up on Bukayo Saka and Gabriel Martinelli. The hosts did not and inside seven minutes the pair had contrived to rip them to shreds, a simple move inside sending Andrew Robertson sprawling to the deck. Martinelli flew infield and when Martin Odegaard's through ball cannoned back off the lumbering Virgil van Dijk he was through, poking the ball beyond Alisson and a despairing, chaotic backline.
For all the excellence that those ahead of them displayed in the fight back, Van Dijk never really recovered from a slow start. Shorn of the burst of old and seemingly well aware of it, the titan of Premier League defenders has been laid low. Now the basics seem to elude him. As Martinelli burst down the left, the Dutchman seemed to check over his shoulder just once. Gabriel Jesus did not have to do much to find space in the penalty area and head home.
That ought to have been that. And then something changed. The easy answer is that Granit Xhaka's shove of Alexander-Arnold riled the Anfield crowd and from there everything snowballed. Would correlation have necessarily equaled causation if that same nudge had been delivered by a player without such a sketchy disciplinary record? In a different world, the yellow card Xhaka baited out of his opponent might have been the game's pivot point, Martinelli could have got him isolated one more time and earned Arsenal a man advantage to go with their one on the scoresheet.
Xhaka did not make his teammates switch off as Jota overlapped down the left. Xhaka did not convince Curtis Jones to deliver a perfectly timed backheeled through ball nor did his act of petulance have any meaningful impact on Jordan Henderson's mishit shot that fell to Salah.
Something, some time might well have woken Liverpool from their catatonic state. Equally, Xhaka did himself and his teammates no favor by poking the bear; everyone in Arsenal colors might also wonder what impact was had by the elbow assistant referee Constantine Hatzidakis seemed to throw at Robertson after being grabbed by the Liverpool defender.
From then on Arsenal were on the back foot. Rob Holding, who is so often at his best with his back to the wall, crashed into Diogo Jota, a tough but fair penalty the response. Just as he had against Bournemouth a few weeks ago, Salah went left. Too far left.
Liverpool were not quelled, however. Thiago brought control, Firmino a relentless belief that Liverpool would get the job done. Arsenal had their chances to restore their two-goal lead — Gabriel heading straight at Alisson, a tired Saka's brilliant turn in the box followed by a cross that could not quite find Leandro Trossard — but the killer instinct was gone. Having perhaps waited too long to freshen his frontline, Arteta's additions seemed to add pressure to his side. Jakub Kiwior's first action was to charge out of the heart of defense, nearly foul Roberto Firmino and in the process find a seam for Darwin Nunez to attack.
Ten of the visitors were waiting for the coup de grâce. Ramsdale would not be beaten. Thanks to him and perhaps him alone, Arsenal got away from Anfield with something. It should have been much more. It might be enough. It might not.