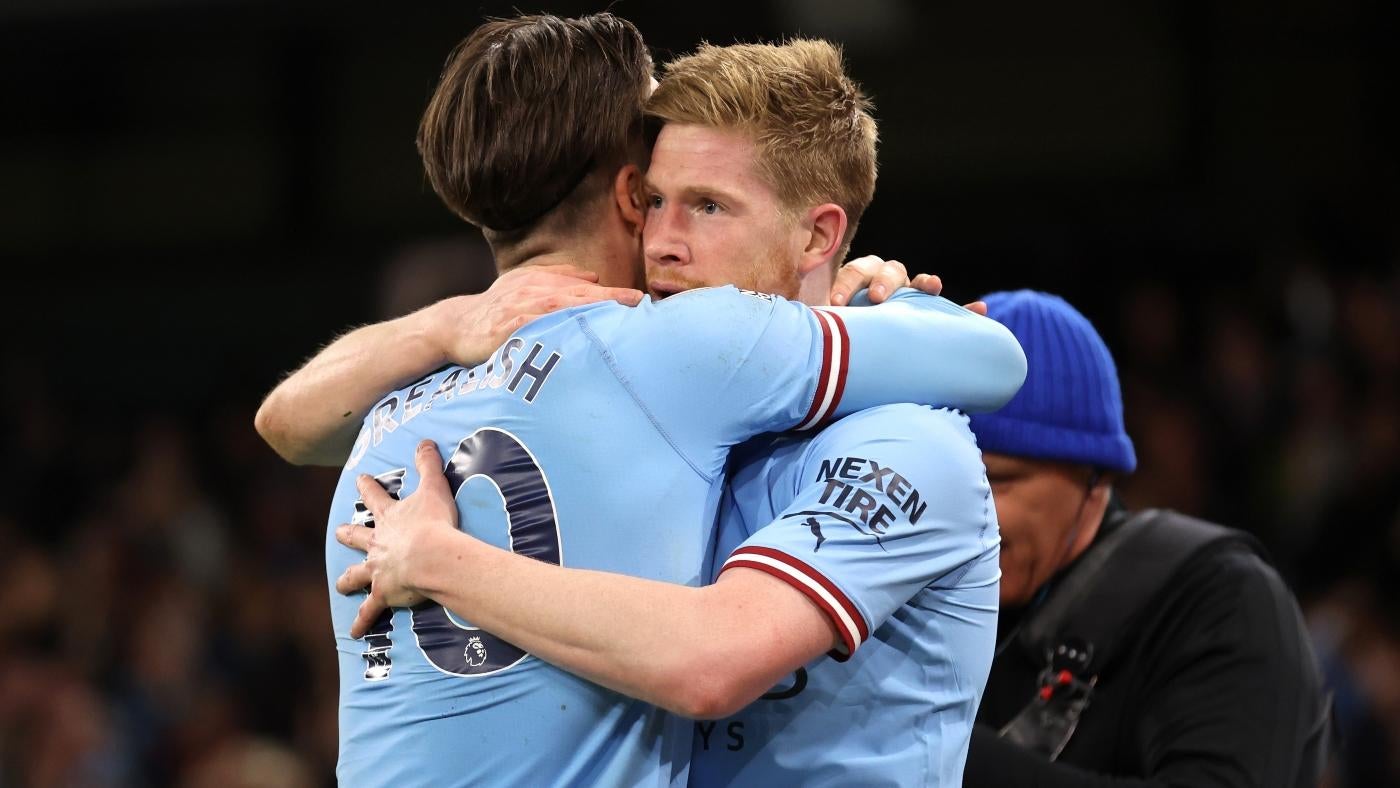 MANCHESTER — In the end, it was a wonder that Arsenal took this title race as far as they did. When it came down to a straight 90 minutes in the Etihad ring, they simply could not lay a glove on a side that was technically, tactically, physically, emotionally and intellectually their superior. Manchester City have ascended to a plain that was beyond their comprehension.
For all the talk beforehand of what might have been if only William Saliba had been fit, what wheezes Mikel Arteta might have had up his sleeve to create a gameplan that offered anything other than Rob Holding defending Erling Haaland. None of them would have made the slightest bit of difference. If Saliba were on the pitch, Arsenal would still have lost. The best version of the league leaders at the peak of their powers would have been roadkill. It has taken a while for City to become City. That's why Arsenal had a statistical chance coming into this game. Their best hope next season is that something is wrong with the past, present and future champions. There is no other way to compete with the best coach, the best players and the greatest wealth. 
There were enough errors from the visitors to ease City towards the 4-1 win that confirms their status as champions in waiting. Pep Guardiola hardly needed a helping hand. In the sixth minute, Arsenal's front four had done just about everything you could have asked of them off the ball. A good press had forced John Stones to hit the ball long towards midfield. Holding was on Haaland's case. And then with two touches, he unleashed Kevin De Bruyne, whose dropped shoulder sent Gabriel Magalhaes the wrong way. Look at his stance and he seems bound to drive the ball into the bottom left. Instead, it flew low and hard into the near post. City were on their way.
You could pick at the faults in that goal. For the first of far too many occasions, Thomas Partey was languid in a match that required explosive intensity. When Stones cleared the ball several yards ahead of De Bruyne. By the time it flew into the bottom corner, he was nowhere near the danger area. Aaron Ramsdale might also have felt he could have done better. And yet no team would have punished those half errors, those mini-lapses as brutally as City did.
CBS Sports has a brand new daily soccer podcast, covering everything you need to know about the beautiful game. Make sure to give House of Champions a follow for coverage of the biggest games, stories, transfer news with Fabrizio Romano, and everything else going on in the world's most popular sport.
Mikel Arteta had challenged his side to deliver the perfect game. He was right that that is what it would have taken but the unbearable weight of expectation crushed Arsenal. When Holding was dragged infield, plugging the gap Partey had left behind and Haaland had attacked, he bounced into the air in frustration. It took exceptional scramble defending from Gabriel just to keep De Bruyne from getting his second.
That would come in due time but not before City had raised Arsenal's hopes and dashed them quite expertly. As Haaland bent shots wide that the Etihad thought were in or smashed efforts just too close to Ramsdale, the traveling contingent might just have convinced themselves that something was written in the stars, that it was not meant to end this way. All the more so when Stones had the ball in the net only to see the linesman's flag deny him. On first viewing, it was as clear an offside as you could wish to see until that stray toe of Ben White popped up on the VAR.
It did not get any easier from there on out. This was always going to be a bridge too far for Arsenal but "Mission: Impossible" actually becomes mission impossible when a player as foundational as Partey, who it should be noted was as fully fit as any player can be expected to be at this stage of the season, is a shadow of an approximation of his true self. Martin Odegaard sold him short with a pass but Arsenal's anchorman was flat-footed as De Bruyne stole in, running off the coast of Holding island before rolling the ball into the net.
City could have had as many more as they wanted and though Reiss Nelson and Leandro Trossard offered a spark of something, the latter teeing up Holding for a consolation goal that he really deserved as a salve for the horrendous night he had had, Arsenal never believed they might even get a foothold in this contest. It might at least have been a hopeful note to end it on but Haaland, evidently readying himself for a hot guy summer of L'Oreal adverts and outfits that just fit, would not allow it. Alice band free, he romped through a defense that just couldn't fight anymore.
This title is gone. So is next year's, so long as Guardiola can keep City even vaguely motivated. Unless the Premier League comes down with its full weight if the 100-plus alleged breaches of their rules are proven, it is hard to see what can be done to change the status quo. From here on out the league is City's to lose. The same as it ever was.