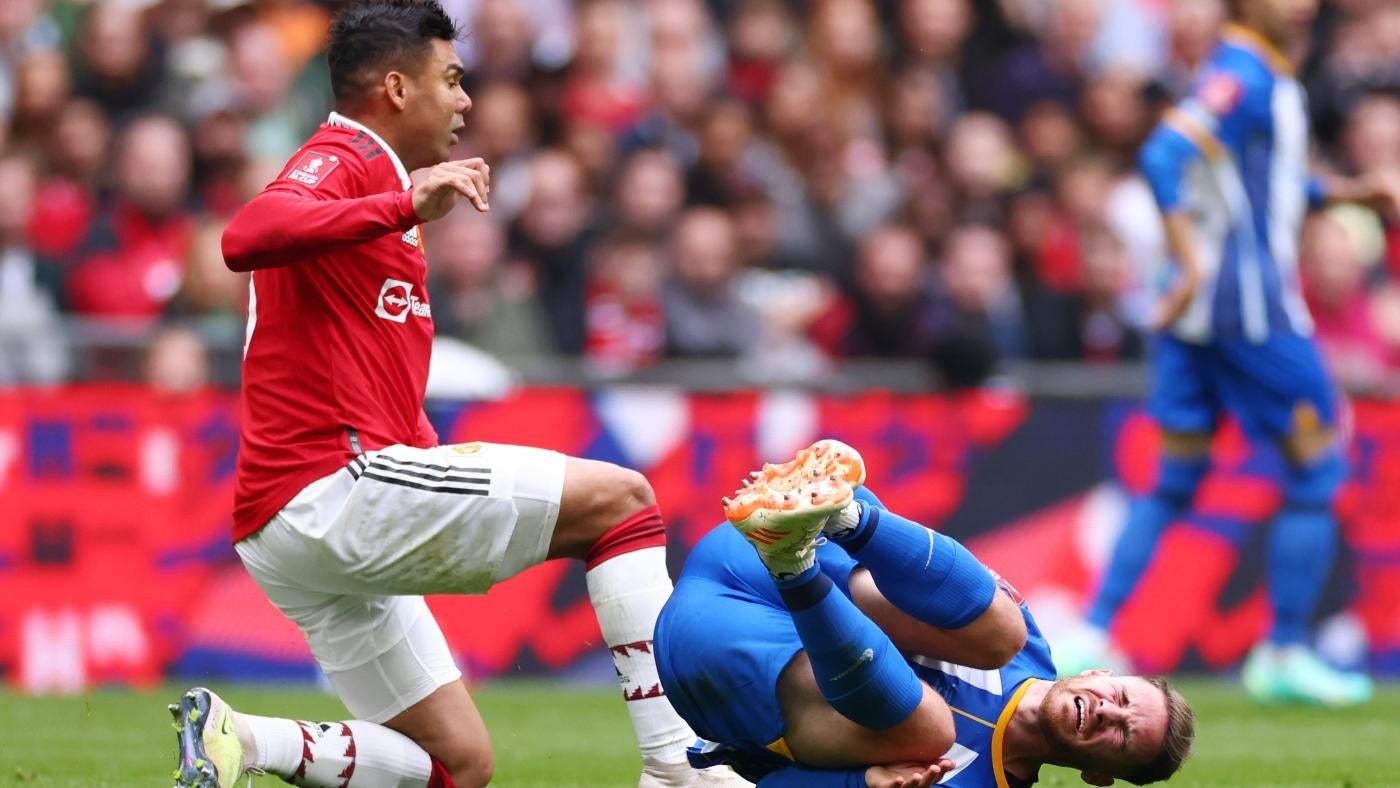 It may have taken a penalty shootout for Manchester United to get there, but the 2022-23 FA Cup final will be a Manchester Derby as the Red Devils surpassed Brighton 7-6 on penalties on Sunday. The two sides played out a 0-0 match through 120 minutes. It was an excellent shootout by both teams, but Solly Marsh's take went over the bar before Victor Lindelof sealed it for Erik ten Hag's men. 
Despite struggling with injuries, Manchester United were able to withstand Brighton's strong attack behind five saves from David De Gea. Even though the notes on his water bottle didn't provide enough help to stop Brigton from the penalty spot, United showed up as a team that was prepared for the moment, sinking their spot kicks even though Bruno Fernandes and Anthony Martial were withdrawn. 
Though the Seagulls didn't pull out a victory, that shouldn't take anything away from their season or their effort in the match. They finished undefeated in regulation in both domestic cups, losing both in penalties. After losing manager Graham Potter to Chelsea and forward Leandro Trossard to Arsenal, the club didn't miss a beat in advancing to the FA Cup semifinals while Roberto De Zerbi has kept the club among the outside contenders for a European spot as well. For United, after crashing out of Europa League, it wouldn't have been surprising for them to fall in this match but ten Hag was able to keep the team focused on the task at hand.
Adjustments like being able to play Luke Shaw at center back instead of Harry Maguire were things that made a difference as Danny Welbeck couldn't get into space to make Brighton's attack tick. Shaw's passing also helped create a calmness in defense that hasn't been present since losing Lisandro Martinez to injury. Depth is still a concern for ten Hag but now only needing to focus on the Premier League and the FA Cup final, he won't have to rotate as much with fewer games per week over the horizon.
Now, while United were able to win this match without scoring a goal, that won't be the case in the FA Cup final. Manchester City are in unstoppable form and the Red Devils will need all the attacking help that they can get. Marcus Rashford has been reliable this season but his offensive prowess alone won't be enough to beat a City side that can score three at will in any match.
Next up will be a chance to remedy the attack though with a midweek match against Tottenham coming. With a victory, Manchester United can all but secure a place in the top four and Tottenham just allowed six goals to Newcastle United on Sunday. United will need to ensure that Spurs don't use it as a bounce-back game, but as of late, when teams face Spurs, it's the perfect chance to jumpstart their attacks.
Already in the midst of a successful first season in charge, ending the campaign on a strong note will be the goal for ten Hag. Securing top four is the objective but remaining in the FA Cup, a domestic double alongside that would result in a wonderful first campaign and plenty of momentum moving forward.  
The FA Cup final will take place on June 3.