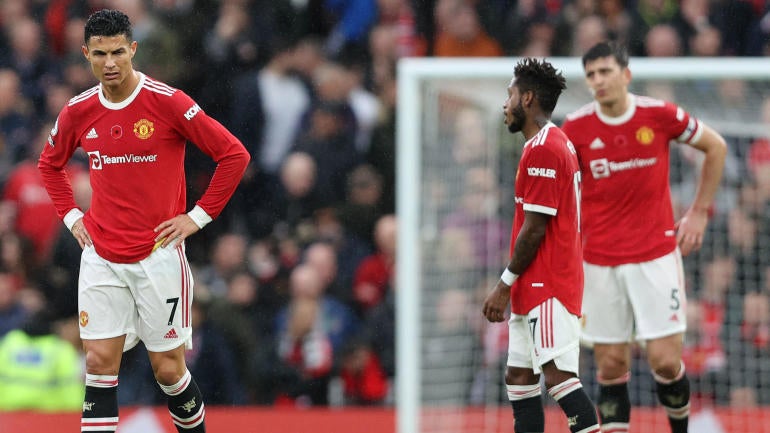 Getty Images
The Premier League is back in action on Saturday.
Who's Playing
Tottenham Hotspur @ Manchester United
Current Records: Tottenham Hotspur 14-9-3; Manchester United 13-7-8
What to Know
Manchester United took care of business against Tottenham Hotspur on the road in the teams' previous meeting last October and will be looking to do the same thing back at Old Trafford. They will face off against one another at 12:30 p.m. ET on Saturday. Tottenham will be strutting in after a win while the Red Devils will be stumbling in from a loss.
The match between Man United and Manchester City on Sunday was not a total blowout, but with Man United falling 4-1 on the road, it was darn close to turning into one.
Meanwhile, Tottenham got themselves on the board against Everton on Monday, but Everton never followed suit. Spurs claimed a resounding 5-0 victory over Everton at home. The contest was pretty much decided by the half, when the score had already reached 3 to nothing.
The Red Devils are 13-7-8 (47 points) and Tottenham is 14-9-3 (45 points), so if Tottenham wins they will leapfrog Man United in the standings.
How To Watch
Who: Manchester United vs. Tottenham Hotspur
When: Saturday at 12:30 p.m. ET
Where: Old Trafford
TV: Peacock
Caesars Sportsbook odds: Manchester United +140; Draw +240; Tottenham +195
Series History
Manchester United have won six out of their last 11 games against Tottenham Hotspur.
Oct 30, 2021 – Manchester United 3 vs. Tottenham Hotspur 0
Apr 11, 2021 – Manchester United 3 vs. Tottenham Hotspur 1
Oct 04, 2020 – Tottenham Hotspur 6 vs. Manchester United 1
Jun 19, 2020 – Manchester United 1 vs. Tottenham Hotspur 1
Dec 04, 2019 – Manchester United 2 vs. Tottenham Hotspur 1
Jan 13, 2019 – Manchester United 1 vs. Tottenham Hotspur 0
Aug 27, 2018 – Tottenham Hotspur 3 vs. Manchester United 0
Jan 31, 2018 – Tottenham Hotspur 2 vs. Manchester United 0
Oct 28, 2017 – Manchester United 1 vs. Tottenham Hotspur 0
May 14, 2017 – Tottenham Hotspur 2 vs. Manchester United 1
Dec 11, 2016 – Manchester United 1 vs. Tottenham Hotspur 0