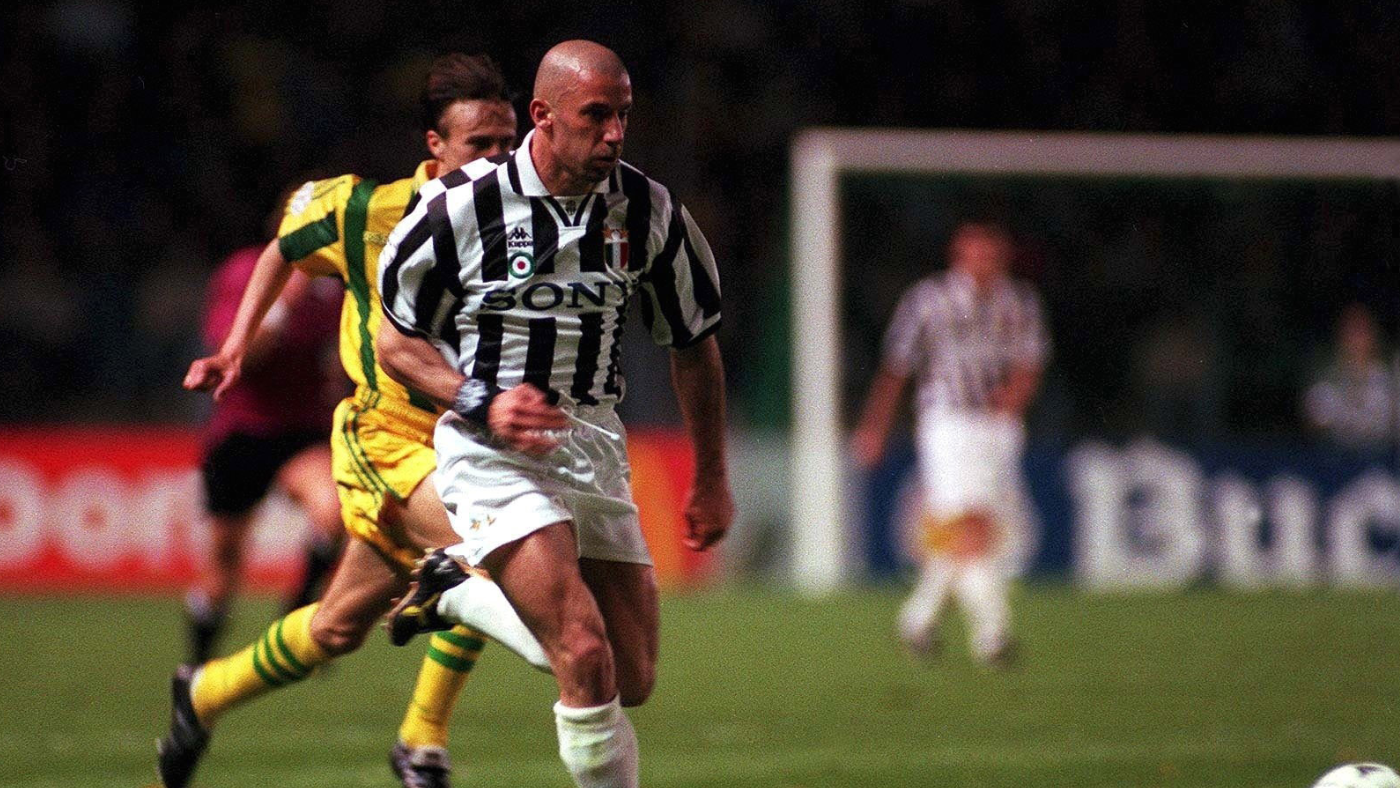 FC Nantes host Juventus in a UEFA Europa League knockout round playoff second leg on Thursday in what will be the most prestigious continental game to have taken place at Stade de la Beaujoire in years. Expect a carnival atmosphere of yellow and green as Les Canaris celebrate bringing one of Europe's biggest names to Pays de la Loire decades after their heyday.
Manchester United's clash with Barcelona elsewhere in the draw has been described by many as a UEFA Champions League tie taking place in the UEL but, difficult as it may be to believe now, Nantes against Juventus was genuinely a UCL semifinal less than 30 years ago. Back in 1996, the Italian giants under Marcello Lippi were making their way to the Champions League title for the second and most recent time in their history.
Antonio Conte was part of La Vecchia Signora's squad alongside legendary names such as Alessandro Del Piero, the late Gianluca Vialli, and Fabrizio Ravanelli. Standing in their way in the semifinals was an underrated Nantes which had won the seventh of its eight Ligue 1 titles in 1995 and also reached the UEFA Cup quarterfinals that same year. 
Although not quite at the same level of their success in the 1970s and 1980s which is best illustrated by their staggering 92-game unbeaten home run between 1976-81, Nantes still set a record that modern Qatar-owned Paris Saint-Germain are yet to better — one single defeat in the entire 1994-95 campaign. Later, three years after their meeting with Juve in the Champions League, La Maison Jaune would win back-to-back Coupe de France titles, yet it is their European forays that many remember Nantes for. FCN youth academy graduate Didier Deschamps was in the Juve ranks for this one while a young Claude Makelele was making a name for himself in western France under the leadership of club legend Jean-Claude Suaudeau and Japhet N'Doram was a star turn. 
Craving more Champions League coverage? Listen below and follow House of Champions, a CBS Sports soccer podcast, bringing you top-notch analysis, commentary, picks and more. 
 A 2-0 first leg victory with Bruno Carotti getting red carded put the Bianconeri in control heading to Stade de la Beaujoire for the return and an early Vialli strike made it 3-0 on aggregate. Eddy Capron pulled one back for the hosts before Paulo Sousa put the visitors back in front only for N'Doram and then Franck Renou to give Nantes the lead with eight minutes to go. Les Canaris were unable to score twice more to beat the away goals rule and advance but the 3-2 victory remains a significant result in Nantes and Ligue 1's continental history which came just three years after Olympique de Marseille's success of 1993 — France's only UCL crown to date.
Now, PSG are France's main hope for Champions League glory, coming close when they reached the 2020 final only to go down to Bayern Munich, to whom they are currently 1-0 down to in this year's UCL round of 16. However, both Nantes and Juve have fallen far from where they were in 1996 with Antoine Kombouare's men in Europe thanks to their fourth Coupe de France success while Massimiliano Allegri's side were bounced from their group by PSG and SL Benfica.
Kombouare left his maiden French side Nantes for new monied PSG in 1990 and wrote himself into club legend at Parc des Princes with some famous headed goals on big European nights but the New Caledonia-born tactician is back with La Maison Jaune and rescued them from relegation post-Raymond Domenech. Should Nantes pull off an unexpected success and dump Juve out of the Europa League, then it will be a famous feat which is added to French soccer's list of memorable moments.
The difference between what's at stake could not be more clear, as Kombouare said before the match. "Honestly, I do not know what might happen if we were to win. It is a great matchup, but it is especially important for Juve. Not for us. If Juve lose to us, they will be ridiculed. If we lose, we continue to fight against the drop and are still in the quarterfinals of the Coupe de France against Lens."
The current group might not have the same star power of old but there are still quality elements such as Ludovic Blas while versatile veteran Moussa Sissoko is a familiar name to Premier League fans as part of a strong French core. Blas' beautifully executed leveler in Turin last week gives Nantes hope ahead of Thursday — especially after they rode their luck with a late VAR review which could have given Juve a penalty in added time.
France have three representatives at this knockout stage of the Europa League with AS Monaco leading Bayer Leverkusen and Stade Rennais trailing Shakhtar Donetsk for now. Should all three make it through, the UEL could become a very interesting potential path to continental silverware for Ligue 1 this edition.
It might also be the beginning of a revival of sorts for some classic French names from the past as the likes of RC Lens continue to thrive and look capable of breaking into Europe at the expense of ailing fallen giants Olympique Lyonnais. OL could yet engineer a backdoor entrance into Europe as Nantes did by winning the Coupe de France given the favorable quarterfinal matchups which also pit FCN against Lens.