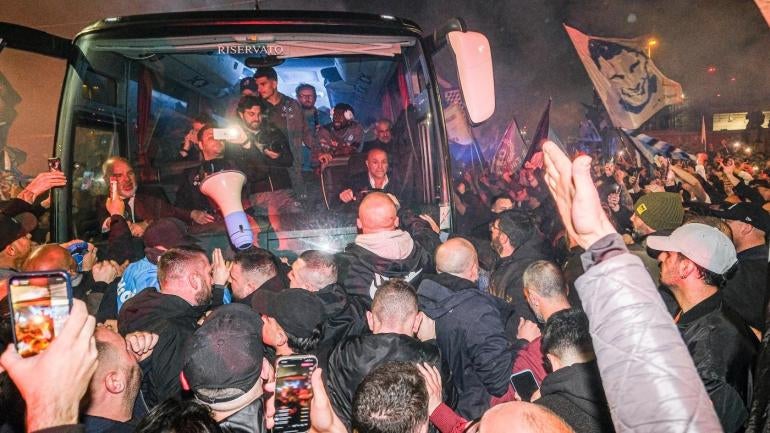 Getty Images
Napoli are preparing for a historic day as the Azzurri can win their first Serie A title since 1990 this weekend, bringing the trophy back to the place where Diego Armando Maradona last led the team to glory. When that day might be, however, just changed. Napoli were expected to play on Saturday, but the Municipality of Naples, through Gaetano Simeone, president of the Commission for infrastructure, mobility and civil protection, asked the Italian FA on Monday to postpone the match to Sunday due to security reasons, and the game has officially been moved. 
The city and the club both want to avoid improvised celebrations before the game between Inter and Lazio that will be played on Sunday. The Italian FA refused to postpone the game, but the CASMS, the national sports safety analysis committee, met on Thursday and agreed with the club's request and Friday postponed the game until Sunday at 9 a.m. ET. Lega Serie A President Lorenzo Casini said on Wednesday that he would only accept the game's postponement for public security reasons. After this decision, Napoli will play the game on Sunday knowing the result of Lazio's game, as the Biancocelesti will face Inter at 6:30 AM ET.
Luciano Spalletti's team need to win against Salernitana and then hope for Inter to win or draw against Lazio on Sunday.
Napoli's match against Udinese, originally scheduled for next Tuesday, was also moved, pushed back to Thursday.