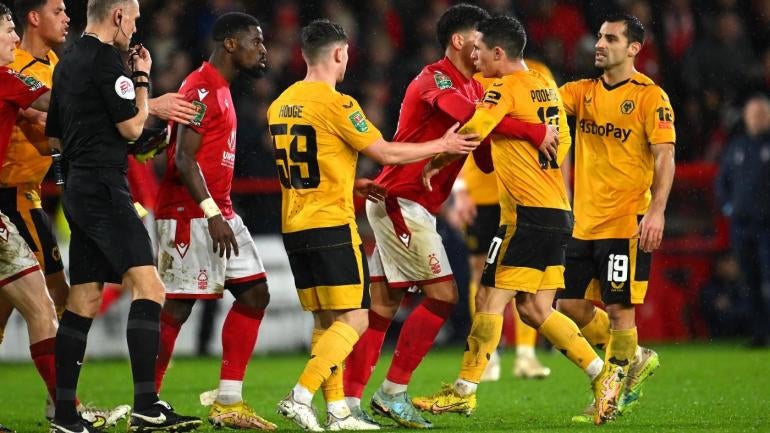 Getty Images
The knockout rounds of a cup competition can bring out the best and worst in teams. There were certainly fireworks in the 1-1 draw between Nottingham Forest and Wolverhampton on Wednesday in the EFL Cup quaterfinals, which Forest won on penalties. Both teams, struggling in the Premier League, achieved deep runs and battled in a match high in tension. But things hit a boiling point after Forest won the match on penalties.
In celebration, former Wolves midfielder Morgan Gibbs-White and goalkeeper Dean Henderson slid in front of the away Wolves fans, and both put their fingers to their ears causing both teams to rush the pitch leading to a near melee. Gibbs-White came up through the Wolves academy but left the club in the summer in a record purchase for the Tricky Trees of £25 million which can rise to £42.5 million with add-ons. Generally, out of respect for their previous clubs, players refrain from celebrating against them but that wasn't the case Wednesday.
It's unknown if Gibbs-White and Henderson were provoked or just caught up in the moment but with Forest rising up the table in the Premier League, he is finally taking part in moments worth celebrating and should enjoy them while he can, though celebrating like this can bring problems if things escalate. 
As soon as the celebration started, tensions rose as players had to be separated. Here's the moment Forest won:
Players on both sides were struggling to hold teammates back once tempers flared and this could lead to suspensions from the English Football Association if violent conduct is provided. It could backfire for a Forest team looking for silverware. Neither team can afford to lose players as it could be the difference between relegation and safety, but it was a landmark, emotional moment in what has been a tough season for Nottingham Forest.