Can it really be six years since Novak Djokovic won the Nitto ATP Finals?
When the Serb last held aloft the Brad Drewett trophy in 2015, after winning the season finale for the fourth consecutive year, it appeared inevitable that he would soon tie Roger Federer's record six triumphs at the tournament.
It almost happened the very next year, but in a winner-takes-all championship match, Andy Murray claimed his 24th consecutive match win to pry the title – and the year-end World No. 1 FedEx ATP Ranking – from the grasp of his lifelong rival.
Today Djokovic begins his quest for a sixth title against Casper Ruud, who at the other end of the spectrum, will play his first match at the tournament and will seek his first hard-court win over a Top 10 opponent.
After finishing runner-up to Alexander Zverev in 2018, Djokovic has not been back to the final despite stamping himself as the dominant player of the past decade, during which he joined Federer and Rafael Nadal on 20 Grand Slam titles, passed Federer for most weeks at No. 1 and established a new record for 37 ATP Masters 1000 crowns.
After recently clinching year-end No. 1 for a record seventh time, the main order of business now for Djokovic is returning to the winner's circle in Turin, where he hopes to lay claim to winning the finale in a third city following his first victory in Shanghai in 2008 and his four straight in London.
As a proponent of seeing the event rotate among the world's great cities, winning in Turin would be extra special. "London was very successful for the Nitto ATP Finals," said Djokovic. "It is one of the most spectacular arenas in the world [and] it couldn't be a better setting really in front of a packed house each afternoon or evening. It was fitting for the most important event that the ATP owns. But I have always been a proponent of moving this tournament regularly, maybe every three or four years."
Djokovic has compiled a 48-6 match record this season, including five tour-level titles. He went 27-1 in major championships, with titles at the Australian Open (d. Medvedev), Roland Garros (d. Tsitsipas) and Wimbledon (d. Berrettini). Daniil Medvedev stopped the 34-year-old in the US Open final from becoming the first player to complete the Grand Slam since Rod Laver in 1969.
The 34-year-old Djokovic attempts to become the oldest Nitto ATP Finals champion and the second player to capture the title after turning 30. Federer won his sixth title in 2011 in London as a 30-year-old. With a victory on Monday, Djokovic will tie Ivan Lendl for the second-most wins (39) in Nitto ATP Finals history (Federer has 59).
One of Ruud's biggest improvements this season is in his hard-court results. The 22-year-old came into the year with a 16-27 career record on hard courts and he enters Turin with a 23-8 record on hard this season, highlighted by his first title on the surface in San Diego (d. Norrie). He also reached five other quarter-finals, including at ATP Masters 1000 events in Toronto, Cincinnati and Paris. Overall the Norwegian has won an equal-tour-best five titles on the season.
Djokovic defeated Ruud 7-5, 6-3 in their lone meeting in Rome last year.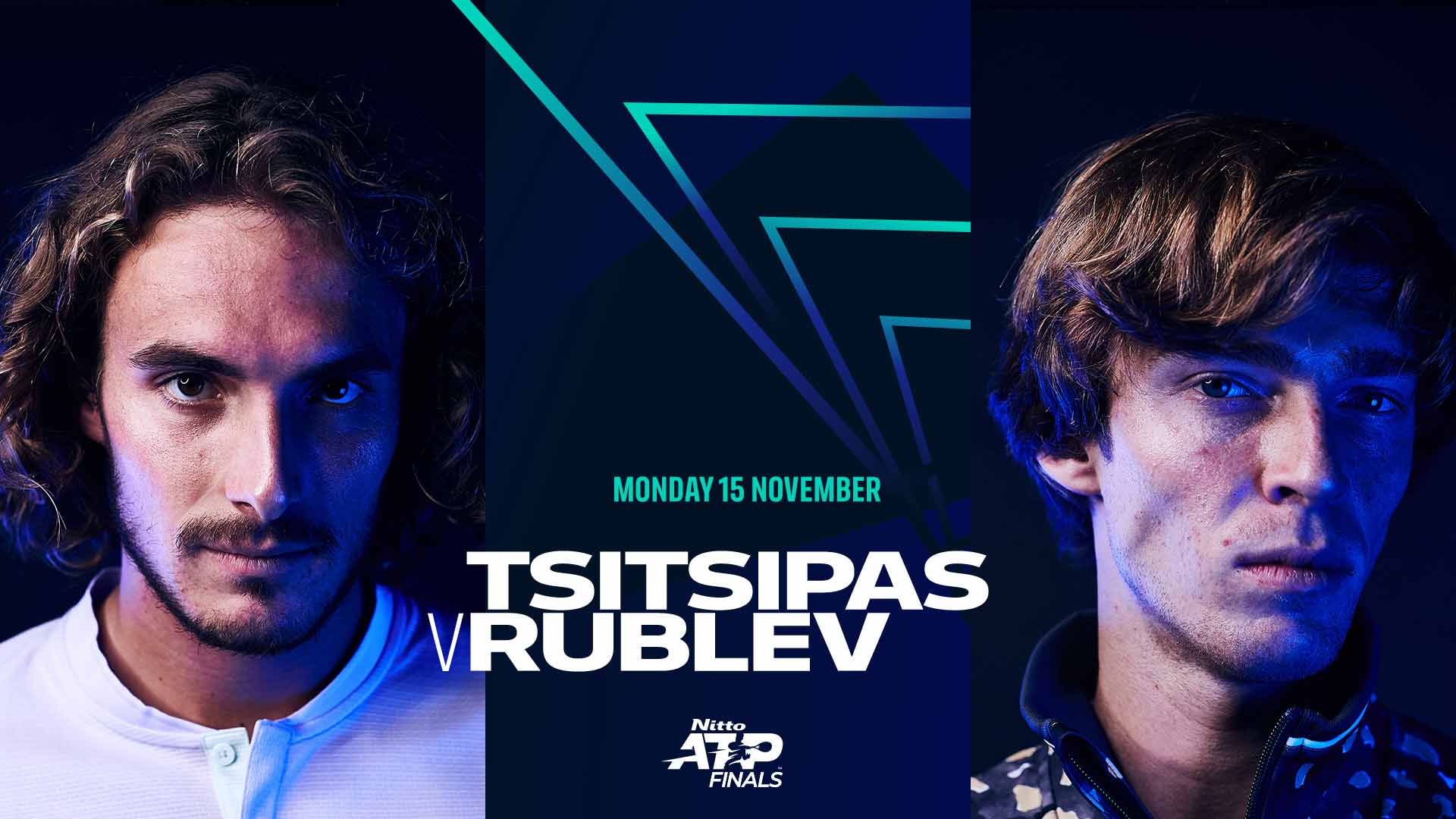 In the evening session, World No. 4 Stefanos Tsitsipas brings a 4-3 head-to-head advantage against No. 5 Andrey Rublev. They met in round-robin play last year in London with Tsitsipas winning in a third set tie-break. The Greek native won their last meeting in the final at ATP Masters 1000 Monte-Carlo in April.
Tsitsipas, who won the 2019 Nitto ATP Finals and 2018 Intesa Sanpaolo Next Gen ATP Finals titles, is making his third straight appearance in the year-end championships. Rublev, who was runner-up in the 2017 Next Gen ATP Finals, made his Nitto ATP Finals debut last year, going 1-2 in round-robin play.
The red-headed Russian is one of the most dangerous players off both wings who could weave a path of destruction this week, but he's doing all he can to play down his chances. "I am not even thinking I have a chance or be a dark horse," said Rublev. "I just want to focus on the process. What happened to Daniil, Stefanos and Sascha, winning the [Nitto] ATP Finals title, was because they proved they are top players, and they had the level to be here.
"In my case, I am thinking about the process and I'm happier about how I am doing things on and off the court. It may not happen immediately, but if I keep doing what I am doing, good things will happen and I'll go deep in a tournament."
FOLLOW THIS WEEK'S ACTION
The Red Group in doubles features four teams that have each won multiple Grand Slam titles. In the opening match, No. 2 seeds Rajeev Ram and Joe Salisbury take on No. 7 Jamie Murray and Bruno Soares in a rematch of the US Open final won by the American/British duo.
In the second match, 2019 Nitto ATP Finals champions and 2018 finalists Pierre-Hugues Herbert and Nicolas Mahut, the No. 3 seeds, bring a 6-2 head-to-head advantage against Colombians No. 5 seeds Juan Sebastian Cabal and Robert Farah. The Frenchmen won both Nitto ATP Finals meetings in 2018 (SF) and 2019 (RR).
ORDER OF PLAY – MONDAY, NOVEMBER 15, 2021
CENTRE COURT start 11:30 am
[2] R. Ram (USA) / J. Salisbury (GBR) vs [7] J. Murray (GBR) / B. Soares (BRA) 
Not Before 2:00 pm
[1] N. Djokovic (SRB) vs [8] C. Ruud (NOR) 
Not Before 6:30 pm
[3] P. Herbert (FRA) / N. Mahut (FRA) vs [5] J. Cabal (COL) / R. Farah (COL) 
Not Before 9:00 pm
[4] S. Tsitsipas (GRE) vs [5] A. Rublev (RUS)