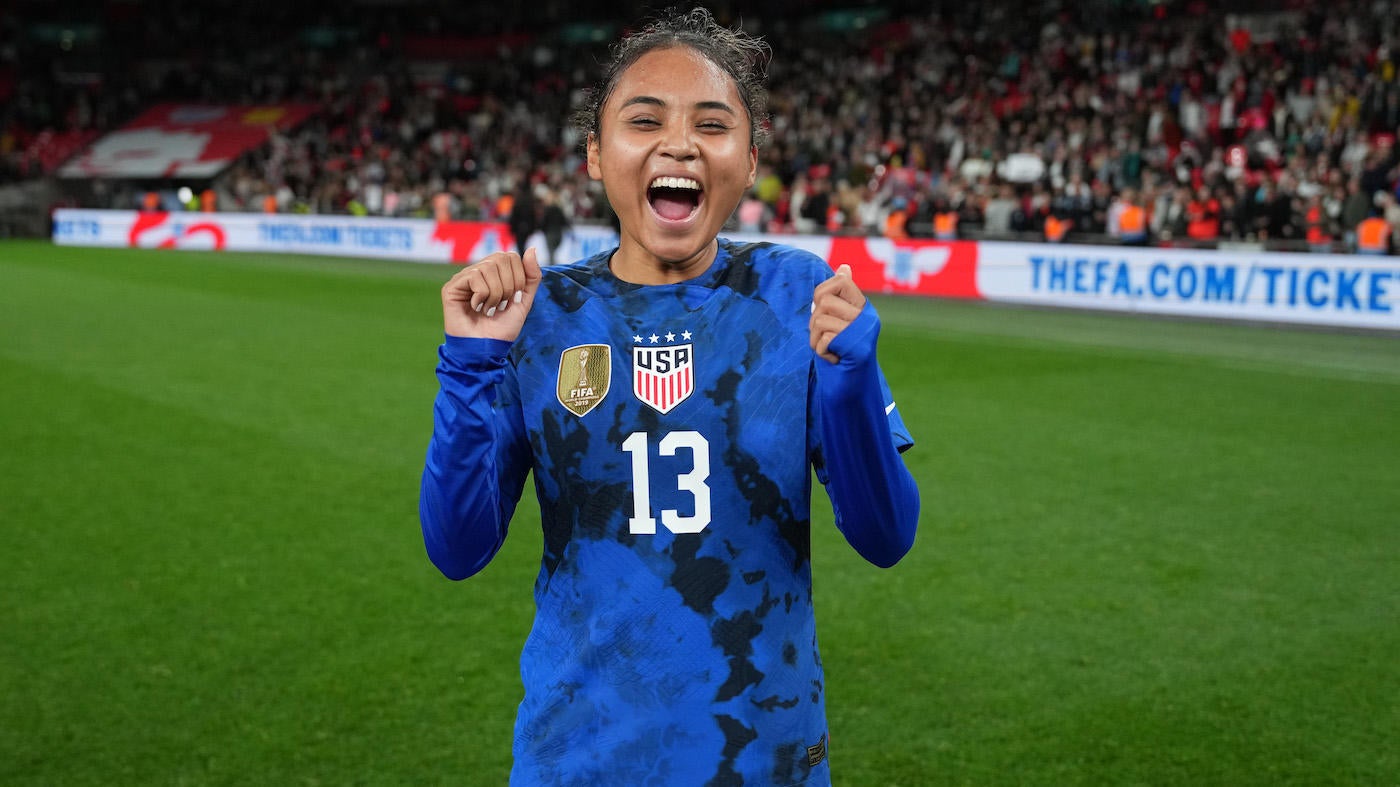 Angel City FC drafted 18-year-old high school senior Alyssa Thompson with the No. 1 pick overall in the 2023 NWSL Draft on Thursday, making her the first-ever high schooler drafted in league history. Thompson had already made headlines in the days leading up to the draft when her name was in the rumor mill after multiple trades were struck involving Angel City and three other teams in the days leading up to the draft. ACFC first struck a trade with Portland Thorns FC and then with NJ/NY Gotham FC in order to obtain the No. 1 slot. The Orlando Pride then acquired allocation money from Gotham. 
So in gist when the dust settled, here's what every team ended up with:
Angel City FC get: 2023 No. 1 pick
NJ/NY Gotham FC get: 2023 No. 2 pick, Yazmeen Ryan; $250,000 in allocation money

Orlando Pride

get: 2024 fourth-round pick; $350,000 allocation money;
Portland Thorns get: 2023 No. 5 pick; 2024 second-round pick; $200,000 in allocation money
Sign up for our new newsletter covering the beautiful game in all its glory, including updates three times a week, here.
Please check the opt-in box to acknowledge that you would like to subscribe.
Thanks for signing up!

Keep an eye on your inbox.

Sorry!

There was an error processing your subscription.

Angel City did officially select Thompson with the first pic of the draft. The young winger was in Los Angeles when the selection was made and the franchise already has her jersey up for sale for fans. In draft night comments, the California native said she's eager to start her pro career in her home state.
"Being able to play in front of my family and friends is something that's really important to me. I'm walking into an amazing organization where the fans are, I think, the best in the NWSL. They show up at every game and are just amazing. I know that this organization will make me a better player and continue to develop my skills." 
The effort to move up in the draft order was reported with Angel City's intention to draft Thompson with the first selection. Thompson goes to school in Los Angeles at Harvard-Westlake and she is coming off an eventful 2022 with strides made on the senior women's national team and U-20 USWNT. Let's familiarize ourselves with this next-gen superstar with three things to know:
1. Thompson's rise to the pros
Thompson's arrival to NWSL shouldn't be too shocking when you consider her path to the pros consisted of her playing on teams of 17 year olds when she was just 13. She's been involved with multiple U.S. Soccer youth programs, including the U-17 and U-20 teams, Santa Clarita Blue Heat in the pro-am circuit and a U-17 Total Futbol Academy boys' team in MLS NEXT.
She made eight U-20 appearances in 2022 for the United State with four goals scored. She also participated in the 2022 FIFA U-20 Women's World Cup in Costa Rica where she had a goal and an assist. We'll touch more on her senior debut below, but it's worth pointing out that soccer is not her only love. She has competed in track and field and recorded California's second-fastest mark in the 100 meters at 11.47 seconds. 
Want more draft coverage? Listen below and make sure to follow Attacking Third, A CBS Soccer Podcast devoted to bringing you everything you need to know from the NWSL and women's soccer around the globe.
2. First high schooler to sign an NIL deal
After being named the Gatorade High School National Girl Soccer Player of The Year in 2021, Thompson and her sister Gisele (class of 2024) were the first high school athletes to receive an NIL — name, image and likeness — deal. They signed a multiyear pact with Nike back in May. Alyssa scored 48 goals, recorded 14 assists before decommitting from Stanford and registering for the draft. Meanwhile, Gisele, who cracked the latest U.S. youth training camp roster, currently remains verbally committed to the Stanford. 
3. Memorable 2022 with USWNT debut
After featuring in the 2022 U-20 World Cup, Thompson was called into the senior USWNT ahead of two friendlies in Europe against England and Spain. As a 17-year-old, she became the youngest player to be called into a senior camp in five years. Sophia Smith earned the first call-up at 16 in 2017.
Thompson earned her first senior national team cap during the European trip against England on Oct. 7. She became the first senior USWNT player to make their debut at Wembley Stadium and went on to earn a second cap against Spain in the following match. She is the youngest player to make a debut in six years since Mallory Swanson's first cap in 2016. The new Angel City winger closed out 2022 by celebrating her 18th birthday with the USWNT when she was called up for November friendlies against Germany.