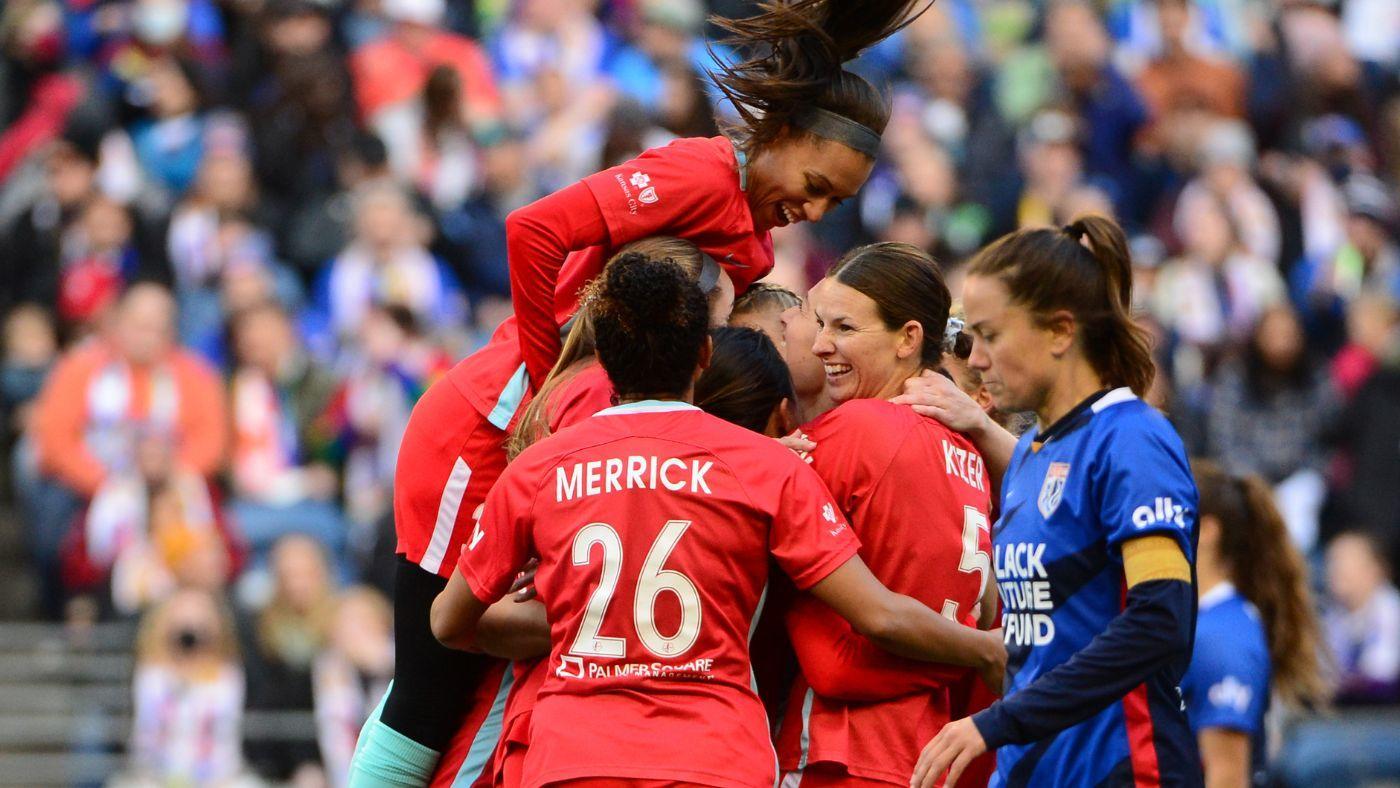 The same night OL Reign received their Supporters' Shield trophy at Lumen field, they fell out of the running for the NWSL Championship losing 2-0 to Kansas City Current. Alex Lorea and Kristen Hamilton scored the goals for the Current and Adrianna Franch and the defense did just enough to hold the lead despite constant pressure from OL Reign. There was a moment when OL Reign thought they may have a goal as the ball seemed to cross the line but it was judged to not count preserving the shutout.
Jordyn Huitema had the shot, but after a goal line clearance Kansas City were able to handle the chance. It's a good way to sum up a match that needed 37 clearances by the Current defense to hold off OL Reign, but they did just that in a season of change. 
Kansas City are one step away from completing a worst to first journey that has never been done before, looking to win the title after finishing at the bottom of the league in the previous season. Getting a name and logo this season, it's been nothing but improvements for the Current. It didn't take long for them to get things going as they broke their own record for the fastest goal in NWSL playoff history as Loera scored her first goal for the team only four minutes into the match. 
The goal began with the ball pinging around the box as Loera struck a shot that ended up being a dribbler that Phallon Tullis-Joyce wasn't able to get enough of a hand on as it slipped through her gloves. It's a moment that shows that while a team can be the best during the regular season with mistakes, the rust from a bye week can level the field in a playoff or knockout scenario.
OL Reign were creating chances but they struggled to string their passes together in the first half, and when they did get shots on target, Adrianna Franch was there to meet them. Prior to the half, Cecelia Kizer had to be withdrawn for Elise Bennett due to a possible concussion but that wouldn't stop the Current as they took advantage of a Reign defensive breakdown for Hamilton's strike in the 63rd minute before defending for all they were worth. 
It was almost a given that this match would end as a shutout by one of the teams as they met five times during the regular season with the Reign winning three all by shutouts and the Current winning two also by shutouts. Now things are perfectly balanced.
Here are a few takeaways from the match:
Fabulous Franch
Performances like this will get Franch back into the national team picture where she deserves to be. Without her, this isn't a match that Kansas City has a chance in as they needed her seven saves in a match where they were under a lot of pressure. OL Reign knew what they wanted to do and while the Current defended well at times, it wasn't organized leaving Franch with a lot of work to do. But it was okay, as she stepped up and sapped confidence from Reign attackers with each save during the match. Franch was also strong on corners making a punch and three high claims while dealing with 16 shots and 14 corners during the match.
This was her third shutout in the NWSL playoffs which ties the league record.
Quick as can be
The Current are the first team in NWSL history with two goals inside of five minutes of play during playoffs and they've happened in back to back rounds. Loera's strike in the fourth minute beat Lo'eau LaBonta's record set against the Houston Dash from the penalty spot only eight days ago by 46 seconds. That proved to be the winner and it's surely one that Tullis-Joyce would want a do over on as it slipped between her hands.
So close for OL Reign
While they lost by two goals, this was a match of millimeters with a goal line clearance and Jess Fishlock hitting the woodwork as well. The team created plenty of chances with Megan Rapinoe leading the way with seven, but it wasn't to be even with the advantage of playing at home. Things became too predictable which led to the Current racking up clearances but Laura Harvey needed a moment of brilliance from someone that just wouldn't come. 
What's next
The Kansas City Current will face the Portland Thorns in the NWSL championship final on October 29.