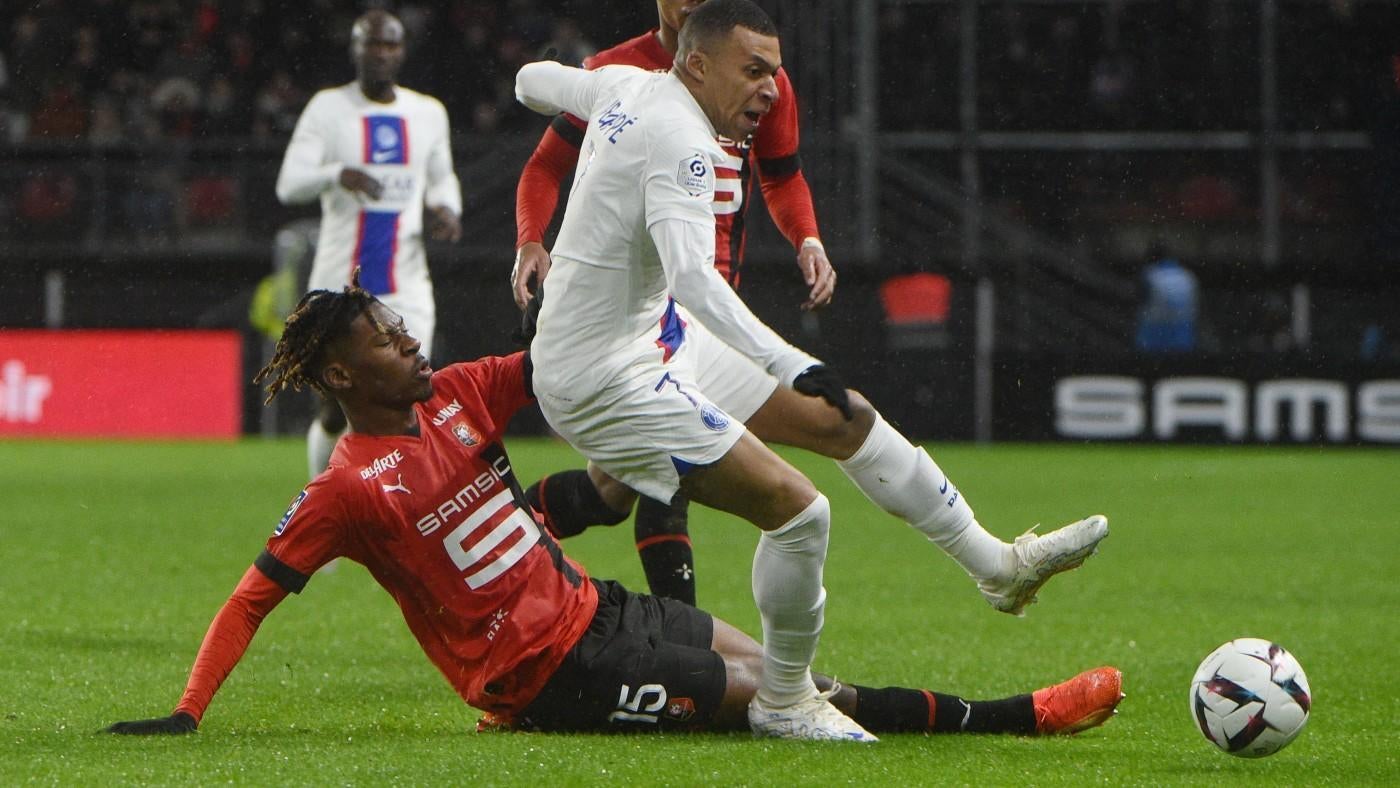 Paris Saint-Germain's difficult return to club soccer since the FIFA 2022 World Cup continues after a 1-0 loss away at Stade Rennais in Ligue 1 on Sunday. It was not only the French champions' second consecutive topflight defeat but it also reignited the title race in Le Championnat with the in-form RC Lens now within three points off Les Parisiens.
Perhaps most concerningly of all for PSG is that there is less than a month until UEFA Champions League action returns and Christophe Galtier's men look a shadow of their early season version. Hamari Traore did the damage for Rennes at Roazhon Park for a depleted home side but the one-goal margin was not even half of the visitors' story.
Had Gianluigi Donnarumma not made several impressive and important saves, PSG would have been buried by two or three goals instead of just one. The capital outfit's attack featured world champion Lionel Messi and Brazilian superstar Neymar from the off and had French golden boy Kylian Mbappe added to it before the hour mark.
Despite all of this incredible firepower, PSG could only muster one single shot on target in Brittany and that came late in the game once all three were on the field. Neymar's showing was particularly concerning both from a technical but also mental point of view while Messi did not look much better after making a scoring return vs. Angers SCO in midweek.
"I am especially disappointed by our showing," said Galtier. "We created nothing and had very few good situations. We focused on getting possession and far too many of us dropped back without enough players high up to occupy the Rennes defenders. We knew that we risked being exposed. I always have a plan with Neymar and Leo, but we must also find other options. We had no real focal point so the two stalled once we got the ball and found few attacking options."
Marco Verratti's latest injury is worrying as his absence has coincided with a major loss of fluency despite the fact that he was present for the first loss of the campaign in Lens. Vitinha, Fabian Ruiz, Carlos Soler and Danilo Pereira have struggled to balance the loss of the Italian schemer and 16-year-old Warren Zaire Emery is too young to be expected to seamlessly orchestrate.
There are more questions than ever before regarding captain Marquinhos' now prolonged drop in form and veteran Sergio Ramos suddenly looks every bit as someone pushing 37 years of age. This also prompts the question about squad depth in defense with sporting advisor Luis Campos vocal earlier in the season about the failure to land Inter Milan's Milan Skriniar.
"Two losses already, we need to be more solid and intense right away," said Marquinhos. "These games play out on small details and they made us pay for them. We know that we need to rebuild our understanding as soon as possible as we are leaking points. These points will count at the end of the season — especially away from home."
"It is frustrating to lose a game like that," added Hugo Ekitike. "I think that we lacked a bit of everything. It was really disappointing. We have to bounce back together. I am finding my feet a bit, but I cannot be satisfied with the game. I had little to feed on and I will work harder as I want to score more goals."
The temptation would be to say that putting Mbappe back into the starting XI will solve this sluggishness but the France international was also there for Lens and was powerless. This wobbly form has been present since the return to domestic action in truth with a debatable late penalty securing a 2-1 win over struggling RC Strasbourg Alsace before the defeat to Lens.
The Northerners themselves are also a factor in PSG's struggles given their relentless pursuit which has featured an incredible 10-game winning run at Stade Bollaert this term. There is also the question of post-World Cup freshness with PSG having to rest a number of star names while Bayern Munich will return to domestic action having totally rested up.
With four games against beatable opponents before UCL return, Galtier and his men cannot afford to let this malaise deepen further.