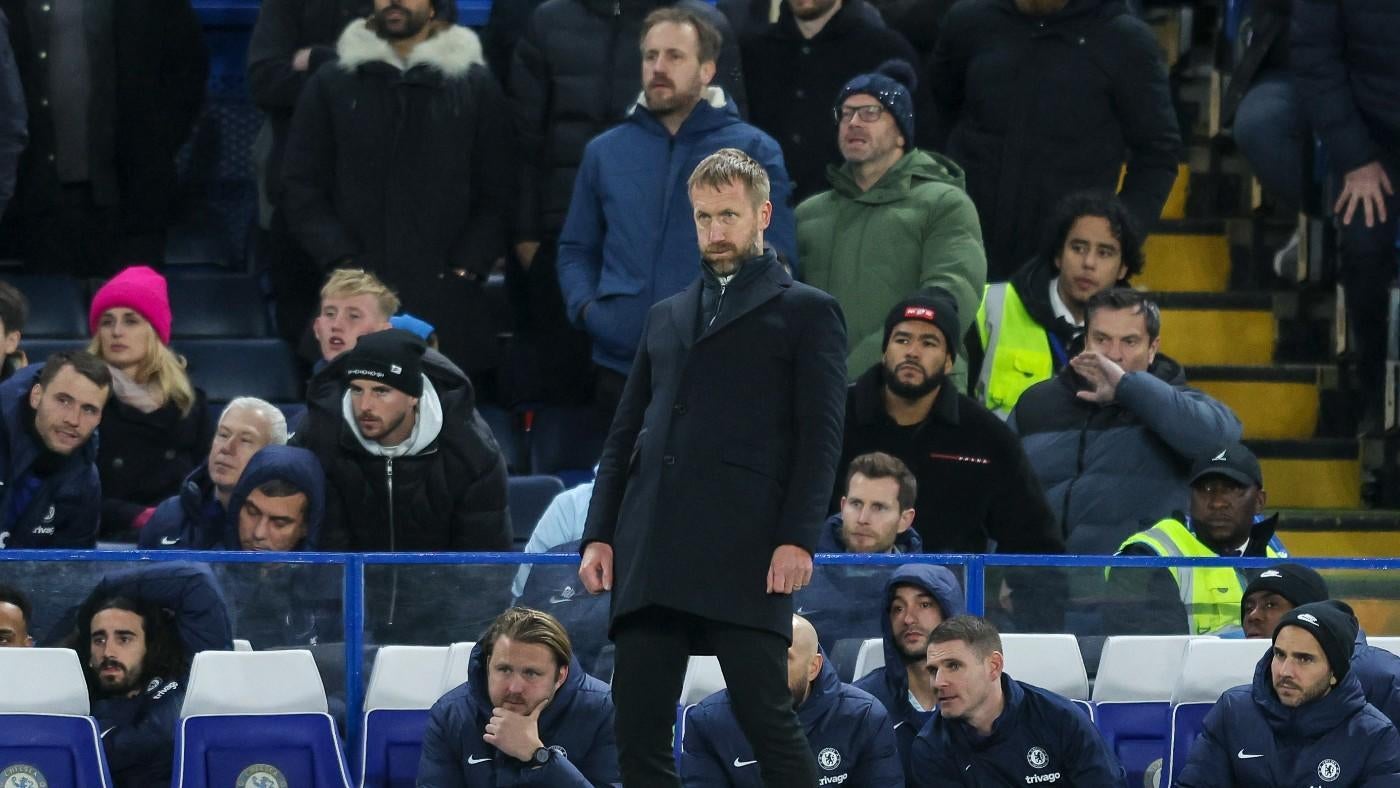 LONDON — What do we know about Chelsea as they enter the first full year of this new era? How do they intend to build a squad, what is their playing identity, which players are in it for the long haul? In the space of 90 minutes on the pitch or 24 hours off it, this club can throw you ever deeper into confusion just by trying to track its progress.
In many respects, Thursday proved to be a crash course in Todd Boehly's Chelsea. In their attempts to strengthen Graham Potter's squad there was high drama and an approach to recruitment that is at best radical, at worse a sign of an organization that has not grasped what is required to be successful in English football. In their attempts to scrabble up the Premier League table, they found themselves undermanned, short on guile and long on injuries. 
Their 1-0 defeat to Manchester City was a tough lesson in that, even in the many impressive moments they delivered in the first half, this crocked version of the Blues only ever looked like they could go the distance with the champions, not that they could inflict the decisive blow. Three times in their last five games they have faced the Premier League's top three. In each they have looked by some distance the inferior team; this defeat to Pep Guardiola's side might actually have been the most impressive of all but once City unwound the knots they had tied themselves in during the second half there was only ever one winner.
Suddenly the European champions of 2021 have an almighty task if they are even to be back in the Champions League next season. They trail Manchester United in fourth by 10 points; the only team from the capital to have conquered the continent can now no longer say they are west London's leading lights. Fulham and Brentford's place above Chelsea as the season approaches its halfway mark would have been enough to get Graham Potter's predecessors booted to the curb even if they had only started in September.
This iteration of Chelsea would tell you that they are different, that they have the patience for a project and that Thomas Tuchel was sacked because dynamics matter as much as dropped points. Certainly, Potter is not managing like a man under the spotlight, anyone with a mandate from ownership to reach the top four or find a new job would surely not have substituted substitute Pierre-Emerick Aubameyang, replacing him with a former Gunner of a different vintage in 19-year-old Omari Hutchinson.
"He came on after one minute and hasn't played for a while," insisted Potter after Aubameyang's crestfallen reaction. "He put in an absolute shift for us. Manchester City make you run a lot and I thought he did well for the team. He was fatiguing a little bit and we needed energy so we thought we'd use Omari, Conor [Gallagher] and Lewis [Hall]. He gave everything for the team."
It said everything about the travails of Chelsea that, still with fewer Premier League goals than Erling Haaland, in attack Aubameyang looked one of the most dangerous threats to the City goal without even taking a shot at it. He was at least running towards it, showing the trademark pace of old without the passes coming his way. A Carney Chukwuemeka shot just before the interval was the only moment Chelsea went close. With Christian Pulisic and Raheem Sterling joining an injury list that is approaching a full XI, it is hard to see this team swiftly making improvements after picking up six points from a possible 24. The Champions League is slipping away, Potter's vision fixed on more immediate concerns.
"The situation we're in, to think about what may happen in five months is the wrong path for us," Potter acknowledged. "We try to stay together as a club and move forward."
It will be tough for Chelsea to make the top four this season but perhaps the bigger questions are whether those above Potter are putting this club on the right path to get back there. In the hours before kickoff the hierarchy was the subject of an astonishing diatribe from Benfica head coach Roger Schmidt, who intimated that the pursuit of Enzo Fernandez had not been carried out in a professional fashion.
"There is a club that wants him, they tried to attract him, but they know that they can only have him if they pay the clause," he said. "It's disrespectful to all of us, to Benfica, they're driving the player crazy, they pretend they want to pay the clause and then they want to negotiate."
Potter was not prepared to put Chelsea's side of the story across but to oscillate between one approach and another is in keeping with how this club has done business under Boehly. After all, they spent their summer lurching from one player to another, trying to steal Gabriel Jesus from Arsenal or Richarlison from Tottenham before invariably getting the same treatment inflicted on them by Barcelona. Now they are attempting the same with Mykhaylo Mudryk, whose Instagram activity could be confused for that of an overly online Gooner, adding another winger to a position where they just recruited Sterling and already had Pulisic.
Meanwhile, Benoit Badiashile arrived Thursday to add a left-sided center back one window after Marc Cucurella arrived, seemingly a perfect fit for that same spot. Kalidou Koulibaly, another who joined in the summer, has got most of his minutes on the left side of the defense. The best-performing Chelsea defender in that position might be Levi Colwill, sent on loan to Brighton when Potter was in charge. 
They certainly need a central midfielder with N'Golo Kante consistently struggling with injuries in the final year of his contract (though supposedly not enough to keep them from offering a new contract), though impressive displays by Mateo Kovacic and Denis Zakaria offered some succor in that area. After a lengthy pursuit of Declan Rice and Jude Bellingham, this move for Fernandez came like something of a bolt from the blue. There is no harm in being reactive to the changing fortunes of the game but if you are continually pivoting you will lose balance.
All that is to say nothing of the new habit of handing out six and seven-year contracts as a rule, an effective way of amortizing transfers fees across a longer period but one that prompts questions as to whether Chelsea are boxing themselves into the next Tiemoue Bakayokos and Danny Drinkwaters even longer.
Thursday's defeat showed how far Chelsea are off competing right now but the major question hanging over Stamford Bridge at the moment is whether they are moving towards being a team that can compete in the near future.