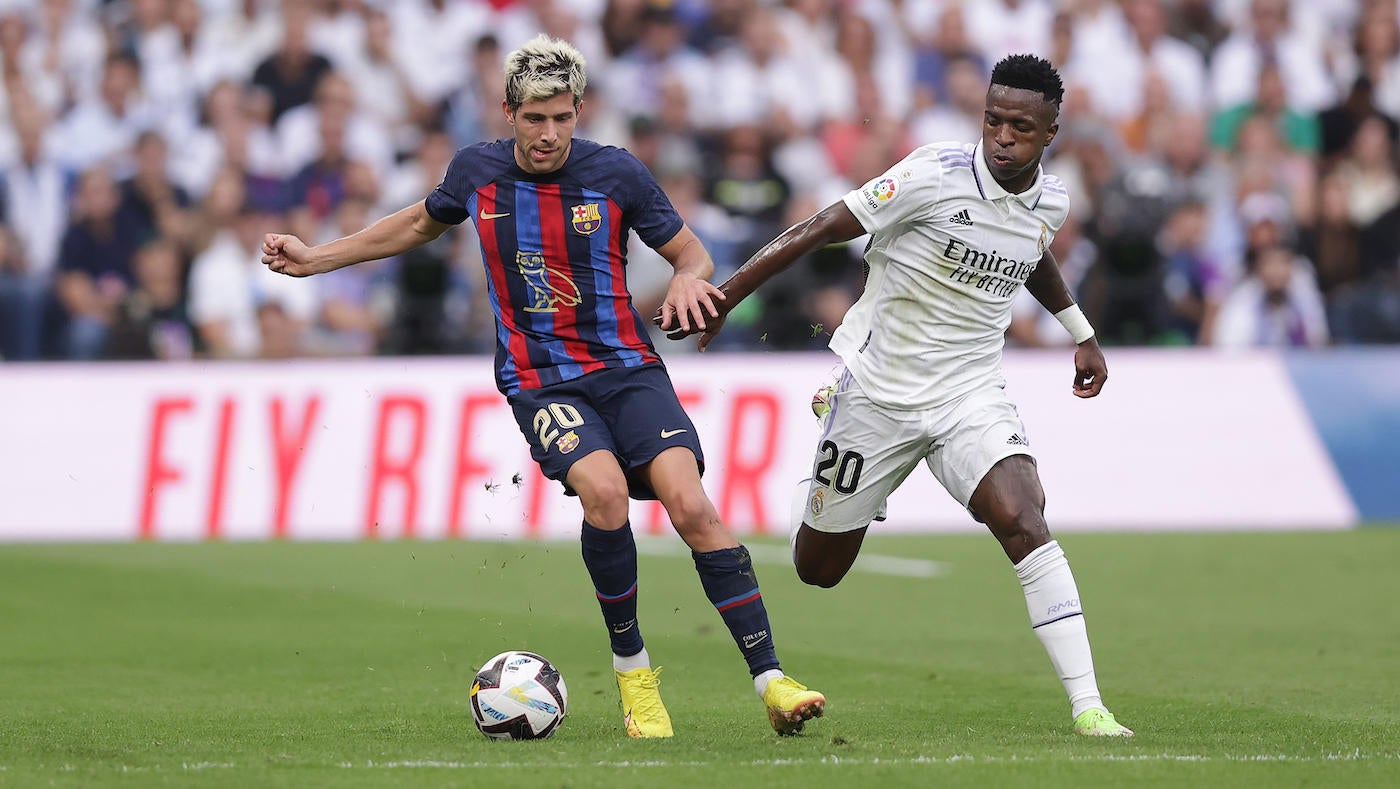 No midweek Champions League action, but still lots to keep track of. I'm Mike Goodman, and Wednesday's Golazo Starting XI will key in on one of the biggest rivalries in the world. We've got an El Clasico on our hands as Real Madrid and Barcelona face off on Thursday, plus, Arsenal continue their title chase on Wednesday against Everton and some early NWSL Power Rankings to digest. Let's get to it.
New to the Golazo Starting XI newsletter? Get yourself the best deal in soccer and subscribe now to ensure you receive updates three times a week.
Please check the opt-in box to acknowledge that you would like to subscribe.
Thanks for signing up!

Keep an eye on your inbox.

Sorry!

There was an error processing your subscription.

---
? Top picks
All times U.S./Eastern.
Wednesday
??????? Premier League: Arsenal vs. Everton, 2:45 p.m.  
??????? FA Cup: Man United vs. West Ham, 2:45 p.m.
Thursday
?? Copa del Rey: Real Madrid vs. Barcelona, 3 p.m.
⚽  The Forward Line

?? Barca's revamped style paying off
You won't find a bigger rivalry than Real Madrid and Barcelona, and the two mega clubs will write another El Clasico chapter this Thursday when they meet in the first leg of the semifinals of the Copa del Rey. Between now and April 5, these two historic rivals will meet three times. This used to be viewed as a clash between styles for a good part of a generation. The Galacticos of Real Madrid, a cadre of international stars, against the homegrown talent of Barcelona from La Masia. The intricate stylings of a Barcelona side built on Pep Guardiola's tika-taka passing style against the thundering up and down of Real Madrid. Those days are long gone.
A look at these two squads now will show that they are, in fact, incredibly similar. To some degree, this was inevitable. Golden generations such as the Barcelona of years past wouldn't be viewed as "golden" if they came around all the time. The fact that one of them is still manning midfield for them in Sergio Busquets, and another is now managing for them in Xavi is not enough to stem the tides of time. And really, after a summer spending spree which landed Robert Lewandowski, Raphinha, Jules Kounde, Franck Kessie, Marcos Alonso and Andreas Christiansen, it's hard not to wonder what the Catalan word for "Galactico" is.
And this change in approach is reflected on the field. Barcelona have a seven-point lead in La Liga, but really both teams have pretty similar top-line stats. Barcelona have scored 45 goals to Madrid's 47, and conceded eight to Madrid's 18, with their underlying expected goal (xG) stats even closer: 46.4 vs. 48.6 in attack and 18.8 vs. 20.4 in defense. It's when you look under the hood that things get interesting.
Remarkably, these two teams across 23 matches have played an almost identical number of passes: 12,490 for Barcelona and 12,440 for Madrid. But how they've gone about their business is very very different. In a remarkable turnaround from the heyday of this rivalry, it is Xavi's side that has opted to play more directly. They've completed significantly more long passes than Madrid, 819 to 642, and moved the ball into the box more frequently, 747 times compared to 638. But it is Madrid who hold the advantage in passes completed in the final third at 3,685 to 3,236.
It all paints a very clear picture. Barcelona want to play direct, get the ball up the field and into the box and score goals. Real Madrid are happier to keep the ball once they're in the attacking third until they choose an opportune moment to strike. Both methods work similarly well to create goals, but it's clear from the numbers that it's no longer Barcelona keeping the ball and Real Madrid seeking to push the pace. Rather, both teams want to play a relatively up-and-down game, but when push comes to shove, it's Madrid who are somewhat more willing to recirculate the ball while Barcelona want to find a shot quickly once they're in attacking zones rather than look for better opportunities.
Despite Barcelona coming off back-to-back losses and Real Madrid off a really bad draw, these are two really good teams, and it's sure to be an entertaining affair when they take the field. But this simply isn't an old-school Clasico at our hands. Intricate midfield passing is out, direct wing play is in, and it's Barcelona at the forefront of that charge.
Craving more soccer coverage? Listen below and follow House of Champions, a CBS Sports soccer podcast, bringing you top-notch analysis, commentary, picks and more. 
Sponsored by Paramount+
? NWSL Power Rankings
Happy March! We are just over three weeks away from the NWSL regular season as fans can catch all the action exclusively on CBS Sports (CBS, CBS Sports Network and Paramount+). As we count down the days until kickoff, Sandra Herrera has you ready with her way-too-early Power Rankings. To some degree, it's what you'd expect with last year's finalists at the top of the list, but she has some surprises further down. NJ/NY Gotham FC are coming off a miserable season, finishing dead last, but this time around they are sixth in Herrera's rankings. Here's why:
Herrera: "Gotham leaned into veteran experience this offseason after hiring the Spaniard, Juan Carlos Amoros as head coach. They landed goalkeeper Abby Smith in free agency and re-signed Ifeoma Onumonu and Taylor Smith. They also acquired Yazmeen Ryan and in maybe the splashiest move of the offseason, traded for USWNT forward Lynn Williams during the draft, setting up big expectations for the club after a last-place finish in 2022."
And now let's get to some links:
? Paul Pogba returned for Juventus in a 4-2 win over Torino.
? Jose Mourinho is at it again, picking up his third red card of the season as Roma lost to Cremonese.
? Here We Go: Fabrizio Romano with the latest transfer news and notes.
? MLS by the numbers: Check out the biggest stories from the first weekend of the season.
? Jonathan Johnson has an in-depth look at Real Sociedad, who are sitting pretty in third in La Liga.
? French football legend Just Fontaine died at age 89 on Wednesday.
? Thiago Silva set to be out for weeks with knee-ligament damage.
? In Soccer We Trust: Get on that Ricardo Pepi hype train!
? Attacking Third: It's season preview time … also make sure you check out their brand new look!
? House of Champions: The crew breaks down the week's action.
? And remember, all of your soccer needs — from Champions League to Serie A to NWSL and so much more — are available on Paramount+. You can try one month free by using the code: ADVANCE.
? Best bets
All odds courtesy of Caesars Sportsbook and all times U.S./Eastern. SportsLine has you covered with this week's best bets.
Premier League: Arsenal vs. Juventus, Wednesday, 2:45 p.m. 
? THE PICK: Under 2.5 goals (-115) — Sean Dyche has Everton playing much more respectable these days since taking over. And, his history against Mikel Arteta is about what you'd expect from the ex-Burnley man. Not, necessarily a lot of points, but definitely not a lot of goals. In six previous head-to-head meetings, Arteta has only won a single match. Only one match has seen more than a single goal scored and there have been five goals TOTAL. Smash that under.  
Copa del Rey: Real Madrid vs. Barcelona, Thursday, 3 p.m.
? THE PICK: Under 2.5 goals (-105) — For whatever reason, Barcelona's defensive solidity continues to be under-remarked upon. Their eight goals conceded in La Liga is surely a little lucky, but even their xG total of about 18 goals conceded would be the best mark in the league, alongside Real Madrid and Atletico Madrid. Throw in the fact that this is the first leg of a two-legged affair and we could have a very cagey display.