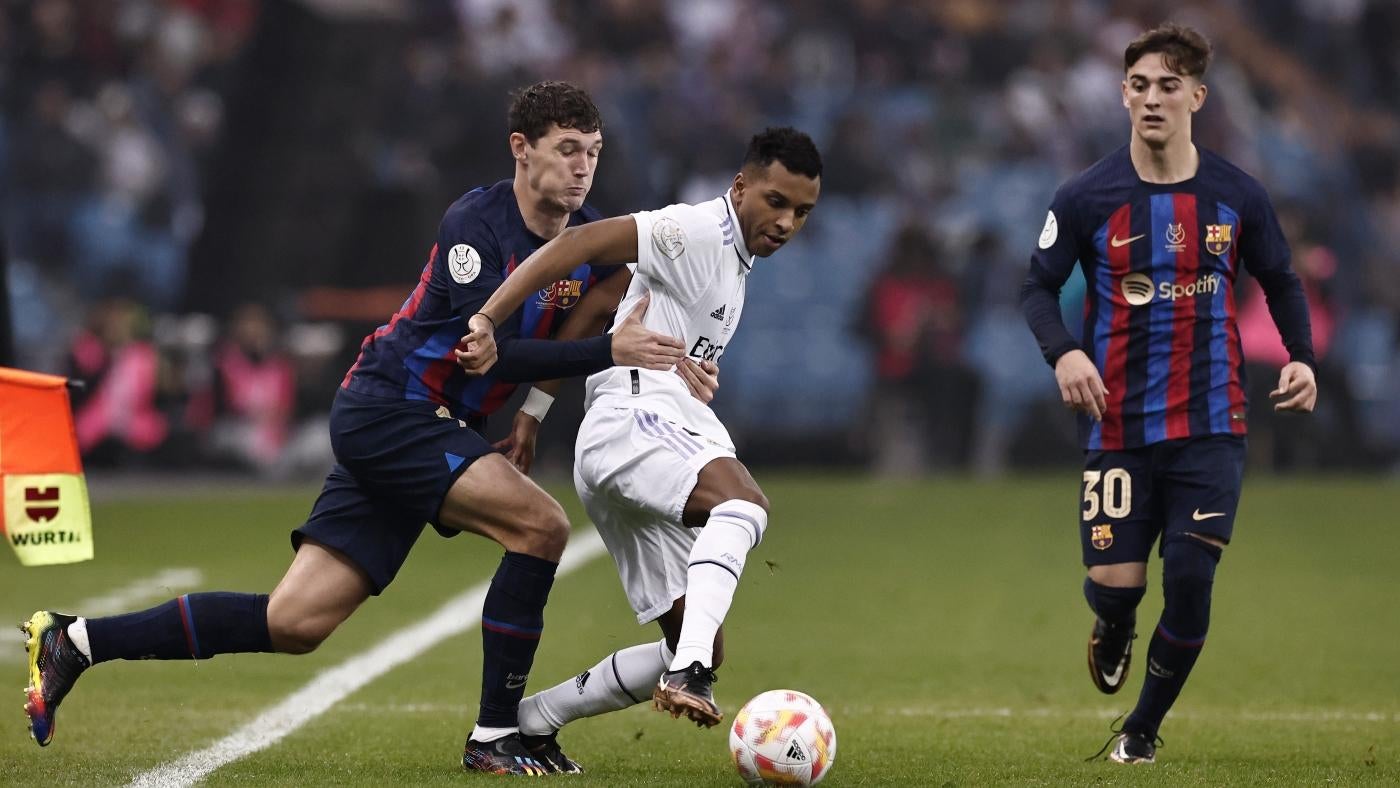 You won't find a bigger rivalry than Real Madrid and Barcelona, and the two mega-clubs write another El Clasico chapter Thursday when they meet in the first leg of the semifinals of the Copa del Rey. Between now and April 4th these two historic rivals will meet three times. For a generation now that clash has not only been about a battle between rivals, but a clash between styles. The Galacticos of Real Madrid, a cadre of international stars, against the homegrown talent of Barcelona. The intricate stylings of a Barcelona side built on Pep Guardiola's tika-taka passing style against the thundering up and down of Madrid. Those days are long gone.
Please check the opt-in box to acknowledge that you would like to subscribe.
Thanks for signing up!

Keep an eye on your inbox.

Sorry!

There was an error processing your subscription.

Barcelona embrace direct attacks
A look at these two squads now will show that, in fact, they are incredibly similar. To some degree this was inevitable. Golden generations like the group Barcelona's success was built on wouldn't be golden if they came around all the time. The fact that one of them is still manning midfield for them in Sergio Busquets, and another is now managing for them in Xavi is not enough to stem the tides of time. And really, after a summer spending spree which landed Robert Lewandowski, Raphinha, Jules Kounde, Franck Kessie, Marcos Alonso, and Andreas Christiansen, it's hard not to wonder what that Catalan word for Galactico is.
And this change in approach is reflected on the field. Barcelona have a seven-point lead in La Liga, but really both teams have pretty similar top-line stats. Barcelona have scored 45 goals to Madrid's 47, and conceded eight to Madrid's 18, with their underlying expected goal stats even closer, 46.4 vs. 48.6 in attack and 18.8 vs. 20.4 in defense. It's when you look under the hood that things get interesting.
Remarkably these two teams, across 23 matches have played an almost identical number of passes, 12,490 for Barcelona and 12,440 for Madrid. But how they've gone about their business is very very different. In a remarkable turnaround from the heyday of this rivalry, it is Xavi's side who have opted to play more directly. They've completed significantly more long passes than Madrid, 819 to 642 and moved the ball into the box more frequently 747 times vs. 638. But it is Madrid who hold the advantage in passes completed in the final third at 3685 to 3236.
It all paints a very clear picture. Barcelona want to play direct, get the ball up the field and into the box, and score goals. Madrid are happier to keep the ball once they're in the attacking third until they chose an opportune moment to strike. Both methods work similarly well to create goals, but it's clear from the numbers that it's no longer Barcelona keeping the ball and Real Madrid seeking to push the pace. Rather, both teams want to play a relatively up-and-down game, but when push comes to shove, it's Madrid who are somewhat more willing to recirculate the ball, and Barcelona who want to find a shot quickly once they're in attacking zones rather than look for better opportunities.
These are two very good teams, and it's sure to be an entertaining affair when they take the field on Thursday, but this simply isn't your somewhat older brother's Clasico. Intricate midfield passing is out, direct winger play is in, and it's Barcelona at the forefront of that charge.
CBS Sports has a brand new daily soccer podcast, covering everything you need to know about the beautiful game. Make sure to give House of Champions a follow for coverage of the biggest games, stories, transfer news with Fabrizio Romano, and everything else going on in the world's most popular sport.
Both teams thrive defensively
A similar phenomenon is happening on the defensive side of the ball. These two teams are the best in Spain when it comes to preventing their opponents from scoring. They're tied with the best xG conceded in the league at 0.75. Barcelona have the added benefit of being significantly ahead of what their xG might predict thanks in part to an excellent season so far from Marc-Andre ter Stegen in goal who has conceded five fewer goals than a post-shot xG model predicts an average keeper would have from the shots he's faced. But similar to the story in attack when you break down the numbers you see the two teams diverge slightly, but significantly in their approach.
Barcelona give up exceedingly few shots. They concede only 7.87 per match, the best mark in Spain. Madrid concede 10.3, the fourth best total. But, Madrid are excellent at making sure their opponents take, on average, pretty terrible shots. Shots against Madrid are worth 0.07 xG per shot, the best mark in the league while shots against Barcelona are worth, on average 0.10, a much more middle-of-the-pack number. Those numbers make sense, and start to paint a holistic picture when you combine them with their pressing numbers. Barcelona are one of the most aggressive teams at winning the ball back up the field in La Liga, with 61 tackles attempted in the attacking third, one of three teams in Spain over 60, while Madrid are lower down the list at 53. And even the in the middle third of the field, Barcelona outpace Madrid slightly with 150 tackles to 144 for Madrid.
Put it all together and you can see how the attacking and defending halves interact. Barcelona play more directly, and get the ball up the field to their attackers who attack the box and look to generate opportunities. They do this not because they are playing conservatively, but because this approach allows them to keep their shape and then pounce when they lose the ball, winning it back and allowing them to attack again. Madrid, on the other hand, are more willing to use the ball, and pass it around in the attacking third, which makes them somewhat easier to counterattack against, so their defense is much more focused on recovering than winning the ball back. You can move the ball up the field against Madrid but by the time you get into good areas their players have recovered and it becomes quite difficult to get anything resembling a good shot against them.
Ultimately these two teams are evenly matched, and they play the game in superficially similar ways. They're certainly more like one another than they were a decade ago. Both have talented wingers, both play the ball into the attacking third relatively quickly, both sides want to attack the box. But, when you peek under the hood you can see important differences in how they go about their business. Thursday's Clasico will almost certainly be decided by whoever executes their approach better.
How to watch and odds
Date: Thursday, Mar. 2 | Time: 3 p.m. ET
Location: Santiago Bernabeu — Madrid, Spain
Live stream: ESPN+
Odds: Real -105; Draw: +260; Barca +270 (via Caesars Sportsbook)