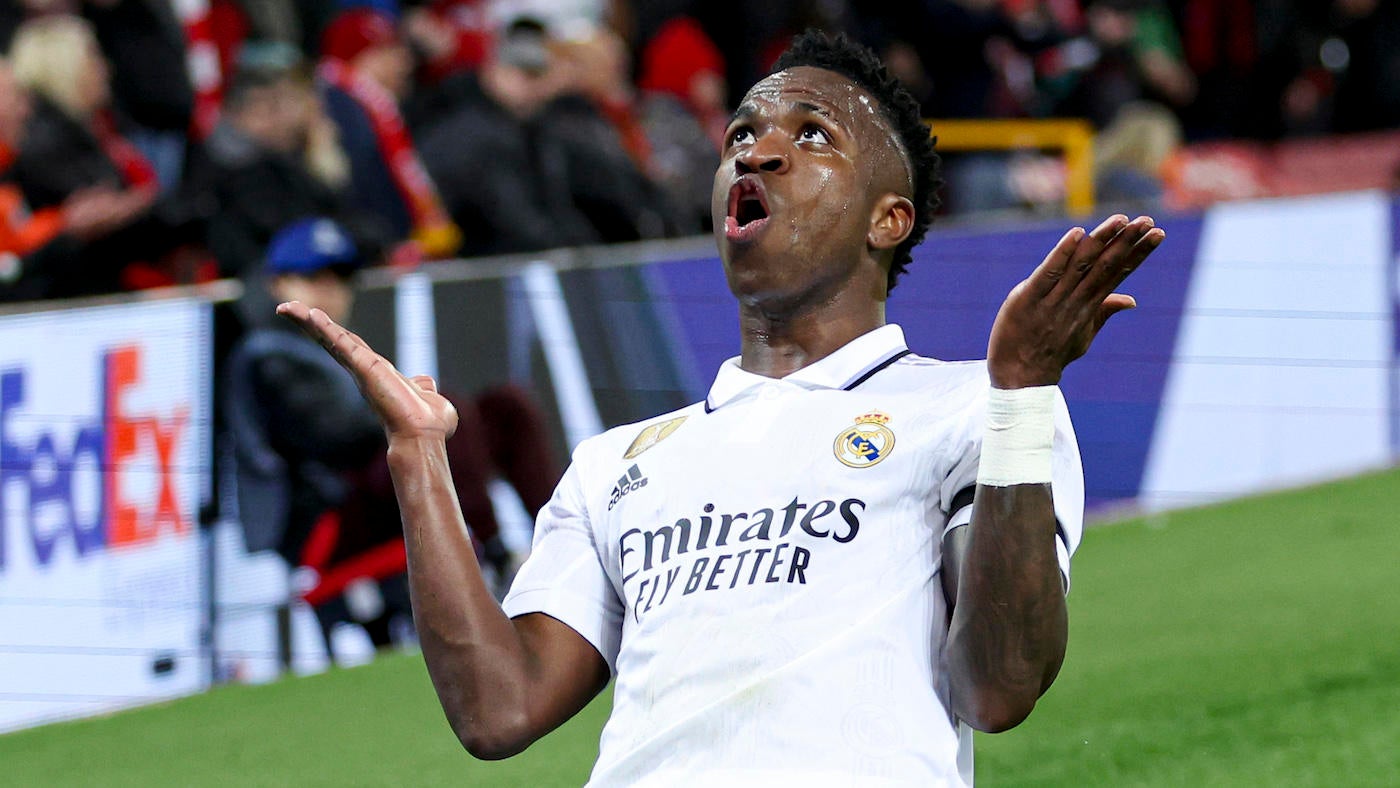 Well, Real Madrid did it again. As the Champions League continues, the red part of Liverpool continues to reel from yet another Madrid masterpiece. Two goals down inside of 20 minutes? No problem. Real Madrid just slams home five — yes, five — goals to take control of the tie. Today, we're gonna take a look at how they keep ticking (hint, Vinicius Junior is really really good), and then get you set for Wednesday's action.
New to the Golazo Starting XI newsletter? Get yourself the best deal in soccer and subscribe now to ensure you receive updates three times a week.
Please check the opt-in box to acknowledge that you would like to subscribe.
Thanks for signing up!

Keep an eye on your inbox.

Sorry!

There was an error processing your subscription.

---
? Champions League

All times U.S./Eastern. 
Wednesday
⚽ Leipzig vs, Man City, 3 p.m. ➡️ Paramount+ and CBS  
⚽ Inter vs. Porto, 3 p.m. ➡️ Paramount+
? Europa League: Top picks
Thursday
⚽ Nantes vs, Juventus, 12:45 p.m. ➡️ Paramount+
⚽ Man United vs. Barcelona, 3 p.m. ➡️ Paramount+
⚽ Roma vs. Salzburg, 3 p.m. ➡️ Paramount+
? Elsewhere …
⚽ USWNT vs. Brazil, Wednesday, 7 p.m.
Want more coverage of women's soccer? Listen below and make sure to follow Attacking Third, A CBS Soccer Podcast devoted to bringing you everything you need to know from the NWSL and women's soccer around the globe.
? The Vini show delivers
Real Madrid manager Carlo Ancelotti made a pretty bold post-match proclamation following Vini's two goals and one assist: "In my personal opinion, Vinicius is the most decisive player in world football right now. There's no player with his continued insistence with dribbling, assists and goals — nobody who is more decisive right now. I hope he keeps it up."
Is Ancelotti just being a giant homer about Vini? Let's take a look at the numbers: 
Seven goals and four assists in La Liga this season is good, but it's not "most decisive player in the world" good. And his underlying numbers — 8 xG and 8.7 xG assisted — tell the same story: Good, but not unparalleled. His combined xG + xGA per 90 this season of 0.62 places him exactly 50th in Europe's big five leagues.
However, that doesn't come close to telling the whole story. There is nobody in the world who does as much to move the ball up the field for his team with the ball at his feet as Vini Jr. Not Kylian Mbappe. Not Lionel Messi. Nobody. Vini Jr. has 130 progressive carries this season (progressive carries are runs with the ball at his feet that move it 10 yards closer to goal). Nobody in Europe's big five domestic leagues has more. On a per 90 basis, only Jack Grealish and Ousmane Dembele have more. 
And the closer to the opposing goal he gets, the more he distinguishes himself. He's one of only four players in Europe's top five leagues with more than 50 carries into the opposition box. Arsenal's Bukayo Saka has 51, Napoli's Khvicha Kvaratskhelia has 54 and Mbappe has 55. Vini Jr. has 77! He's also an elite level outlet. There are only nine players in Europe's top five leagues that have received more than 200 progressive passes this season. The Brazilian star has received 303, and only Saka tops that stat with 316.
The numbers really do speak for themselves. Sure, when you look at the goals and assists, Vini Jr. "only" has the goal production of a very good striker. But, he happens to be the best winger in the world at attacking the box on top of that. And after he led Real Madrid's comeback on the biggest stage, there isn't really much doubt about how important he is to that team. Get the ball to the wing and let Vini cook. The meal will be delicious — well, unless you're a Liverpool fan.
Sponsored by Paramount+
What's next for Liverpool
On the other side of the ball, we had a Liverpool collapse that was, in Jamie Carragher's words, "shambolic." Here's what he said on the UEFA Champions League post match show on Paramount+.
Carragher: "So this Liverpool defense now — who we've been told for years have got some of the best players in the world — can't cope. For years they've had a front six in front of them that worked harder and smarter than any other team in world football. And now that's gone. It has completely [fallen] apart."  
Make sure to check out Carragher's full reaction, along with why Thierry Henry called it "the end of an era" here.
And now let's get to some links:
? James Benge looks at the cold, harsh reality of a Liverpool with more questions than answers now under Jurgen Klopp. 
? Thierry Henry also talked to Benge about Arsenal, and how they've reestablished their connection with the fans.
? In Tuesday's other match, Napoli cruised; here are Chuck Booth's takeaways from the day of Champions League action.
? Haiti have officially qualified for the Women's World Cup. Portugal too, and they will be paired in USWNT's group.
? House of Champions: Want more coverage of the Liverpool meltdown? Of course you do.
? The MLS season starts this weekend and the league finally unveiled its new playoff format.
? In Soccer We Trust: It's a relegation battle for Leeds' American midfielders
? Attacking Third: Mallory Swanson can't be stopped, but is that enough for USWNT to succeed?
? You HAVE to watch Carragher respond to every single goal in the Liverpool-Real Madrid match.
? Kevin De Bruyne will miss Manchester City's match against RB Leipzig Wednesday due to illness.
? And remember, all of your soccer needs — from Champions League to Serie A to NWSL and so much more — are available on Paramount+. You can try one month free by using the code: ADVANCE.
? Best bets
All odds courtesy of Caesars Sportsbook and all times U.S./Eastern.
UCL: Leipzig vs. Man City, Wednesday, 3 p.m. 
? THE PICK: Manchester City (-133) — Erling Haaland big. Erling Haaland kick ball hard. Erling Haaland score goals. Sometimes it really is that simple. Despite the occasional wobble, and a weird experiment with Bernardo Silva at left back, City remain the favorite to win this tournament. Leipzig just don't have the talent to hang with them. Follow SportsLine's best soccer bets for this matchup here.
UCL: Inter vs. Porto, Wednesday, 3 p.m.
? THE PICK: Inter (-135) — It's always difficult to tell whether a given version of Porto can pop off in the Champions League. They're always good domestically, but being good enough in Portugal doesn't necessarily mean this side will be good enough in Europe. They advanced in the group stage without a particularly notable showing, and this team feels like they won't have enough to break down a staunch Inter Milan defense that's gotten over their early season struggles. Follow SportsLine's picks for this matchup here.