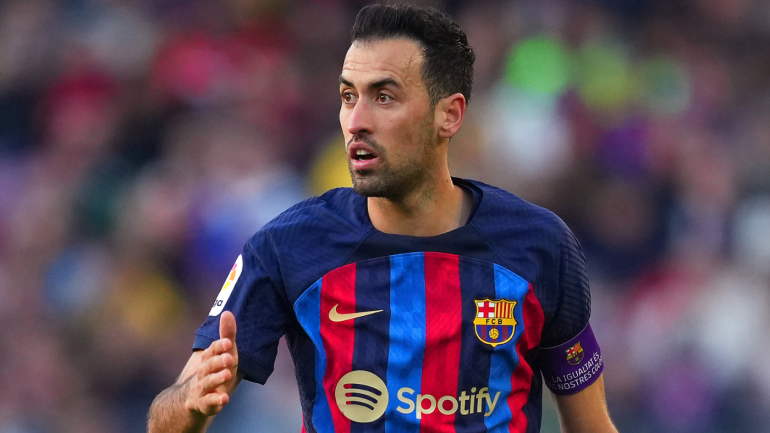 Getty Images
Sergio Busquets will bring an end to a glittering 18 year spell with Barcelona when his contract expires at the end of the season, the La Liga side have announced. The veteran midfielder will depart the Camp Nou with what is almost certain to be 32 trophies to his name; he will win a ninth Spanish domestic crown on Sunday if Barcelona win at local rivals Espanyol.
The 34 year old departs with the third most appearances in the history of his club, a tally bettered only by Lionel Messi and his current manager Xavi. Captain of the club since 2021, Busquets confirmed on Wednesday that he will not renew his contract despite Xavi's desire to keep him around for one more year. 
"It has been an unforgettable journey," he said in the video announcing his departure. "Since I was a child coming to the matches, or watching them on TV, I always dreamed of playing with this shirt at this stadium. The reality has exceeded all my dreams. I wouldn't have believed you if you told me when I arrived as a youth player that I would play 15 seasons for the best club in the world, the club of my life, of which I have been, am and always will be a fan, member, player, captain, and surpass 700 matches."
Busquets arrived from Jabac Terrassa as a 15 year old and followed Pep Guardiola to the B team and then Barcelona's first team. Within a year of his senior debut he was starting in the side that beat Manchester United to the Champions League title, the first of three he would claim. Just over 12 months later he was at the heart of the Spain side that won the 2010 World Cup.
What might be Busquets' final match would see the legendary midfield triumvirate of perhaps Barcelona's greatest ever side reunited once more. A friendly between the Blaugrana and Vissel Kobe has been announced for June 6, that game would see head coach Xavi and Busquets face off against their former team mate Andres Iniesta.
The Spaniard's next move could well be to Saudi Arabia, which may afford him the chance to reunite with another former Barcelona team mate in Lionel Messi. Busquets has also been linked with a move to MLS side Inter Miami.