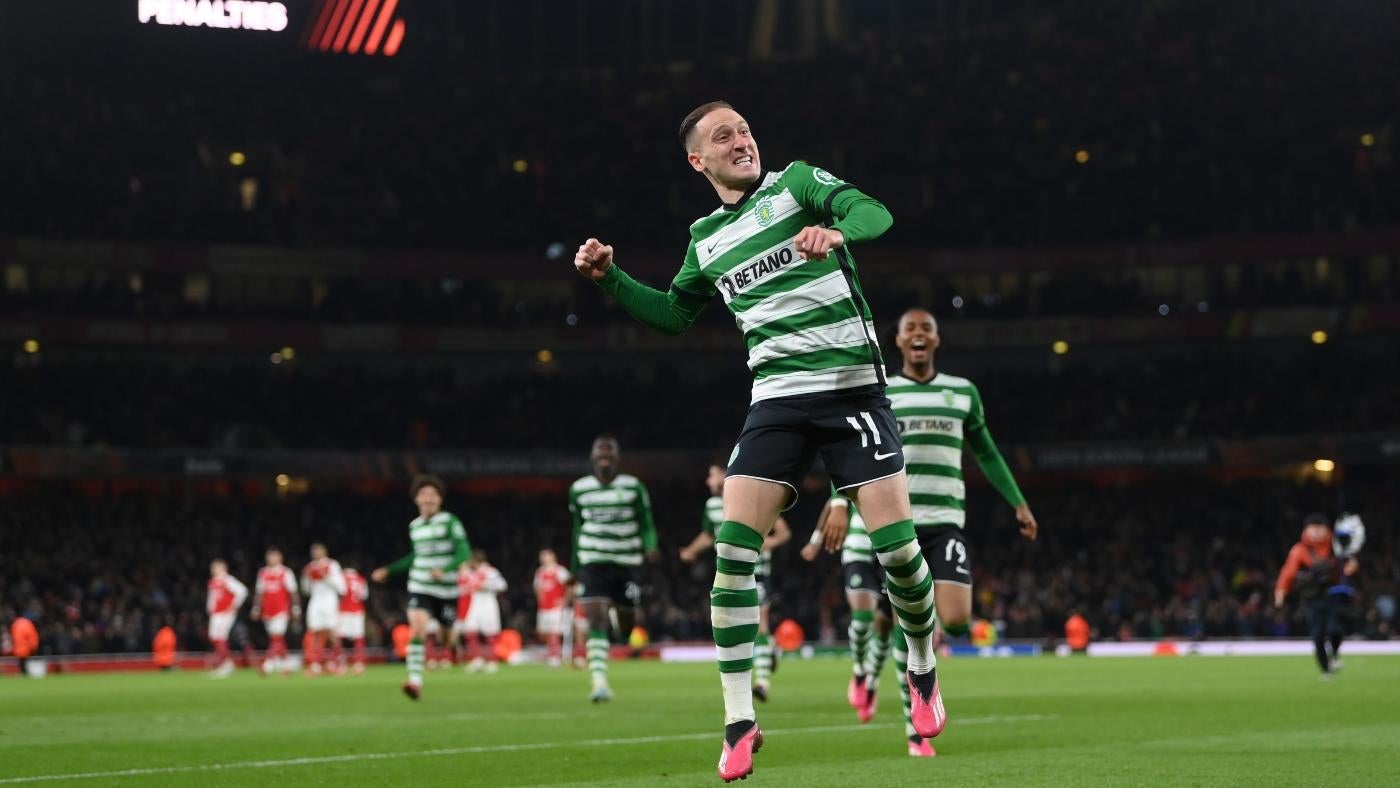 LONDON — There will be no Budapest showpiece for Arsenal. Instead, what lies in wait for Mikel Arteta's side is 11 more finals, the games that will determine whether this is a season of far greater glory for the Gunners than anything the Europa League has to offer.
Frankly, they could have hardly tuned up for them in a more debilitating fashion. It was not the nature of their performance in a 1-1 draw with Sporting CP where the Portuguese side emerged victorious after Gabriel Martinelli's missed spotkick. Rather it was everything that they had to put in over two hours to get that far. Even those who had not played the full 120 minutes departed the Emirates Stadium bruised, drained and soaked to the bone from their clash with Ruben Amorim's rambunctious side. Most concerning of all, William Saliba and Takehiro Tomiyasu fell to injuries that will have Arteta sweating on their availability beyond the visit of Crystal Palace on Sunday and the international break that follows.
An improbable title challenge — one that will define this season far more profoundly than anything they achieve in the continent's second-tier competition — had been fired by Arteta's ability to name a largely unchanged side on a weekly basis. Arsenal have not, as Erik ten Hag claimed on Wednesday night, had a "totally available" squad. Oleksandr Zinchenko and Thomas Partey have missed out on the starting XI in 15 Premier League matches between them. Gabriel Jesus' start tonight was his first in any competition since Nov. 12. Arteta has not had to make changes with the frequency of his Manchester United counterpart because he has not seen players go as spectacularly off the boil as Harry Maguire and Antony. Why change a formula that so consistently delivers wins?
It is certainly true that what injuries Arsenal have had have left their foundations largely unperturbed: Mohamed Elneny, Jorginho, Kieran Tierney, Eddie Nketiah and Leandro Trossard have plugged gaps effectively. That might all be about to change. If the back injury that forced Saliba's off in the 19th minute is serious then Arsenal's entire playing style is at risk, particularly if Tomiyasu is also out for an extended period after slipping awkwardly earlier in the game. Saliba had no sign of any strapping after the match while Tomiyasu was on crutches.
The two players who bear the greatest load in this team are its center backs. Zinchenko can go roving far and wide because Gabriel plays two positions at once. Balls into the space behind Ben White are hoovered up with ease by Saliba. These two penetrate with their passing but most importantly of all, they have the physical gifts and vision of danger to come that allows those ahead of them to pin the opposition back with numbers in the final third.
With all due respect to Rob Holding, a player who has never offered a public complaint as he shuffled down the depth chart, instead carving out a role for himself as a late-game closer when points need to be clung onto, he cannot offer Arteta remotely comparable qualities. He threw himself at any ball that came his way, crucial blocks denying Paulinho and Francisco Trincao, but he was ill at ease stepping up into midfield under pressure from an opponent.
He might be good enough to tide Arsenal through the visit of Crystal Palace on Sunday and into the international break but his experiences at Tottenham last season, baited into an early red card that undid a bright start by his teammates, serve as a warning of what happens when the Gunners take a limited defense into the biggest games. 
Catastrophizing may be premature with an international break fast approaching. Tomiyasu is no first choice, a valuable reserve certainly, but one whose absence can be weathered. If he were fit and Saliba not then Arteta could simply revert to four-fifths of the defense that was eminently solid last season. However, those two injuries immediately cast into question Arteta's decision to go so strong against Sporting.
Not that he could afford to merely unload his bench. This was a serious opponent, one that disrupted Arsenal's rhythm with their organized pressure and aggressive tackling in midfield from the outset. Trincao darted here and there off the left whilst Paulinho's size and mobility offered quite the test for an ever-changing defense. Granit Xhaka's thundering strike on the rebound from a Gabriel Martinelli shot did nothing to break their resolve and Manuel Ugarte's thunderous low drive that flashed wide of Aaron Ramsdale's far post was a mere herald of what was to come.
Jorginho did well to wrestle the ball back to Arsenal in the engine room but his touch was heavy, his slide didn't take him near enough to possession. Pedro Goncalves swept in, two touches to settle himself before a swipe of the nine iron from 46 yards out. So often these goals are framed around the failings of the goalkeeper and yes, Ramsdale would probably have saved it if he had been a yard or two nearer to his goalline. If he were, though, there would be half a dozen chances dangerous moments that he would be unable to sweep up. And frankly, it would still have been a good save even if he had been those few feet deeper.
The name Nayim might mean little to a team that would all be too young to remember the 1995 Cup Winners' Cup Final but the Emirates Stadium needed no reminding. As the rain came through the Emirates roof, forcing a few at the front of the Clock End and East Stand to vacate their seats, they could be forgiven for thinking this was just the sort of night when every Leandro Trossard shot was bound to deflect off the post. Even the rallying cries of the last substitute Martin Odegaard could only alleviate the tension for a moment. Everyone knew this game was going the course, that they should save their energy to boo every Sporting penalty taker to the heavens.
It was not enough to put them off their stride. Ramsdale might have got closer to Goncalo Inacio's tame effort but the rest were struck with precision and purpose. So were Arsenal's until Martinelli got too close to Antonio Adan, who had made two brilliant late saves from Gabriel to get Sporting to the shootout in front of the Clock End. With that, the other trophy slipped out of their grasp but then this season had long since come to be about domestic honors. The meaning of this game may not be apparent until we see how much impact it has on the title tilt.