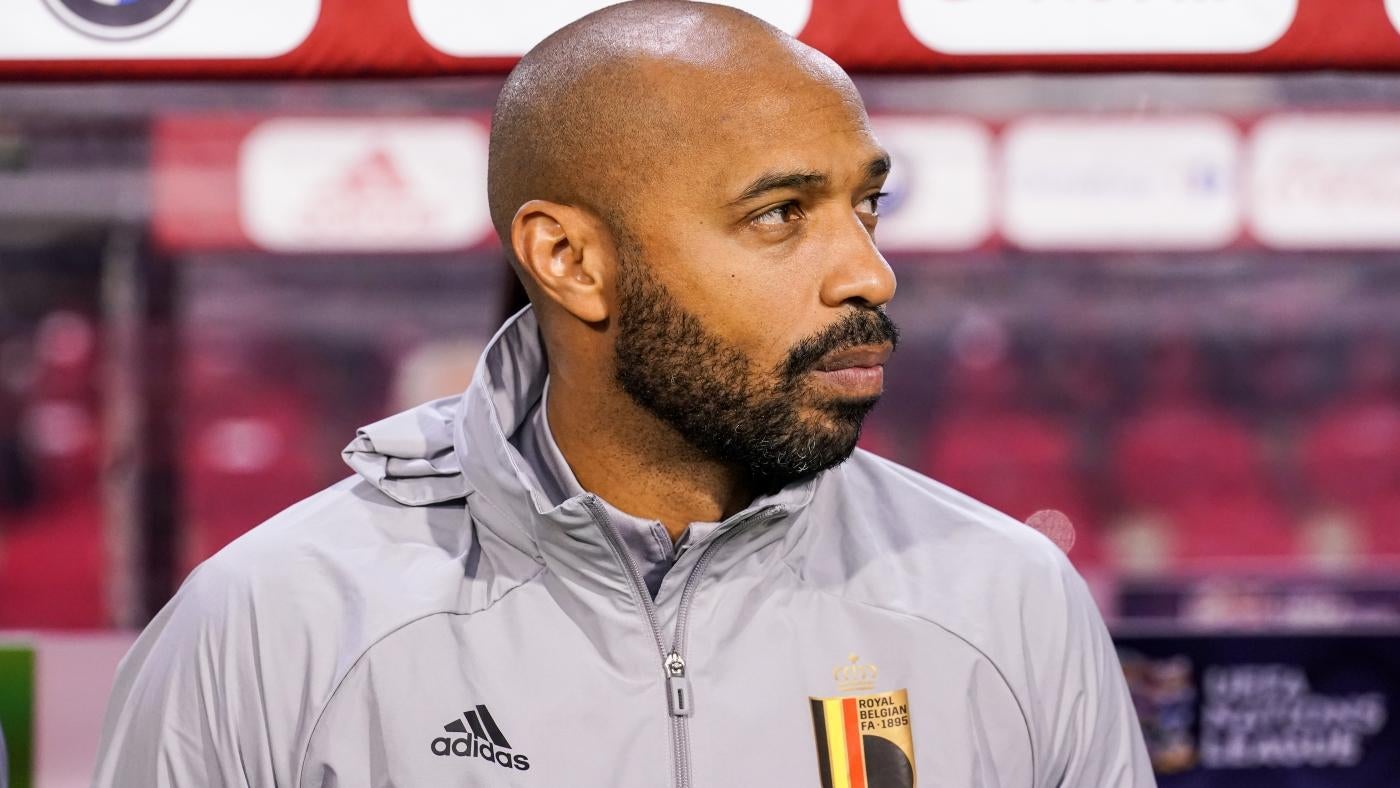 The United States men's national team still needs a coach after Gregg Berhalter's contract expired at the start of 2023. France legend Thierry Henry wants to get back into head coaching after leaving the Belgian coaching staff under Roberto Martinez following the 2022 FIFA World Cup in Qatar. Would the two in theory be a good match? 
During Wednesday's Champions League postgame broadcast on Paramount+ and CBS Sports Network, the former Arsenal legend was asked by studio host Kate Abdo if he would be willing to throw his name in the hat for the USMNT job. 
"What I can say is that obviously Roberto Martinez went to coach Portugal and I'm not going with him," Henry said. "So, obviously being No. 2 is no longer something I would like to do. Massive respect of the boss. He gave me an opportunity when no one did — but I would like to have a crack again."
Please check the opt-in box to acknowledge that you would like to subscribe.
Thanks for signing up!

Keep an eye on your inbox.

Sorry!

There was an error processing your subscription.

Craving more soccer coverage? Listen below and follow House of Champions, a CBS Sports soccer podcast, bringing you top-notch analysis, commentary, picks and more. 
The United States Soccer Federation has yet to name a permanent replacement for Berhalter, with assistant Anthony Hudson currently in charge. Henry, 45, has coaching experience, managing Monaco in 2018-19 and MLS club Montreal Impact (now CF Montreal) in 2019-21. He also had two stints as an assistant coach for the Belgium national team under Martinez, who now coaches the Portuguese national team. 
"Do I know the players? Yeah, I do know the players. Do I know the league? Yeah, I do know the league" said Henry, who described "how tough it was in Montreal" during his time as manager due to the ongoing COVID pandemic.
The Impact, as many Canadian professional sports teams did, relocated during the season to the United States temporarily to play games in compliance with travel restrictions brought on by the pandemic. Henry said he is eager to return to coaching, but would need the right opportunity to jump back into the fray, saying that he is familiar with American soccer. 
"Would I want to be a manager at any level? Yes, of course," Henry said. "That is one of the things that I would like to do."
He also seemed curious to know more about the direction that U.S. Soccer is headed, knowing incredible opportunities are around the corner. In addition to hosting the 2026 World Cup with Mexico and Canada, the United States will also host the Copa America next year.
"What's the plan? What's the philosophy? What do you want to be? When you ask yourself these questions, you are going to find out eventually these answers," Henry said. "And it's not because you're going to host the competition that you're going to go far automatically. We've seen that it's not easy to do that. We've seen some big teams [struggle] at home."
He went on to reference South Korea co-hosting the 2002 World Cup with Japan and making a dream run to the semifinals. In that instance, South Korea paused their domestic league in preparation for that tournament, while holding an extended camp with their players under the leadership of manager Guus Hiddink. 
Then, of course, his studio-mate Jamie Carragher jumped in and shared his endorsement: "U.S. Soccer, come on. You know what you've got to do. Appoint the man. All you've got to do is stop the MLS for a couple of months, and he's in.
"He's a World Cup winner, European winner, he knows the league. The players respect him. Get him in."