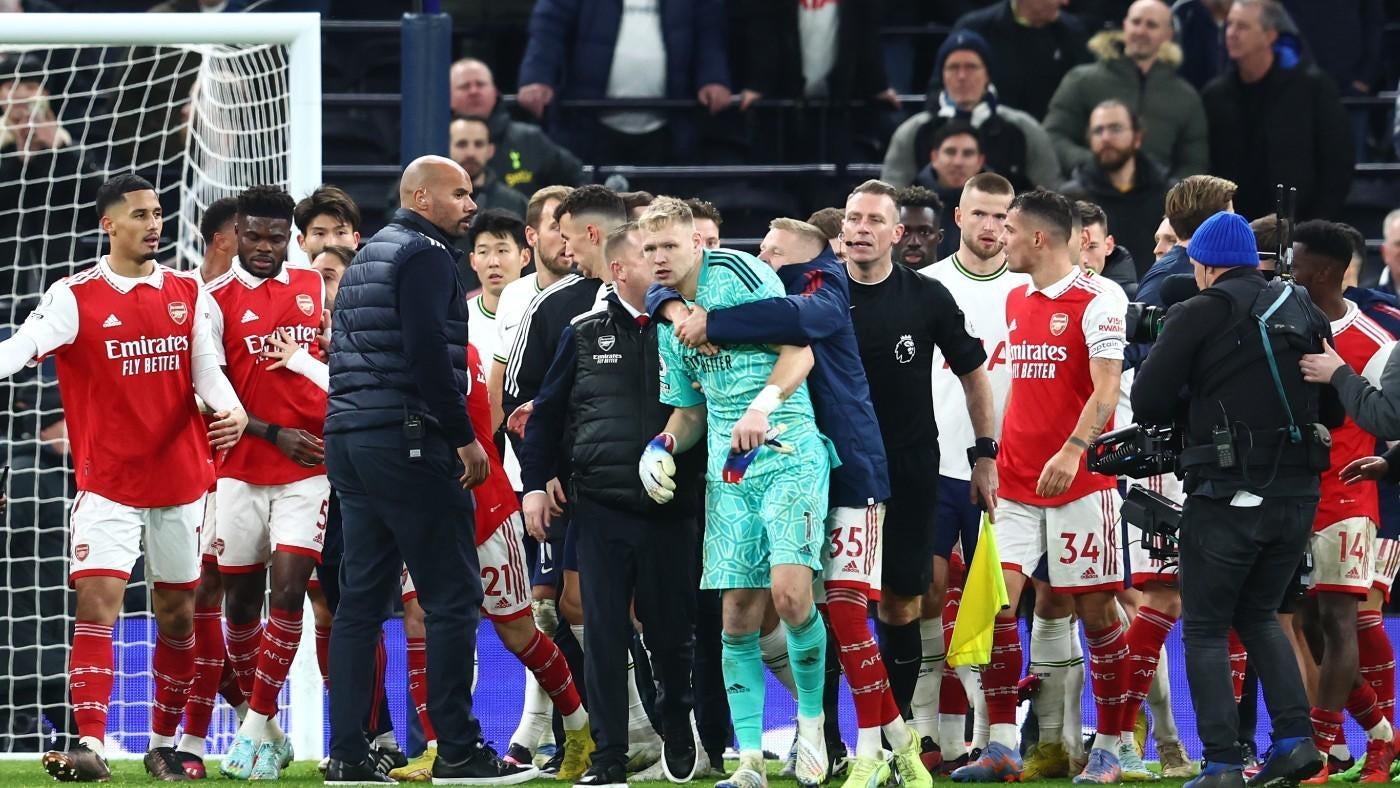 After winning the North London Derby against Tottenham by a 2-0 score on Sunday, Arsenal's goalkeeper Aaron Ramsdale was kicked by a Spurs fan right after the final whistle. The 24-year-old goalkeeper had a little dispute with Brazilian striker Richarlison and things got tenser when Ramsdale was kicked by a fan from the stands as he went to collect his water bottle behind the goal. A scuffle ensued as the fan moved back into the stands and more players got involved. 
Ramsdale spoke afterward, commenting on the altercation with the supporter, who will very likely face discipline from the club in the coming days.
"The Spurs fans gave me some throughout the game. I was giving some back," he told Sky Sports. 
"The people I did give it to greeted it sportsmanlike but one fan tried to give me a little punch on the back. It is a shame as it is just a game of football at the end of the day. Both sets of players tried to bring me away but thankfully nothing too drastic happened. It is a sour taste but I'm sure we will enjoy it when we go back into the dressing room."
Here's video of the incident:
Arsenal coach Mikel Arteta commented on the incident as well and told Sky Sports, "All I saw was a beautiful game of football. Aaron made some great saves. He's really showing a different kind of presence. To do what he did here today, big credit to him. We will deal with the incident. Aaron is fine." 
CBS Sports has a brand new daily soccer podcast, covering everything you need to know about the beautiful game. Make sure to give House of Champions a follow for coverage of the biggest games, stories, transfer news with Fabrizio Romano, and everything else going on in the world's most popular sport.
Tottenham coach Antonio Conte said that he "didn't like" what happened to the goalkeeper. 
"It's not good. I repeat we have to always show respect in every moment," he said. 
The Professional Footballers' Association were quick to issue a statement afterward, condemning what took place.
"Violence towards players is completely unacceptable," they said. "These types of incidents are happening far too often. Players have a right to be safe in their place of work. When a player is attacked, we expect the laws and regulations that are in place to protect players to be properly enforced. As the players' union, we treat this as a priority issue. We will continue working with the authorities to demand that players and staff are better protected in their place of work."
The two first-half goals (a Hugo Lloris' own goal and Martin Odegaard's strike) were enough to see Arsenal to a victory that puts them eight points clear atop the Premier League, taking advantage of Manchester City's loss to Manchester United on Saturday. Tottenham, on the other hand, continue to struggle and are currently fifth, five points behind the fourth place with one more game played than Manchester United.