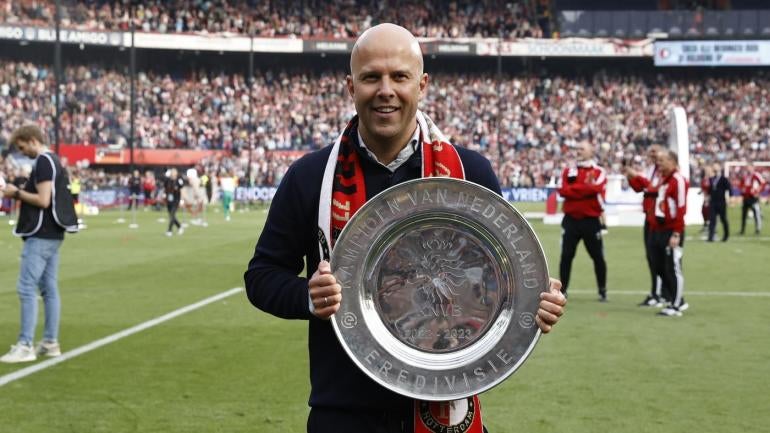 Getty Images
Arne Slot, viewed by many as one of the leading candidates for the vacant coaching job at Tottenham, has ruled himself out of contention at Spurs by recommitting his future to Dutch champions Feyenoord. The 44-year-old manager has made a profound impact on the Rotterdam club since his appointment in 2021 and earlier this month guided them to their first Eredivisie title in six years.
Slot's success in the Netherlands caught the attention of Spurs, who were expected to hold talks with him over the vacancy that they have had since sacking Antonio Conte at the end of March. Any such prospect has now been quelled with the Dutchman indicating that he has begun dialogue over a new contract at De Kuip.
"I have been hearing a lot of rumors going around about other clubs' interest in me," Slot said. "Although I am thankful, my wish is to stay at Feyenoord and continue working on what we created last year. 
"There is not – and there has not been – transfer conversation and yesterday's meeting was exclusively for an extension. All talks with the club have always been only in that sense. Looking forward to next season with Feyenoord."
For Tottenham, repressing memories of the disastrous summer of 2021 coaching hunt are becoming harder by the day. We are now on the 60th day since Conte's departure, a period which has seen Cristian Stellini come and go as the interim head coach, Ryan Mason struggle to right the ship and Spurs potentially drop out of the European places entirely. In that time they have been heavily linked with Julian Nagelsmann only for the club to rule out talks with the former Bayern Munich boss.
Supporters hoped to see Mauricio Pochettino return and with him the glory days of 2014-19. The Argentine is instead set to take charge of their great rivals Chelsea. If this is really to match the chaos of two years ago, there will need to be a few more false dawns akin to new head of football Fabio Paratici pulling the plug on Paulo Fonseca only to see his choice of Gennaro Gattuso shot down by supporters. We're not too far away from that farce though. No one of a Tottenham persuasion needs reminding how disastrously that concluded, Nuno Espirito Santo lasting less than four months before Spurs committed to a relationship with Conte where, even in the best of times, the affection only flowed one way.
There remain alternative targets available to Tottenham, who have been linked with both Ange Postecoglu of Celtic and Sporting's Ruben Amorim. However, the advantage that they gained from pulling the plug on Conte so swiftly has largely dissipated. Bayern Munich and Chelsea have leapfrogged them in the queue for the best and brightest coaches, Paris Saint-Germain will surely do the same once their Ligue 1 title is confirmed. This is all beginning to feel drearily familiar in north London.